Sign up for our new Kathy's Mailbag newsletter here
Drop in a question of your very own BY CLICKING HERE or by emailing Kathy Reiser at mailbag@news-gazette.com.
This week's Mailbag details some recent bandshell work at West Side Park, a (relatively) new police substation on the UI Campus, and why part of Unit 4's school bus fleet has been parked near Market Place Mall lately. Also, updates on a few ongoing issues: the poky elevators at Illinois Terminal, I-74 rest area closures, public swims in Urbana and more.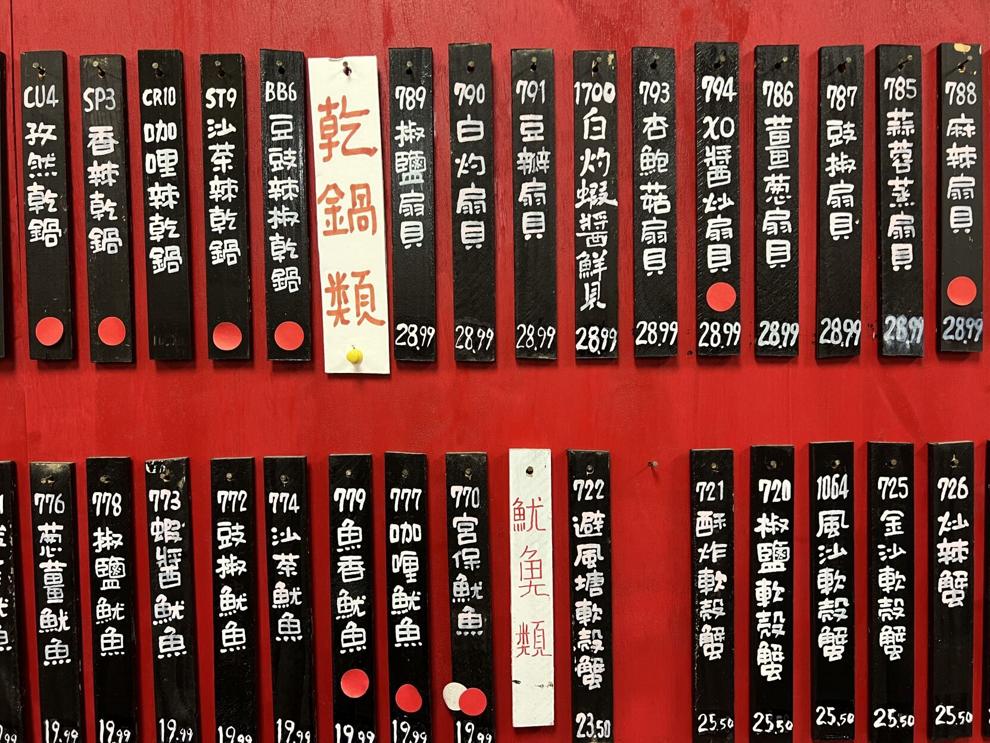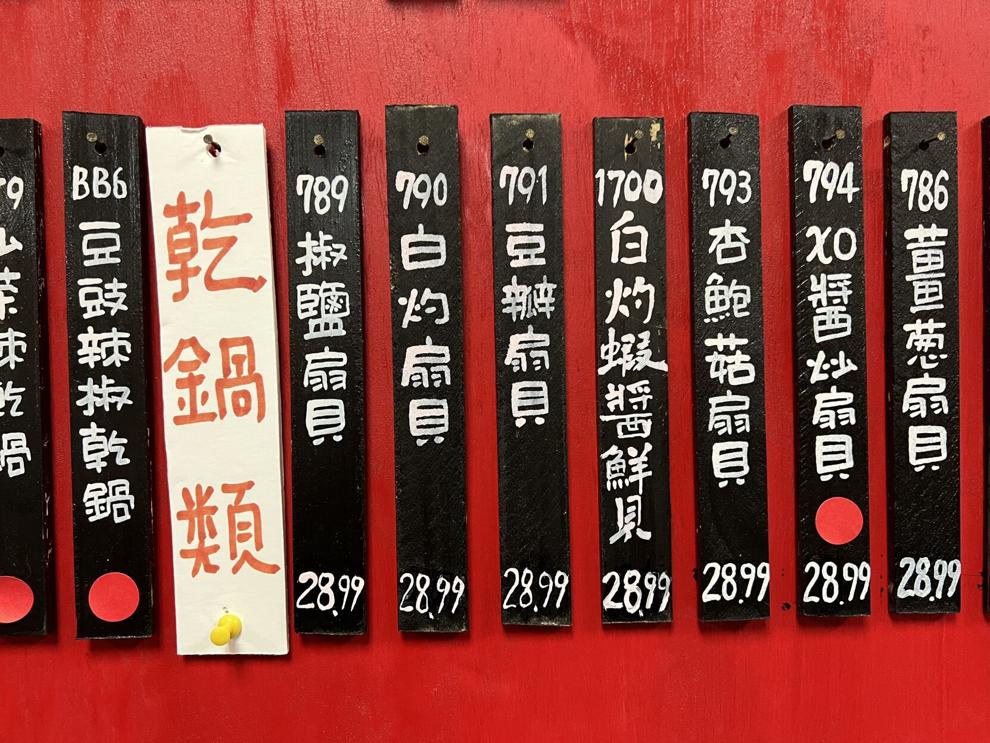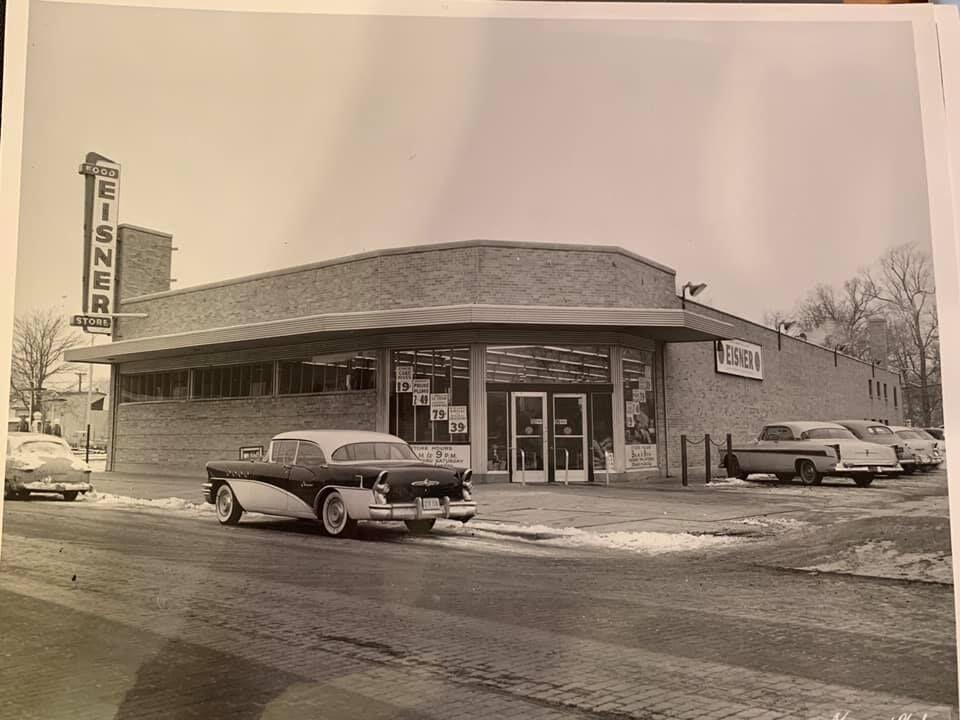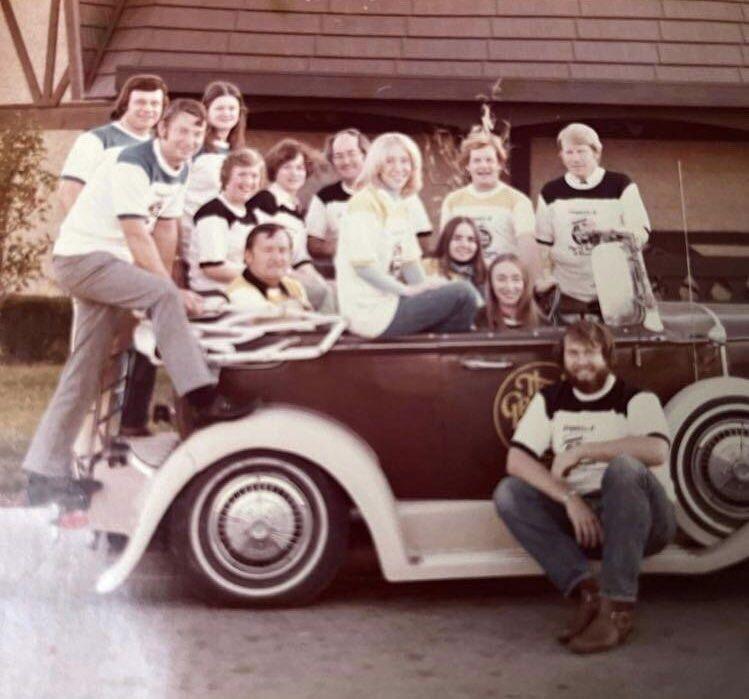 Hard to believe it's been more than 50 years since The Ground Round opened in a former Eisner's supermarket at 505 S. Neil in Champaign. Since then, the strip mall has changed names — from Royal Plaza to Neil Street Commons — and generations of diners have enjoyed The Ground Round and several of its successors.
The restaurant space originally was a Piggly Wiggly supermarket, and then an Eisner's. Jane Eisner Green said her grandfather, Albert Eisner, Jr., was "so proud of how fancy it was for its time."
In the comments on this week's Now & Then Facebook post, Stephen Flynn recalled that the Eisner central bakery was located in the back of the store. "All the decorated cakes were made here and when they were baking bread it smelled so good," he noted.
In the early 1970s, developers built the Royal Plaza strip mall extending to the west of the building. The Ground Round anchored the new development, and lasted through the mid-1980s. The Ground Round was famous for letting kids — and grown-ups — throw peanut shells on the floor. Which was fun for everyone until summer sandal season rolled around. Ouch!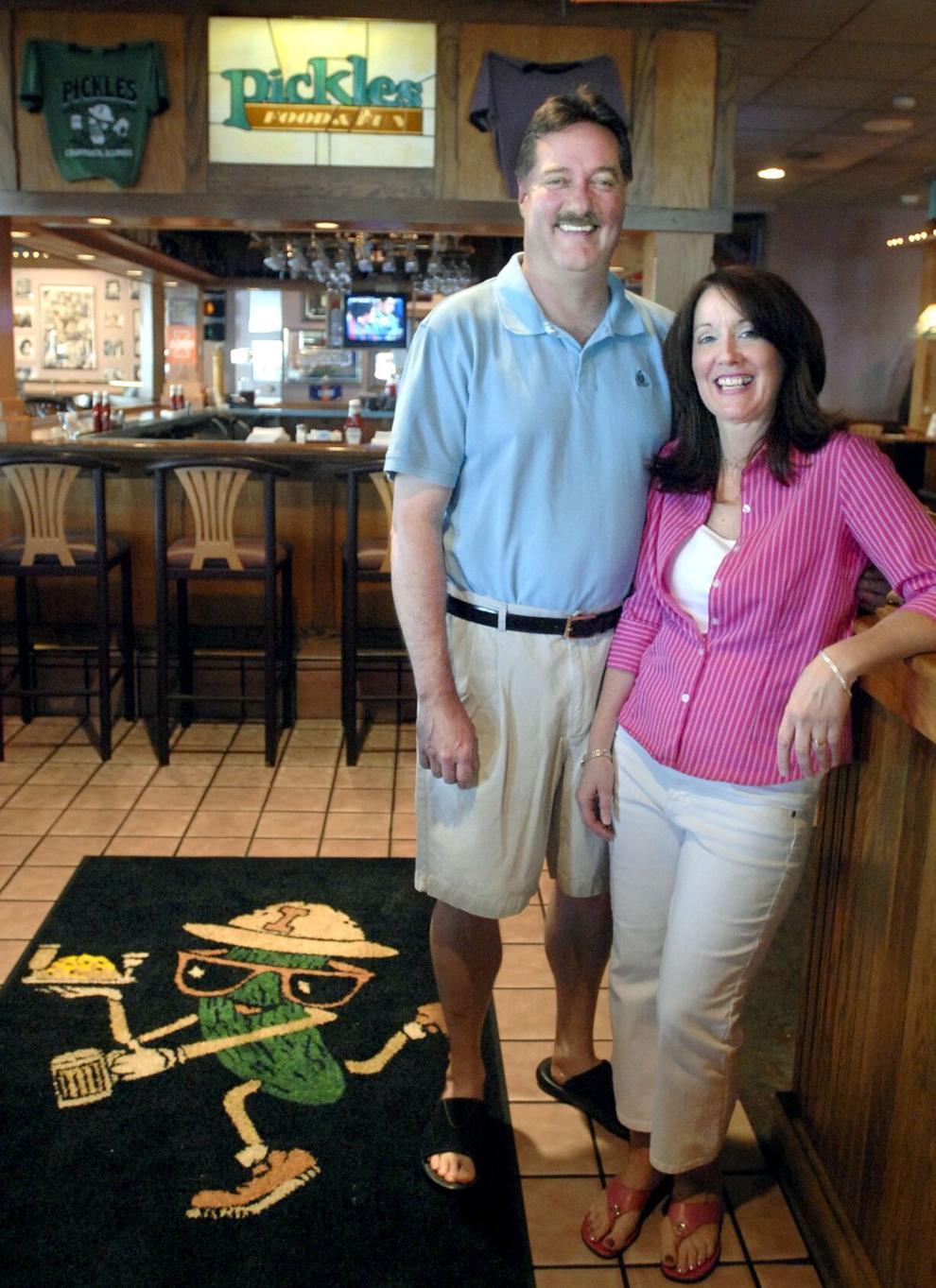 Next came the Brown Jug for a few years. And after that? Doug and Margaret Carson's Pickles Food & Fun opened in 1989 and had a great run of 18 years. Towering nachos (The Matterhorn?), the Kitchen Sink salad and Italian beef were a few of the fan favorites at Pickles.
Fun fact: you can thank "The Dick Van Dyke Show" for that restaurant's name, according to a 2007 News-Gazette article by Don Dodson. "One of the characters on that show, Buddy Sorrell, called his wife Pickles. 'It was my wife's choice,' Carson said of the restaurant's name. 'She loved that old show.' "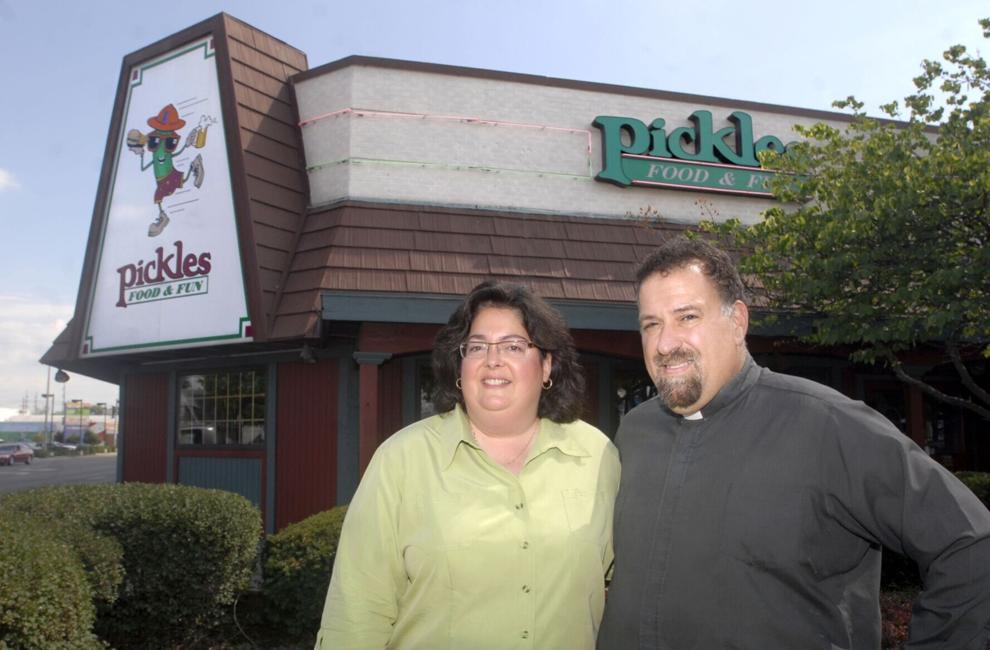 Valerie and George Pyle bought the restaurant in 2007 and soon changed its name to Papa George. The couple had planned to rely on George's income as pastor of Three Hierarchs Greek Orthodox Church in Champaign to help support them as the restaurant built its business, according to a 2008 story by Deb Pressey. Despite a loyal following, medical issues and other circumstances prompted them to close it after about a year.
Golden Harbor, the News-Gazette's 2021 People's Choice winner in the Asian restaurants category, has been a favorite of UI students and townies in that spot since 2010. Fans say it has the most extensive menu of any Asian restaurant in Champaign-Urbana. The restaurant's owner is Mei Lee.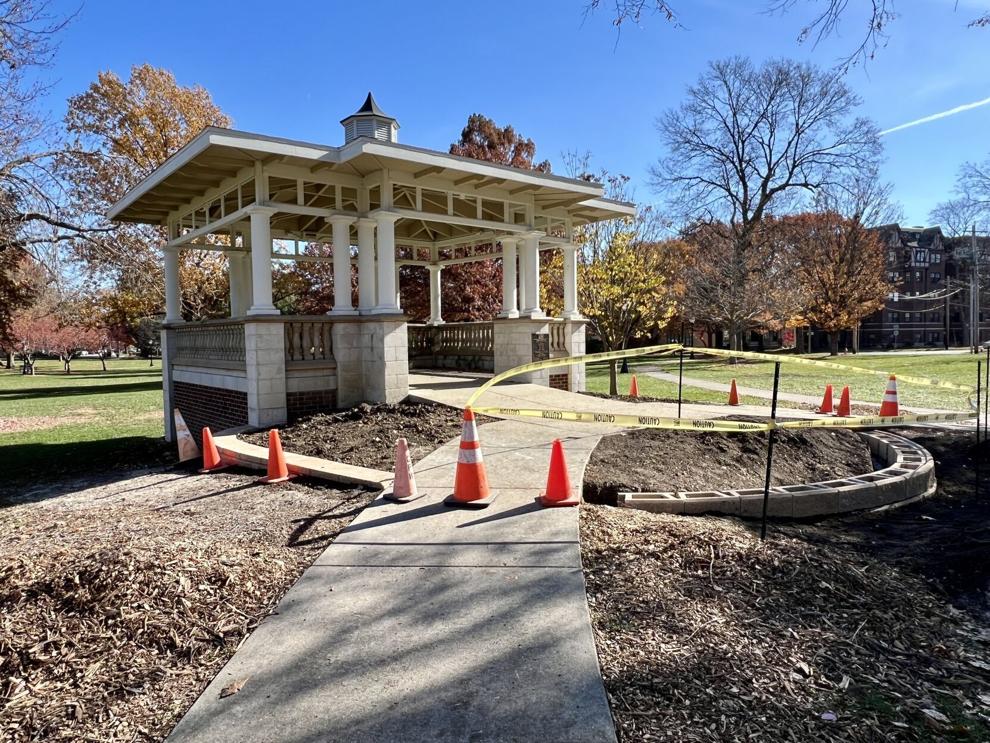 "A lot of people have been working on the gazebo at West Side Park lately. What's the project and when will it be finished?"
Sarah Sandquist, the Champaign Park District's executive director, said crews have been repairing the bandshell's columns and balusters, and have applied a fresh coat of paint to the wooden surfaces.
The park district also improved the surrounding area near the entrance of the bandshell by installing three smallish retaining walls.
"Because the bandshell sits in an elevated position in the park, we tend to have an erosion problem with soil and mulch from the flower beds spilling onto the sidewalks and surrounding turf," Sandquist said. "To alleviate this issue, we have designed and begun the installation of block retaining walls. These walls will also give the landscaping surrounding the bandshell a much nicer finished look.
"We have had many park patrons stop by this last week inquiring about the project and we have received very positive feedback about the improvements being made. The retaining wall portion of this project will be wrapping up by the end of this week. In the spring, we will install perennial flowers in the newly created beds for added color."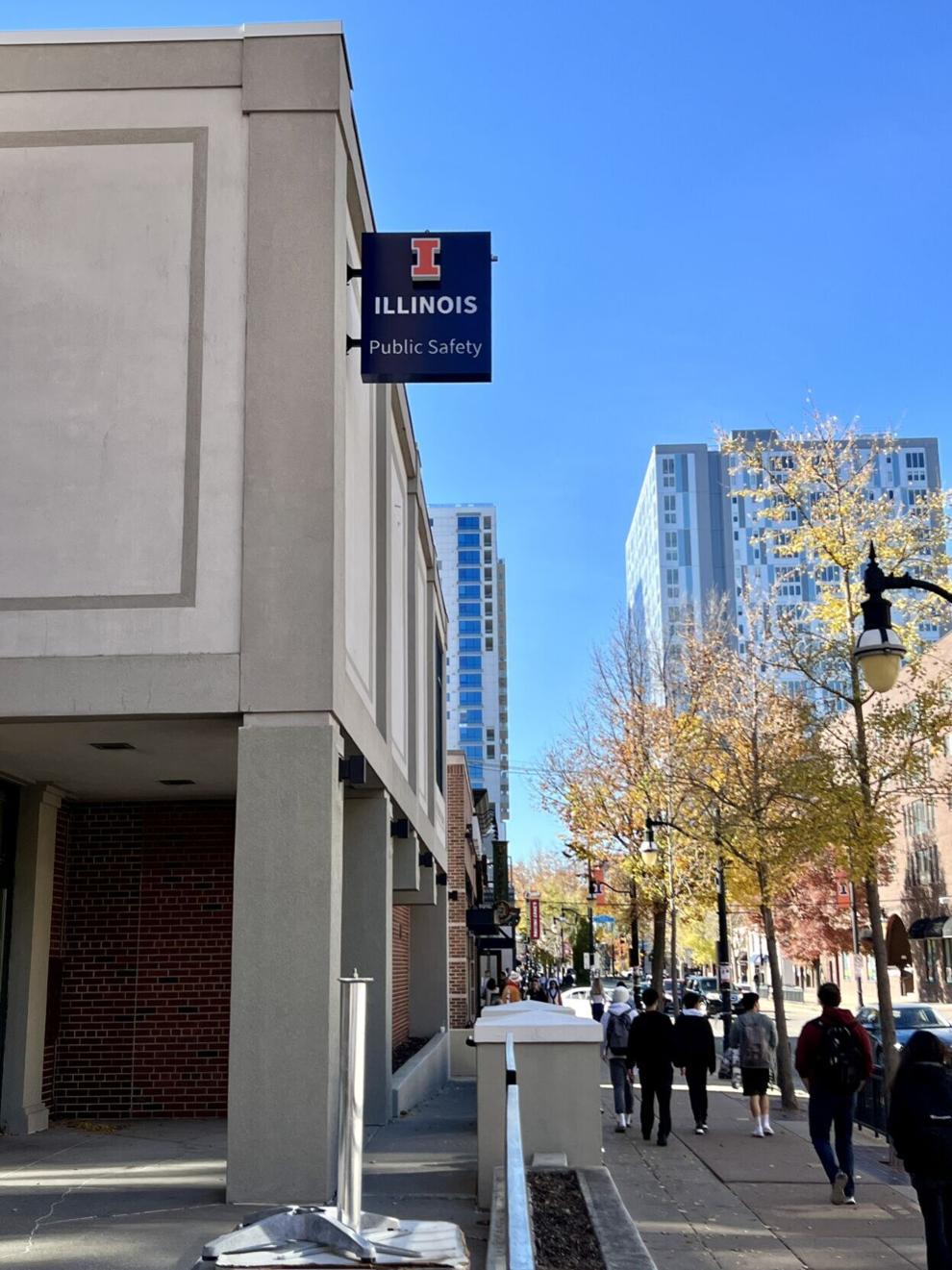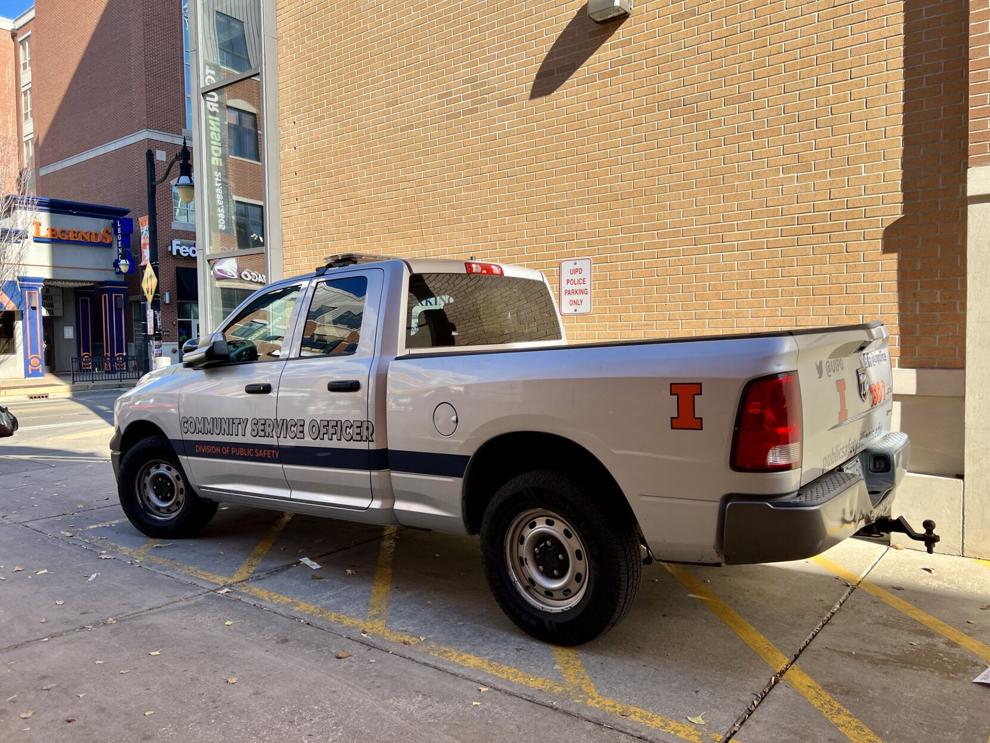 "I noticed a sign for the UI's Division of Public Safety at 505 E. Green in Champaign. Is this a new UIPD substation?"
It might be more accurate to say it's new-ish. The UI Police Department's office in the heart of Campustown has been there since the summer of 2022, according to UIPD spokesperson Patrick Wade.
"We currently have our Community Outreach and Support Team (COAST); Response, Evaluation and Crisis Help (REACH) team; Community Service Officers, security guards, Juvenile Engagement Coordinator, Community Development Director, and Student Patrol working out of there. Patrol officers frequently stop by as well.
"It helps us increase the visibility of Public Safety personnel on Green Street, and also allows us to bring a lot of our outreach activities closer to where our students and campus community members are."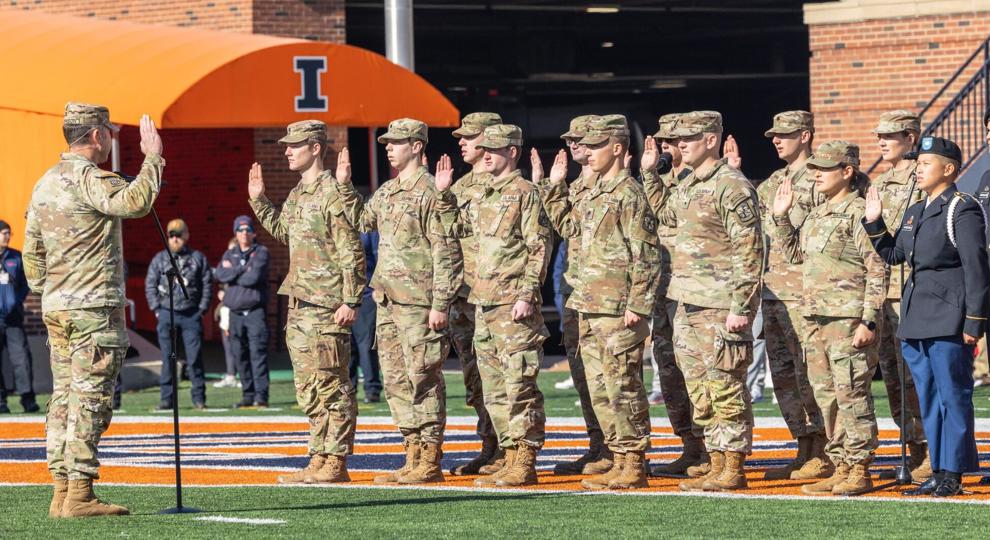 "I thought there was supposed to be a military flyover at Memorial Stadium last Saturday, in honor of Veterans Day. Just curious: why was it scrubbed?"
"Despite best efforts to coordinate a flyover as part of Military Appreciation Day, there were not aircraft with available hours based on maintenance and training," said UI Athletics spokesperson Derrick Burson. "We know flyovers are a point of pride and enhance the gameday experience, and we will make every attempt to have a flyover at next season's Military Appreciation Day."
"How long is the stray hold period in Champaign County, or the State of Illinois if there is no local ordinance, for civilians who find stray pets and want to keep or alter them (spay/neuter, microchip, etc.)? I know finders must make all reasonable efforts to locate an owner before this takes place…."
Those who find stray animals are required to report the information to the animal control office in their jurisdiction, said Chelsea Angelo, assistant director of Champaign County Animal Control.
Even though many of us consider pets to be family, "it's important to remember animals are considered property under the law. Laws relevant to mislaid or lost property can attach to animals. It's important to report the lost animals to Animal Control so we can make all attempts to locate the true owner. If after 7 days no owner has come forward, the finder would then be the owner/possessor/keeper under Illinois state law.
"We always recommend people call us to report finding an animal, and to have the animal scanned for a microchip either through us or a local veterinary office."
Angelo says the stray hold time in Illinois is 7 days, with microchipped animals subject to additional requirements. "Our obligation is to make all attempts to locate animal owners. And for animals that have a microchip we are obligated to make additional notifications of the animal's impoundment. Microchips, identification tags, registration tags and even tattoos are legal methods of proving ownership of animals."
Feral cats have their own section of the law, she said. "Specifically, the law only mandates we keep them for 3 days. We generally keep them much longer to find rescue resources for them."
In addition to county and state laws, some municipalities have their own ordinances. "These municipal codes may be more stringent than state laws, but they are not allowed to be less than the state. Many have restrictions for certain things such as barking or keeping of certain animals."
For readers who are curious about the specifics of animal control laws, Angelo provided links to the Champaign County ordinance and the Illinois Animal Control Act.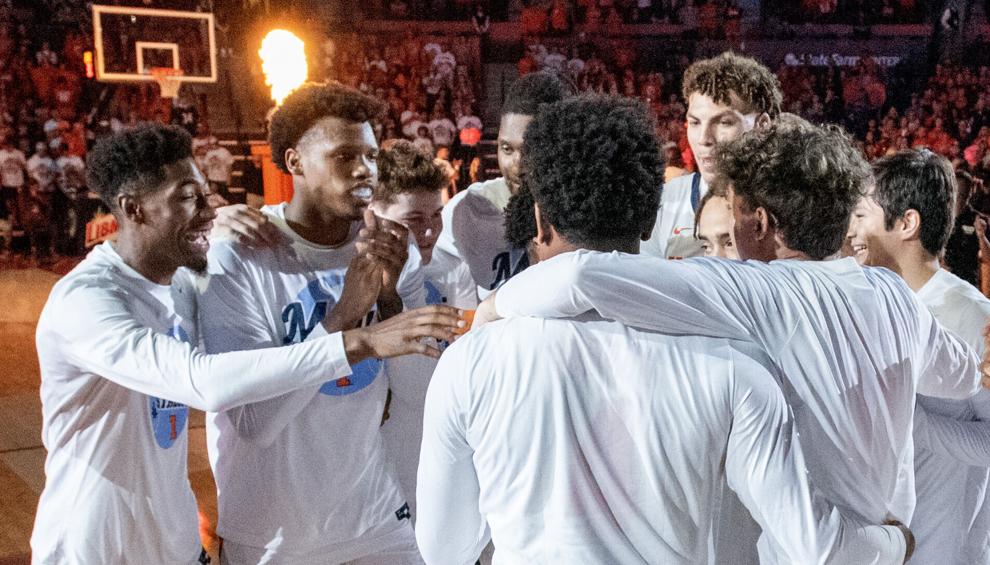 "I was considering buying a ticket for the Illini Men's Basketball Maui Fundraiser. To buy the cheapest seat at $40, I would pay an additional $12 'order charge' fee. So much for a cheap seat! How is the fee determined, and who gets to keep it?"
"The order charge — which is per order, not per ticket — is an industry standard practice," said UI Athletics' Derrick Burson. "This charge helps fund operational expenses within the ticket office."
So if you're planning to attend several home games this season, it will be cheaper to buy all of your tickets on a single order rather than place several orders over the next few months. "Someone can put tickets for, say, five different games in their online cart. When they go to finalize the order and pay, it would be one $12 order charge," Burson said.
Maui game file pic showing coaches or Kansas players in Hawaiian shirts?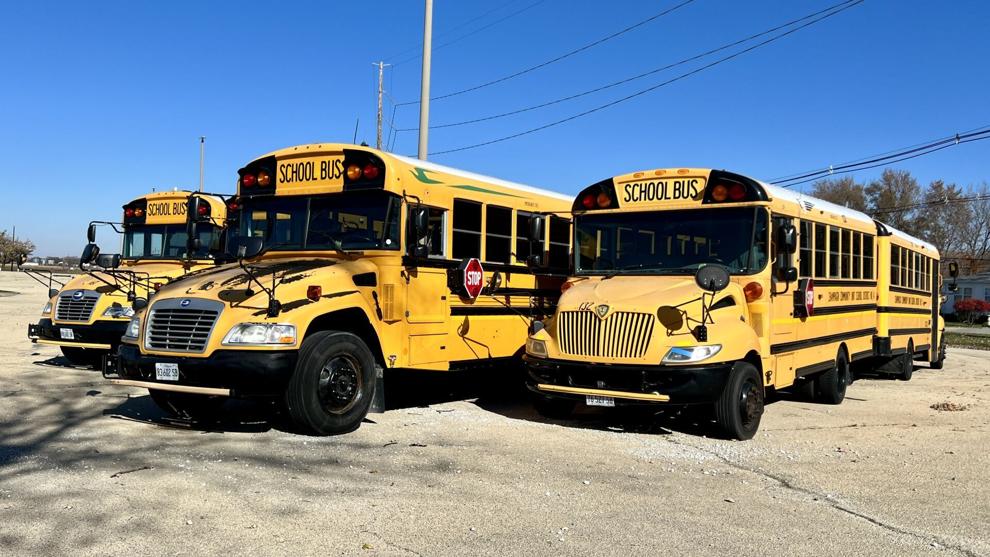 "As I've driven up and down North Market Street lately, I've seen six to eight Unit 4 school buses parked in a tight formation in a parking lot east of Market Place Mall. Just curious why they are there, rather than at the district's bus barn…?"
"Due to the demolition of the old transportation building and other work on the property, some of our buses were temporarily relocated to the mall parking lot," said Stacey Moore, Unit 4's chief communications officer.
"We would also like to remind your readers that Unit 4 has openings for school bus drivers. Visit www.champaignschools.org to apply."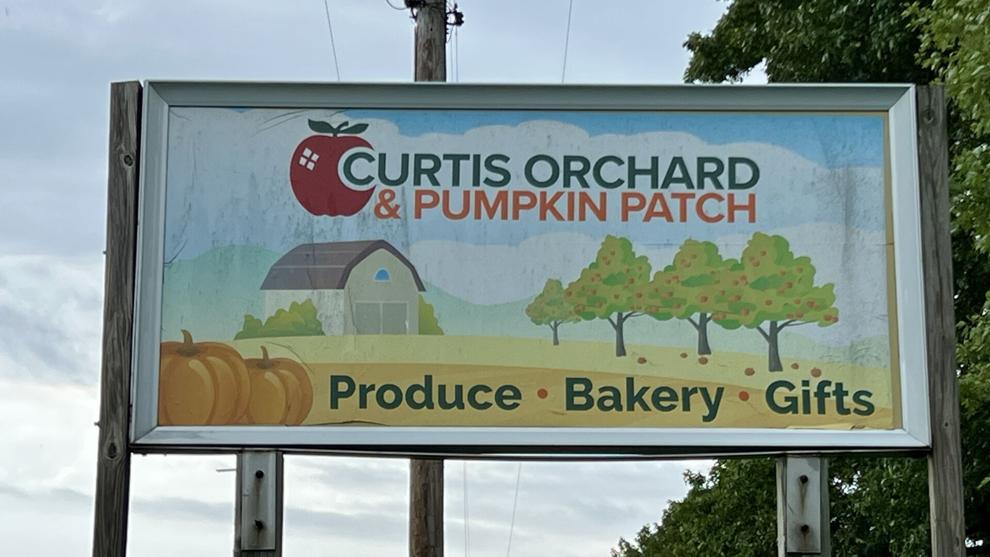 "What happened to the bridge at Curtis Orchard that the goats walked across? Is it coming back?"
A father asked this question on behalf of his 9-year-old son. Curtis Orchard's Rachel Coventry tells us they removed the goat bridge because it was in disrepair.
"We turned the barn entrance side into a second cat hotel, so we don't anticipate rebuilding the goat ramp. Having two separate cat hotels allows us to separate cats and kittens for various reasons. They can be viewed through the screens and love all the attention they get even if they aren't allowed out. Removing the goat walk also allowed us to build the gourd walk for photos and educational opportunities."
A goat bridge, cat hotels and a gourd walk. Somehow, I did not have those on my Mailbag bingo card when I started working on this week's column….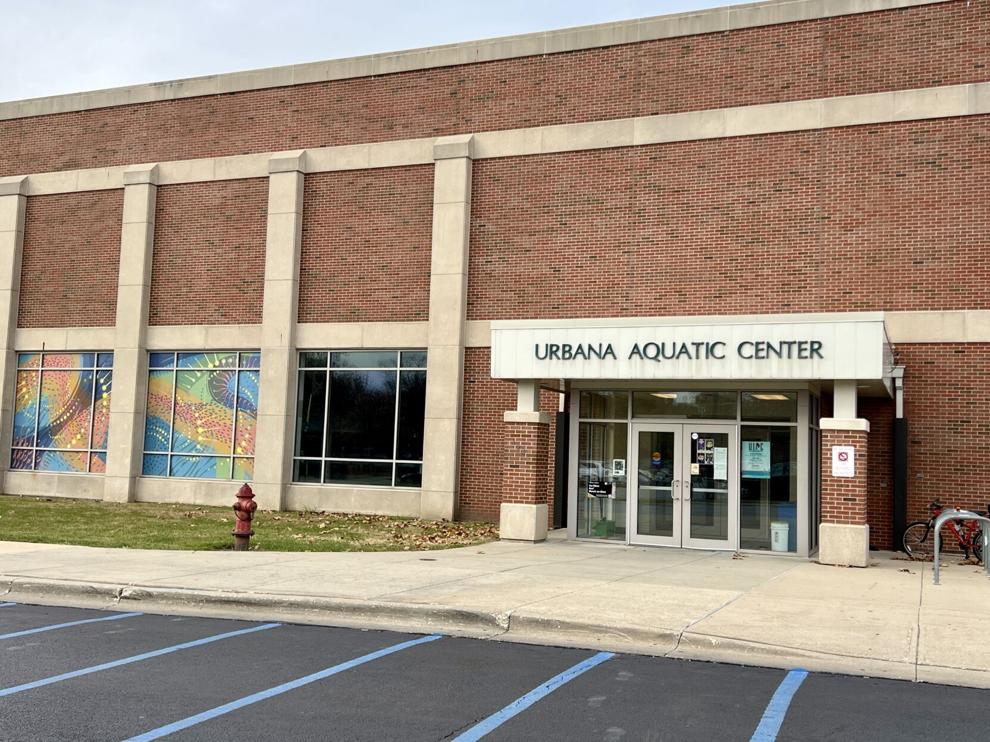 "Why are there so few public swim hours available at the Urbana Indoor Aquatic Center? My children are taking swim lessons there this winter and I had hoped to get them back in the pool to practice their new skills. There are no open swim hours after 1 p.m., and I understand weekends are reserved for private parties."
Urbana Park District spokesperson Mark Schultz passed along this reply, on behalf of both the park district and Urbana School District 116:
"Earlier this spring, UPD and USD 116 entered into a four-year agreement to operate the Urbana Indoor Aquatic Center. The Urbana School District owns the pool while the Urbana Park District manages and operates the pool. This agreement provides aquatics programming for the community and the school district's swim and diving teams, while being fiscally responsible with taxpayer revenue and properly staffing the pool.
"As part of the agreement, the park district decided to more equitably distribute tax revenue across all recreation areas and focus indoor aquatics programming on swimming lessons, water exercises, lap swim and private rentals. The indoor pool will open for public swim when the school district is on fall, winter and spring break."
Open swim hours for the upcoming winter break will be 1:30-5 p.m. from December 20-January 3. The facility is closed on Thanksgiving Day, Christmas Day and New Year's Day.
Find out more about the UPD/USD 116 agreement here: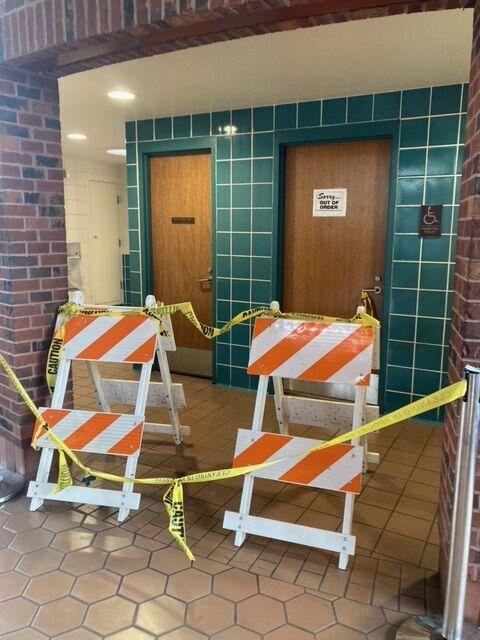 "As of late October, the Mackinaw Dells Rest Area at eastbound mile marker 114 on I-74 was closed with barricades preventing drivers from even parking to stretch their legs. At the next rest stop, Farmland, the men's restroom was open but the women's had caution tape and was closed. Why does it seem the rest stops I want to use are always closed?"
It's frustrating, for sure. But IDOT engineer Kensil Garnett said there are good reasons for the recent restroom/rest area closures along I-74.
"In April of this year, we discovered a sewage lagoon issue at the Mackinaw Dells Rest Area on the eastbound side. A hole/leak in the pond liner in Stage I was allowing water to seep through the west earth dam, and we had to close the rest area due to health reasons. We currently have a consultant working on repair plans to fix the lagoon." Officials expect to seek bids for the repair project in early 2024 and begin the work in the spring/summer of 2024.
As for the Farmland Rest Area … "some time ago the underground piping collapsed in the men's room, causing it to be unusable. We closed the entire rest area down at the time. Since this has turned into a long-term project, we changed the signage around in that building.
"The existing women's room had two separate bathrooms. We converted one side to a men's room and left the other side the women's room. It has a divider in-between the sides and our sign shop made some additional signage as well to help eliminate confusion. This has worked up to this point with very little complaints. The only other option is to close the building completely."
Garnett said there may be other reasons IDOT would need to close a restroom for a short time. "This could be either for a cleaning that cannot be done with the restroom open or for a repair that needs completed. Most of our rest areas either have two sides or a family restroom. When one side of the women's – or men's – is closed, people can use the other side or the family restroom."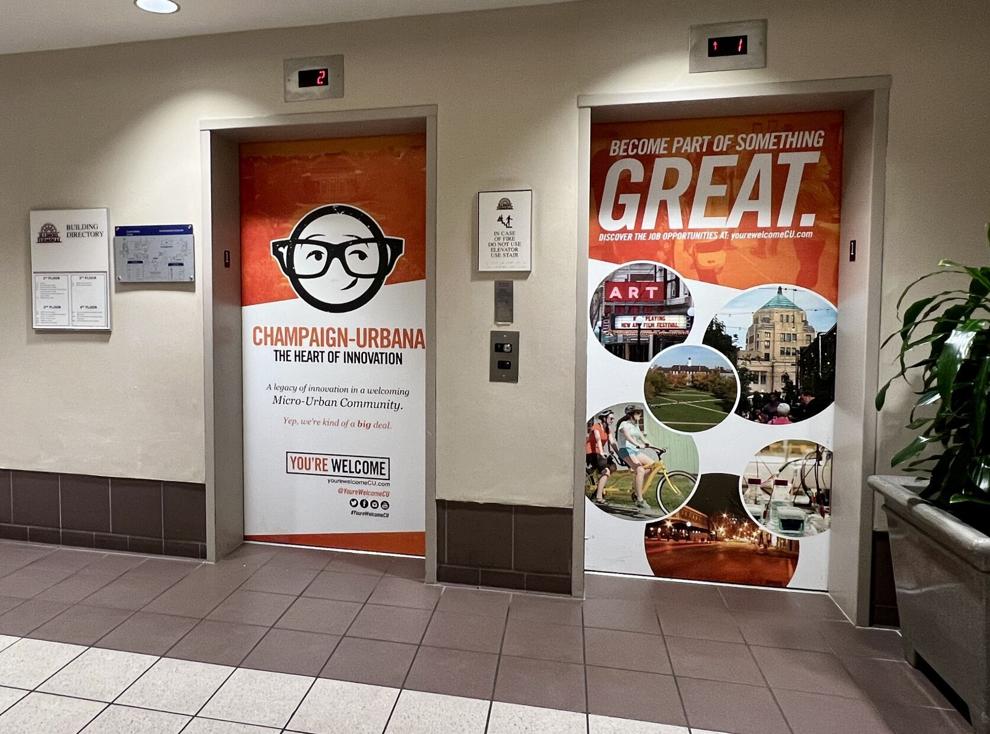 "Can you get an update on the elevators at Illinois Terminal in Champaign? One of them is still not operating properly, and I'd understood over the summer that repairs were soon to be made."
Most of the elevators' components are original equipment, so they're about 25 years old. If that doesn't sound very old, well, it WAS in the last century….
Illinois Terminal Director Joshua Dhom said "one elevator has significant mechanical issues which, unfortunately, cannot be completely solved without the work done in the modernization project. In the meantime, both elevators are continually serviced to ensure we have safe elevator transport to all floors.
"Schindler, our elevator contractor, has notified us that most of the parts for the modernization project have arrived at their warehouse. We are now waiting for a schedule from the installers to begin the work. The installation of the new elevator components may take several months but one elevator will always remain in service during the project."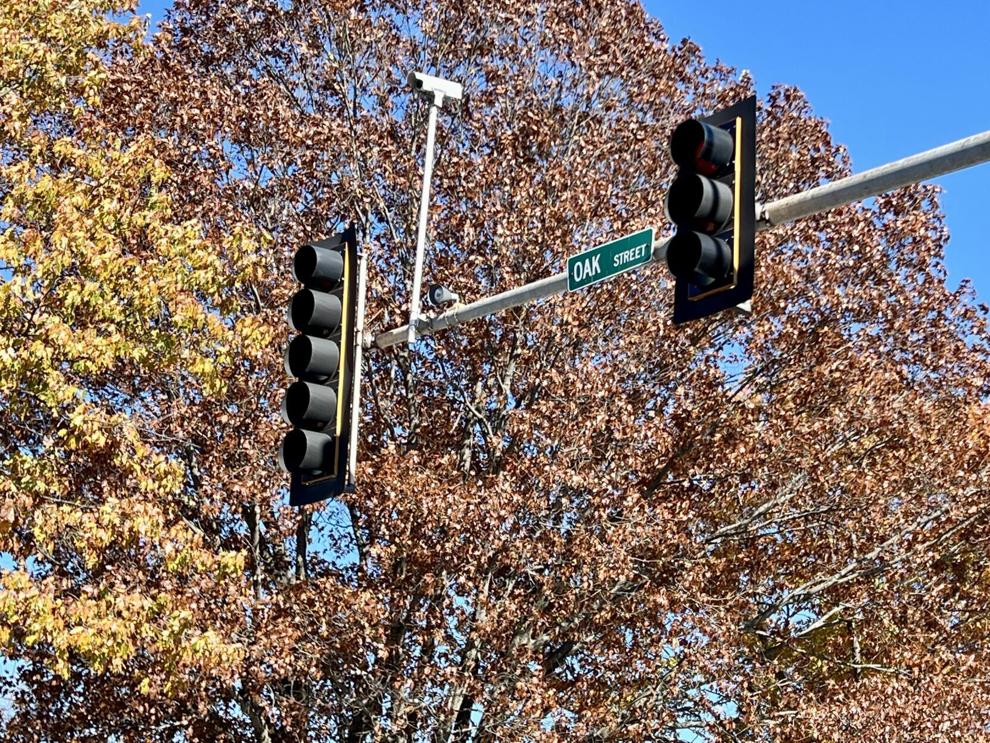 "At the Oak and Kirby intersection in Champaign, the left-turn-only arrow activates regardless of whether there is a car in the left-turn lane on Kirby — on both the eastbound and westbound sides. Is this intentional, or a glitch?"
It turns out this particular set of signals is controlled by the UI's Facilities & Services group. F&S spokesperson Steve Breitwieser says the current traffic signal controller is an older model that maintains pre-established turn-arrow timing.
The controller will be upgraded soon, and "once a new controller is installed, the City of Champaign will manage the device, enhancing capabilities to synchronize signals along this stretch of Kirby Avenue."
He said there are no current plans to add roadway sensors or other vehicle-detection devices to help manage traffic at the intersection. "Still, this type of functionality would be evaluated for future infrastructure upgrades with this street section. In-ground sensors have recently been installed in other transportation network improvement projects on campus."