For 28-year-old Oaklander Kiana Young, aka LOTUS BOY, 2023 San Francisco Drag King of the Year, it is incredibly freeing to live—and perform—their truth.
The trans nonbinary Asian American performer—who also identifies as disabled, chronically ill, and neurodivergent—understands first-hand the intersectional experiences and challenges unique to the nonbinary community. So they use their growing platform to help liberate others, like them, who are marginalized as a result of racism, ableism, transphobia, and sexism.
One of the ways they do this is as production manager of Diamond Wave's THEYFRIEND, which returns to San Francisco for its third year (Tue/14-Sat/18) to uplift and celebrate nonbinary performers of all stripes. 
Founded by SF-based nonbinary artist-performer Vin Seaman, the first arts festival in the world to center this often-overlooked group within the larger LGBTQ+ community, THEYFRIEND showcases dozens of unique performers at various local venues over five days.
This year's edition starts with an Opening Showcase and Dialogue (Tue/14 at Koret Auditorium) hosted by local nonbinary performer SNJV. 
Other highlights include the in-person (and live-streamed) Drag and Music Showcase on Wed/15 at Oasis co-hosted by LOTUS BOY and Gothess Jasmine; a Virtual Video Showcase of performances hosted by Goddexx on Thu/16; and a Poetry and Music Showcase Fri/17 and a Closing Showcase Sat/18 at Brava Cabaret, hosted by Seaman and Poppy J. Snacks.
I spoke with LOTUS BOY about healing past trauma through performance art, aiding audiences in learning and unlearning to become better humans, and using their platform to help unshackle marginalized people from oppression.
48 HILLS Why is an event like THEYFRIEND important?
KING LOTUS BOY THEYFRIEND is the world's first and only performance festival that centers nonbinary identity and artists. That should tell you a bit about how few spaces and ongoing events there are that really center and uplift this community. 
And although some people who identify as nonbinary also identify as transgender here, not all of them do. So, although we have amazing events that center transgender performers and transgender people and are based in the heart of San Francisco, which has the historic Transgender District, which we are also partnering with this year, we sometimes have members of the community whose experiences as nonbinary trans don't always align with all transgender people. 
So we must create spaces for folks like us whose experiences are important and unique to show the world what it means to exist outside the margins. When you rarely see nonbinary stories, experiences, interpretations, and artistic expressions depicted in media and current performance spaces, it can be meaningful to see yourself represented in that way on stage if you're a nonbinary community member in the audience. 
Additionally, if you are not nonbinary, it's so important to expose yourself to the voices and the stories of other folks you're in community with, not only to learn but also to see and feel each other in this embodied way. Art is so personal, powerful, and oftentimes so political, and it's important to see each other in our full humanity in this way, to truly understand each other, uplift each other, and know what it feels like to be in solidarity and allyship with each other as we work toward collective liberation. 
48 HILLS What can audiences coming to THEYFRIEND expect to see at your Drag and Music Showcase? 
KING LOTUS BOY This showcase will be international. We'll have a little bit of everything for everyone and some powerful, uplifting, and emotional performances. We have vaporwave/electronica music artist theyfriend from LA; Punjabi drag king Harddeep Singh from London; Chinese-American burlesque artist Ling Ling Super Bloom from San Francisco; Kānaka Maoli and māhū drag and burlesque artist Piss E Sissy; Puerto Rican drag artist and dancer JanpiStar; and Afro-Latin hip-hop duo Krudxs Cubensi from Cuba, who are also powerful activists. So the showcase will be extremely diverse, not to mention my co-host Gothess Jasmine, a stunning drag, burlesque, and special-effects makeup artist from Austin, TX. 
I will still be production managing, as well as hosting this event. Another great feature I'm excited about this year that we didn't have last year is that we will be live-streaming the Drag & Music Showcase. I am so grateful for live-streaming technology because it is a way to ensure that disabled and immunocompromised audience members can still be a part of the festival, even if they don't feel safe or well enough to attend in person. With performers who hail from different countries, it's beautiful to include folks from their families and communities back home in this experience.
48 HILLS The nonbinary community is often overlooked—even among the LGBTQ+ community. What is art's role in bridging the gap?
KING LOTUS BOY I don't have all the answers for overcoming the exclusion that sometimes occurs with nonbinary people, even amongst the LGBTQ+ community. I believe that art expresses your experience, essence, soul, trauma, and joy in a way that words alone often can't do or can't encapsulate. 
Being nonbinary, being trans, and being queer is so much more than a label. It's so much more than how you style your hair, wear your clothing, or how your voice sounds. It's so much more than that and can't ever fully be represented because it's an experience. 
However, art is often a universal connector for people across differences, so I believe that art is one of our most powerful ways to connect as community members and as people who are hopefully working in solidarity to bring us closer to freedom, justice, and liberation, collectively.
48 HILLS You've said that with every performance you hope to help people learn or unlearn something. Please elaborate on this.
KING LOTUS BOY In my experience, to achieve meaningful growth and healing, one must constantly be doing both. Learning new ideas, perspectives, ways of being, ways of holding ourselves and those around us, and unlearning all the ugly, harmful, and limiting internalized systems of oppression such as Zionism, anti-Blackness, ableism, transphobia, xenophobia, sexism, etc. Although I don't believe that art inherently should educate the viewer, it often does. I recognize the power and privilege of my voice and my gifts as an anti-disciplinary artist and always seek to use my art as a platform for my values and dreams of collective liberation. 
48 HILLS What's the role of performance art in helping you heal past trauma?
KING LOTUS BOY Art and drag allow me to express and catalyze my past and present traumas in a way that is unlike other modalities. Drag gives me a space to be unfiltered in my anger, grief, inner turmoil, desires, joy, hopes, and full humanity. It also provides a unique space where my trauma is witnessed and affirmed—that these things happened, are real, and yes, are painful—and yes, healing is possible. And that even though what has happened to me is not my fault, it is my responsibility to prioritize my healing. 
48 HILLS How has becoming SF Drag King changed your life? 
KING LOTUS BOY It is an honor and dream to have won the 27th Annual SF Drag King Contest this year, especially because two years ago, I won first runner-up, and five years ago, I competed for the first time in my first year of drag. 
Although I don't create art for the sole purpose of winning pageants, it was an extremely proud moment for me to become the first Asian and the first openly disabled, chronically ill, and neurodivergent king to win. It was meaningful to win with a performance that centered on consent and body autonomy and called out the normalization of drag kings (and drag artists in general) being hypersexualized, objectified, and assaulted. 
My goals are to continue creating, making space for other drag kings and drag things, and using my platform to advocate for my values of collective liberation, which includes FREE PALESTINE.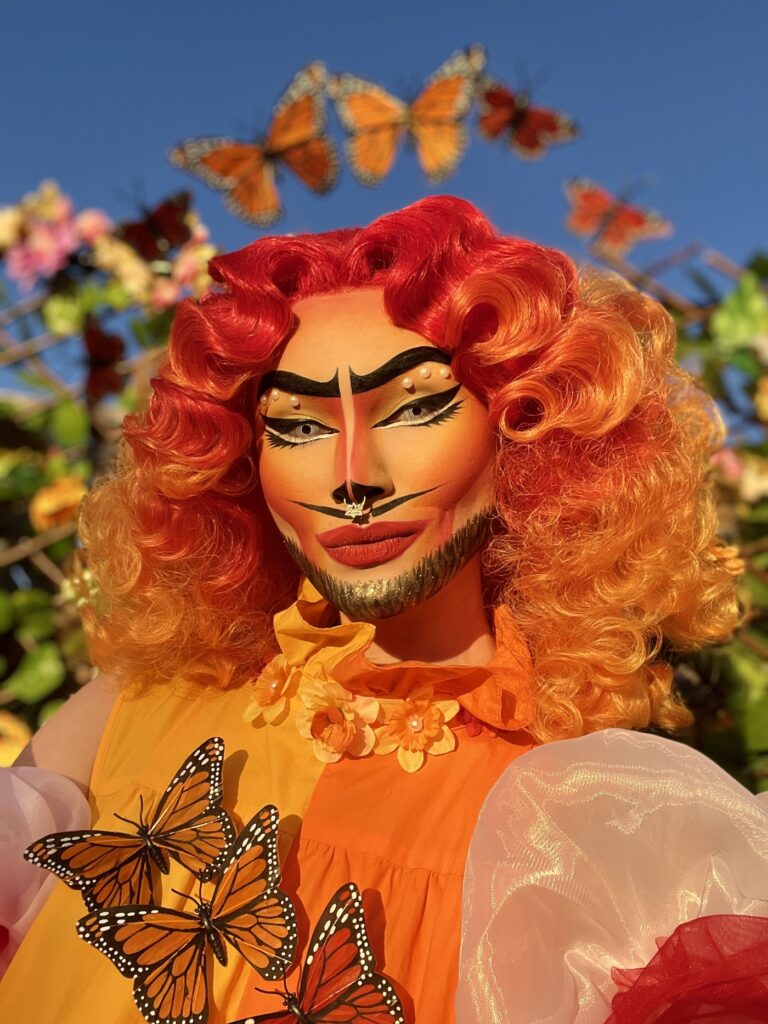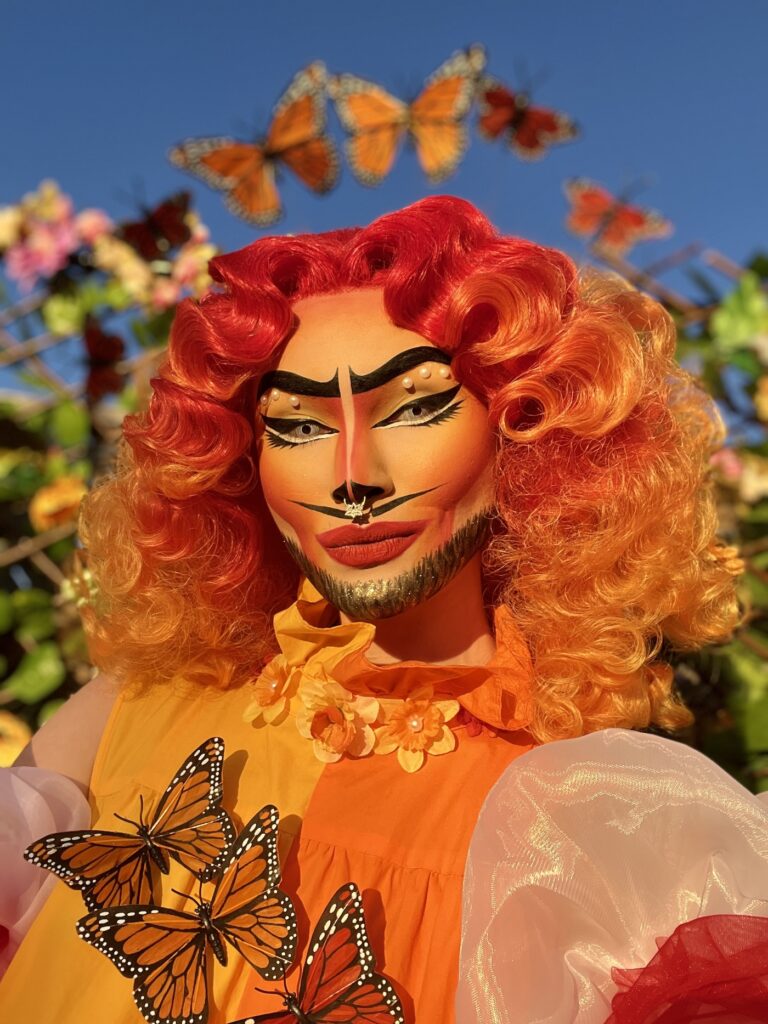 48 HILLS How do you use your platform to create change?
KING LOTUS BOY Since I began performing in drag in 2018, my art has always been informed by both my political values and awareness that drag as we know it now originated from our Black queer transcestors. I hold dearly and fiercely to the wisdom of Black revolutionaries—no one is free until we are all free. 
As my platform has grown, it has been heartening to see that many of my peers and community share similar values. Of course, I also have haters, lurkers, and people who wish me harm. Despite this, it is my responsibility to continue to use my platform to unapologetically advocate for justice and liberation for our communities, to create more opportunities for other drag kings and marginalized artists, and to do everything in my power to make the world more accessible. 
48 HILLS How do you support the next generation of LGBTQ+ people?
KING LOTUS BOY Intergenerational relationships and solidarity are crucial to strengthening our communities. Outside of drag, I've been a youth educator for the past seven years as an intersectional workshop facilitator, public speaking instructor, and competitive speech & debate coach for middle and high schoolers in the Bay Area. I'm passionate about helping youth and adults find their voices. I believe in the power of words, expression, and art to catalyze sociopolitical change for themselves and future generations. I frequently perform and speak at colleges, high schools, and all-ages events. 
Since 2021, I've partnered with Queens of the Castro to create and facilitate workshops on drag, gender exploration, and LGBTQ+ history in high schools in San Francisco and Oakland. It has been a surreal, meaningful, and joyful experience to give youth the education and affirmations I never got (but desperately needed) when I was their age. I hope that this type of education can continue and spread to more places around the nation because LGBTQ+ need and deserve to know the possibilities and futures that exist for them, as well as the revolutionaries who came before them. 
THEYFRIEND Tue/14-Sat/18 Various locations, SF. Tickets and more info here.