Navigating the salary cap is one of the more important tasks for any GM.  Teams that can avoid total cap chaos by walking the tightrope of inking players to deals that match their value (or compensate for future value without breaking the bank) remain successful.  Those that don't see struggles and front office changes.
PHR will look at every NHL team and give a thorough look at their cap situation for the 2023-24 season.  This will focus more on players who are regulars on the roster versus those who may find themselves shuttling between the AHL and NHL.  All cap figures are courtesy of CapFriendly.
San Jose Sharks
Current Cap Hit: $81,392,547 (under the $83.5MM Upper Limit)
Entry-Level Contracts
F William Eklund (three years, $863K)
D Nikita Okhotyuk (one year, $789K)
Potential Bonuses
Eklund: $850K
Okhotiuk: $82.5K
Total: $932.5K
The Sharks have slow-played things with Eklund, giving him a taste of NHL action over the last two years but not enough to actually start his contract.  Now that his deal can't slide anymore, he's a regular in the lineup.  He's off to a slow start this season and San Jose's offensive woes will make it tough for him to hit on his four 'A' bonuses.
Okhotiuk is essentially waiver-blocked.  San Jose isn't using him much but they also don't want to risk losing him for nothing on waivers.  The end result is a lot of time on the bench which doesn't bode well for his next contract or reaching some of his games played bonuses.
Signed Through 2023-24, Non-Entry-Level
D Calen Addison ($825K, RFA)
F Alexander Barabanov ($2.5MM, UFA)
F Ryan Carpenter ($775K, UFA)
F Anthony Duclair ($3MM, UFA)
D Ty Emberson ($775K, RFA)
F Mike Hoffman ($4.5MM, UFA)
G Kaapo Kahkonen ($2.75MM, UFA)
F Luke Kunin ($2.75MM, RFA)
F Kevin Labanc ($4.725MM, UFA)
F Oskar Lindblom ($2.5MM, UFA)
D Jacob MacDonald ($762.5K, UFA)
D Radim Simek ($2.25MM, UFA)
F Filip Zadina ($1.1MM, RFA)
After Labanc took a team-friendly one-year deal back in 2019-20, things have gone downhill as he has failed to pass the 33-point mark since then.  At one point last month, it looked like he'd be waived.  A change of scenery would likely do him some good but it's almost certainly going to come at a fraction of this price.  Hoffman appears to be heading for a sizable dip in pay as well after a tough couple of years in Montreal and a particularly rough start to this season.  His shot is still dangerous but he might be better suited for a deeper team who can use him on the power play but hide him a bit at five-on-five.  Those teams won't be able to offer anywhere close to the type of money he's making now.
Duclair was acquired from Florida over the summer with the Panthers looking to free up some cap space.  A big year in a prominent role could also bode well for the winger but, as is the case with pretty much every other forward, he's off to a tough start.  Still, after a 31-goal showing in 2021-22, Duclair should at least have a chance at another short-term deal around this price.  Barabanov is coming off a career year that saw him record 47 points in 68 games, a pretty nice bargain at his price.  However, a finger injury is likely to keep him out for another month which won't help his bargaining power.  That said, a small raise could be achievable if he's able to produce upon his return.
Kunin's tenure with San Jose hasn't gone great so far.  Injuries limited him to just 31 games last season where he managed 13 points and he's producing at a lower clip in the early going this year.  Owed a $3MM qualifying offer in June, that price tag might be too rich for the Sharks.  Lindblom landed this deal after being bought out by Philadelphia but has struggled with his new team to the point where he cleared waivers in camp and is now in the minors with a dead cap charge of $1.35MM.  As things stand, even getting that much next summer could be difficult.
Zadina walked away from guaranteed money with Detroit to take a lot less with San Jose in the hopes that a new environment could help him revive his game.  The results have been spotty so far but with him being controllable through restricted free agency until 2027, they can afford a gradual development curve.  A small raise with arbitration eligibility should come his way.  Carpenter has seen limited minutes so far and is likely to stay in a depth forward role which will keep him around this price point moving forward.
Simek has been a depth piece for the majority of this contract (which is in its fourth year) which resulted in him clearing waivers in training camp.  Accordingly, he has a dead cap charge of $1.1MM which, like Lindblom, might be more than what he'll be able to get on the open market this summer.  Addison was recently acquired from Minnesota in a move that basically gives him a fresh start where he'll play more frequently.  After putting up 29 points last season, the Wild basically had no choice but to give him a low-cost, one-year deal.  Next summer, Addison will be arbitration-eligible and should see this price tag double at a minimum.
Emberson was picked up on waivers in training camp and is getting his first taste of NHL action.  He has held his own so far but a larger sample size is needed to see if he's worthy of a bigger raise and a multi-year deal or another one-year pact if he winds up being a depth defender.  MacDonald is another depth piece who, at 30, is almost certain to stay around the minimum salary on his next deal.
Things haven't gone quite as planned for Kahkonen.  Former GM Doug Wilson moved a capable blueliner in Jacob Middleton to get the netminder back at the 2021-22 trade deadline with the hopes that he'd be their goalie of the future.  The way he finished off that season provided some cause for optimism but since then, it has not been pretty.  He posted a save percentage of just .883 last season and this year, it's even worse early on; with how bad the Sharks are, there's no guarantee it will improve either.  He's one of the more intriguing goalies in this free agent class; is it a case of him just needing a more structured environment to succeed in?  Or did he peak a couple of years ago?  How teams feel will ultimately decide if he gets a contract similar to this one or if he's heading for a sizable pay cut as well.
Signed Through 2024-25
G Mackenzie Blackwood ($2.35MM, UFA)
F Mikael Granlund ($5MM, UFA)
D Nikolai Knyzhov ($1.25MM, UFA)
D Jan Rutta ($2.75MM, UFA)
F Givani Smith ($800K, UFA)
F Nico Sturm ($2MM, UFA)
F Fabian Zetterlund ($1.45MM, RFA)
Yes, things didn't go well for Granlund in Pittsburgh but before that, he had 100 points in his last 138 games with Nashville.  Accordingly, a bounce-back performance is doable in theory but this might not be the best situation for that to happen.  At the moment, it's hard to see him getting this type of money two years from now but if things stabilize somewhat and Granlund is a key part of that happening, he might be able to come closer than some might think.  Sturm had a career year last season, his first with San Jose as he put up career bests across the board while providing some positive value on his contract.  If he can stay close to 25 points while being a faceoff specialist, his market should be a bit stronger in 2025 where he could push for closer to $3MM.
Zetterlund did well with New Jersey last year but struggled mightily after being acquired in the Timo Meier swap.  This season, he has looked a bit more comfortable and is the early team leader in goals.  He'll be looking to establish himself as a dependable middle-six winger moving forward and if he does, his next contract should at least go past the $2MM mark.  Smith has been a depth player when he has been on an NHL roster and that's unlikely to change with the Sharks which should keep him around this price point two years from now.
Rutta is best utilized in a complementary role and the state of San Jose's depth chart makes that somewhat difficult to accomplish.  When he signed this contract with Pittsburgh, it seemed like an overpayment at the time and if he winds up languishing with the Sharks for most of the remainder of it, he could also be looking at a small cut on his next contract.  Knyzhov has battled significant injury trouble and at this point, it's just about re-establishing himself as a regular, a role he last had in 2020-21.  If he can do so and stay healthy, he could push for closer to $2MM but would need to become a top-four piece with the Sharks to aim much higher.
Blackwood struggled with injuries and inconsistency with New Jersey, resulting in his rights being dealt to San Jose in the spring.  They non-tendered him but quickly agreed to this deal.  The 26-year-old has fared better than Kahkonen but is struggling behind a weakened back end.  He'll need to fare at least a bit better if he wants a shot at another deal around this price point; even keeping them competitive most nights might be enough.
Signed Through 2025-26
D Matt Benning ($1.25MM, UFA)
D Kyle Burroughs ($1.1MM, UFA)
D Mario Ferraro ($3.25MM, UFA)
D Marc-Edouard Vlasic ($7MM, UFA)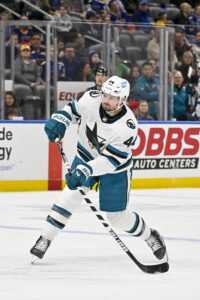 To say that Vlasic's contract hasn't aged well would be an extreme understatement.  The decline in performance started in year two and has continued since then.  In his prime, Vlasic was a prime shutdown defenseman but now, he's struggling to handle even number six minutes and has been healthy scratched at times.  There is signing bonus money in each of the remaining years of the contract which must be paid in full with a buyout.  Even so, a buyout starts to look a bit palatable this summer when the cost would be $3.833MM, $4.833MM, and then two years at $1.333MM.  San Jose isn't in a spot where they need to free up cap space but keeping an aging veteran around at the expense of a younger player isn't the best option either and a trade just isn't palatable.
Ferraro's contract was interesting at the time it was signed in that it brought him right to unrestricted free agency with no extra years of club control.  He's playing a bigger role than he probably should but in a fourth or fifth role, he'd fit in well with quite a few teams.  Unless things really don't go well between now and 2026, he should be positioned to earn an increase on this deal even with his struggles as a top-pairing player.
Benning's contract was another somewhat curious one in that sixth defenders usually don't get four-year deals.  He actually had a career season offensively last year, making him a bit of a bargain at the moment although he'd need to continue to produce near that level to earn any sort of significant raise.  Closer to the trade deadline, he could be an under-the-radar trade candidate.  Burroughs also inked a multi-year deal to be a role player on the back end, pretty good stability for a player who had less than 100 NHL games under his belt at the time he signed.  He's also playing a bigger role than he should but if he can hold his own at the 20-minute mark, his market should be stronger in 2026.
Signed Through 2026-27 Or Longer
F Logan Couture ($8MM through 2026-27)
F Tomas Hertl ($8.1375MM through 2029-30)
Hertl avoided free agency with this contract, Wilson's last of note at the helm of the Sharks.  As long as he stays around the 60-point mark while logging around 20 minutes of night, he'll give San Jose a reasonable return on this deal.  That said, the final years could be a bit of a drag on their cap sheet but lots could change between now and then.  Couture had one of his best seasons last year at the age of 33, providing some optimism that he could still provide a strong return on his contract for a couple more years at least.  He has been speculated as a possible trade candidate but will they be willing to encumber all of their retention slots through 2024-25 this early?  A lingering lower-body issue isn't helping things either.
Buyouts
F Rudolfs Balcers ($308.3K in 2023-24)
G Martin Jones ($2.917MM in 2023-24, $1.667MM in 2024-25 through 2026-27)
Retained Salary Transactions
D Brent Burns ($2.72MM through 2024-25)
D Erik Karlsson ($1.5MM through 2026-27)
Best Value: Barabanov
Worst Value: Vlasic
Looking Ahead
Many teams across the NHL are tight to the salary cap.  The Sharks aren't one of them; they're not even close despite having nearly $10MM doing nothing for them between buyouts, trade retention, and veterans being paid big money to play for the Barracuda.  GM Mike Grier is clearly in a burn-it-to-the-ground rebuild so they can take on a contract for other assets if they choose.  However, with just the one retention slot remaining, they might not be able to be as active on that front as one might think at first glance.
Going with the rebuild also has the Sharks with a very clean situation moving forward when it comes to the salary cap as they have considerable flexibility.  The long-term contracts are minimal and a lot of their current roster could be defined as filler players.  There should be a considerable amount of turnover in San Jose in the coming years as a result.
Photos courtesy of USA Today Sports Images.