Prestigious program encourages students to be changemakers in the fields of atmospheric and Earth system sciences
Nov 9, 2023
–
by Audrey Merket
The University Corporation for Atmospheric Research (UCAR) has announced the 2023 recipients of the Next Generation Fellowship for 2023. This fellowship is awarded annually to three graduate students from North American universities who are looking to gain experience in scientific research; policy; or diversity, equity, and inclusion. 
The 2023 recipients are:  
Abdulamid Fakoya, diversity, equity, and inclusion fellow
Kate DeMarsh, policy fellow
Esther Oyedele, science fellow 
"We are excited to welcome these three rising scientists to the UCAR/NCAR family," said UCAR President Antonio Busalacchi. "Their goals for advancing policy; research; and diversity, equity and inclusion in Earth system science are inspiring. We look forward to the collaborations that will occur through the fellowships and the new perspectives they will bring to our organization." 
Over two years, the UCAR fellowship gives fellows the opportunity to learn alongside leaders in their fields through collaboration and summer research trips to the U.S. National Science Foundation National Center for Atmospheric Research in Boulder, Colorado or to Washington, D.C. Fellows also receive a $10,000 award per semester to help with graduate school costs. 
Abdulamid Fakoya – Diversity, Equity, and Inclusion Fellow
University of Oklahoma
Abdulamid Fakoya is from Ogun State, Nigeria. He is guided by the African proverb, "If you want to go fast, go alone, but if you want to go far, go together." For him, this adage underscores the importance of collective action and collaboration in achieving lasting impact, particularly in the realms of science and academia.
Fakoya is on track to earn a PhD in meteorology from the University of Oklahoma. His research focuses on the interaction between atmospheric aerosols and climate. Leveraging in situ and remote sensing observations, he seeks to understand the evolution of biomass burning and wildfire smoke and the influence on regional climate. 
Fakoya's interest in atmospheric science was piqued after attending a symposium in high school, which opened his eyes to the harmful environmental and health effects of emissions, especially in densely populated areas like Lagos, where his family resided. Growing up in a small village, Fakoya faced firsthand the financial challenges that often deter academic advancement for those without socio-economic privilege. However, he was determined to prove that his circumstances would not define his potential and sought every opportunity to expand his knowledge and skills. He earned a bachelor's and master's in physics from University of Ilorin, Nigeria, as well as a master's in meteorology from University of Oklahoma. Upon finishing his PhD, Fakoya will join the small percentage of individuals of Black or African descent who hold doctoral degrees in the field of Earth system science.
Fakoya is a devoted volunteer who is deeply committed to giving back to his community. He emphasizes that true inclusivity requires a holistic understanding of diversity that includes not only race or gender disparities, but also takes into consideration socioeconomic factors, disabilities, and other dimensions of identity. As a fellow, Fakoya aims to acquire knowledge about professional diversity, equity, and inclusion practices within workplace environments and enhance his cross-cultural communication skills. "The UCAR fellowship will offer me valuable training to become an effective mentor, particularly for individuals with similar marginalized identities who are pursuing careers in STEM," he said.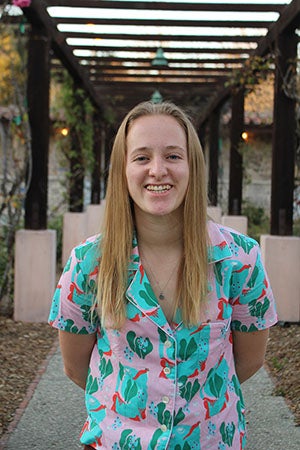 Kate DeMarsh –  Policy Fellow
University of California, Merced
Kate DeMarsh comes from a long line of people who prioritized giving back to their communities. Her mother was a social worker and her grandfather ran a neighborhood center. Even though she chose an entirely different career path in science, she feels that her policy work has brought her back to that same space. 
DeMarsh is pursuing a PhD at the University of California, Merced in Environmental Systems, and she has a bachelor's degree in biophysics from Scripps College. She has worked on numerous community projects, including her work with The San Joaquin Valley Center for Air Injustice Reduction (SJV-CAIR). Through this organization, DeMarsh worked on a project that installed 130 air monitors across the San Joaquin Valley, an area with some of the worst air quality in the world. The monitors provide empowering data on how pollution affects marginalized communities. DeMarsh is using the collected information to help guide policy through a bipartisan working group addressing economic prosperity in a changing climate. 
DeMarsh is passionate about diverse representation in the scientific community. "Representation just really does matter," said DeMarsh. "There are so many lived experiences that come into how we approach or find solutions. If we don't work with local community members, we can't get projects done and change doesn't happen." 
As a gay woman in STEM, DeMarsh has faced her own obstacles. However, she hopes to actively use the privileges she has to advocate for, and work with, local communities to uplift voices that have historically been ignored in science and policy. The UCAR fellowship gives DeMarsh the avenue to explore the space between policy and science and find ways to use science to propel actionable change.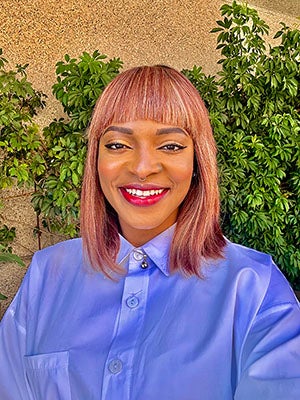 Esther Oyedele – Science Fellow
Virginia Tech
As a black female and first-generation scholar, Esther Oyedele knows the importance of challenging assumptions and the value of diverse perspectives. Through the UCAR fellowship, she aspires to become a leading researcher and advocate for diversity and inclusion in the science community. 
Oyedele grew up in Nigeria, where she saw the impacts of extreme weather events on issues like human wellbeing and food security. She became curious about the Earth system science behind these events, which led her to pursue a career in geosciences. Oyedele is working on a PhD in geosciences at Virginia Tech. She also has a master's degree in geology from Bowling Green State University and a bachelor's degree in geophysics from the Federal University of Technology Owerri in Nigeria. Her PhD research focuses on the impacts of drought in the Southwest region of the United States. She hopes that, when she is done with her research, she can look at how it can be applied to other regions of the world, including her home country. 
Oyedele believes in the power of collaboration. She looks forward to working with, and learning from, NCAR researchers. She is confident that working with these scientists will be instrumental in advancing her research skills and professional network. "I am grateful for the opportunity and am confident that this fellowship will empower me to make a meaningful and lasting impact in the field of Earth system science and address complex challenges we face for the benefit of society and the environment," she said.