Arnold Schwarzenegger, the Austrian-American bodybuilder turned actor, businessman, and politician, has an estimated net worth of $450 million as of 2023, according to Celebrity Net Worth. But how did he amass such a fortune? Let's delve into the journey of this action movie icon.
Arnold's journey began in the small village of Thal, Austria, where he was born in 1947. Introduced to bodybuilding at a young age, he quickly rose to prominence, winning the Junior Mr. Europe Contest in 1965 and the Mr. Universe title multiple times. By the age of 21, he had moved to America with a dream of making it big in Hollywood. But before his acting career took off, Arnold was already a millionaire at age 25, thanks to his savvy real estate investments.
Box Office Success
LOS ANGELES – JUNE 13: Body builder, actor and future Governor of California Arnold Schwarzenegger poses for a portrait session on June 13, 1985 in Los Angeles, California. (Photo by Harry Langdon/Getty Images)
Schwarzenegger's film career began with Hercules in New York and gained traction with movies like Conan the Barbarian. However, it was the 1984 blockbuster The Terminator that catapulted him to international stardom. Over the years, he starred in numerous hits, including The Running Man, Predator, Total Recall, and True Lies. Interestingly, one of his biggest paychecks came from the 1988 comedy Twins, where he, along with Danny Devito and director Ivan Reitman, took no upfront salary but owned a significant portion of the film's profits.
Political Aspirations & Real Estate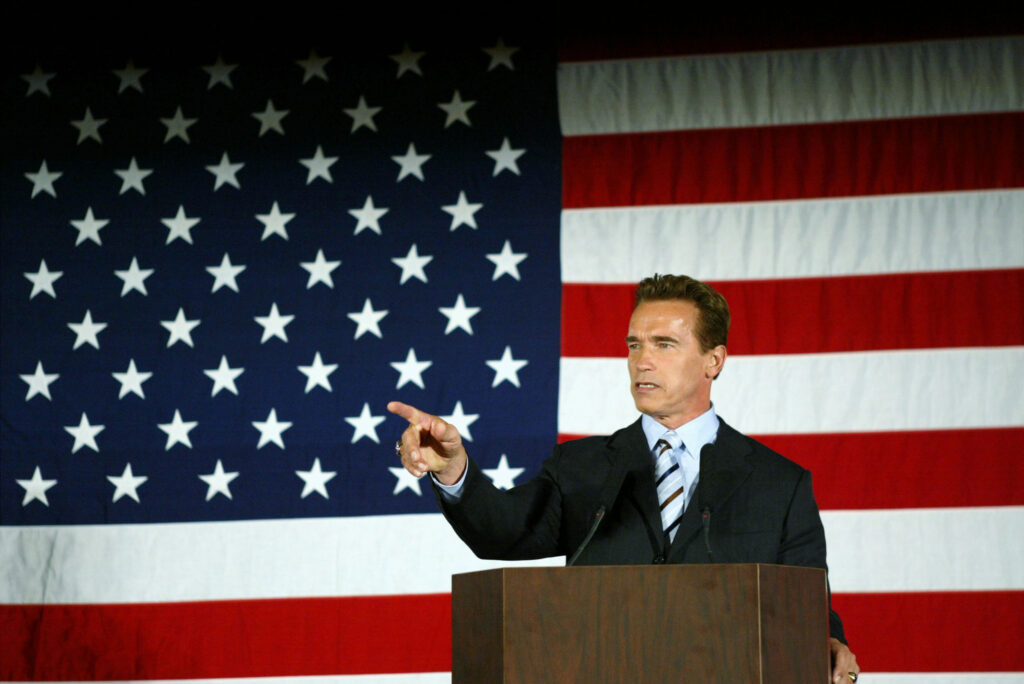 SAN BERNARDINO, CA – OCTOBER 16: California Governor-elect Arnold Schwarzenegger holds a press conference following his appearance with U.S. President George W. Bush October 16, 2003 in San Bernardino, California. Bush and Schwarzenegger met today to get to know one another before discussing the economic challenges facing the governor-elect. (Photo by David McNew/Getty Images)
In 2003, Schwarzenegger took a detour from acting to serve as the Governor of California, a position he held until 2011. His political career, while impactful, reportedly cost him potential movie wages, but his dedication to public service was evident. Further, outside of his film salaries, Arnold's wealth can also be attributed to his real estate empire. From his early days in the US, he invested his earnings in real estate, building a portfolio that's likely worth between $100-200 million today. His commercial properties, primarily in Southern California, testify to his business acumen.
Personal Life & Ventures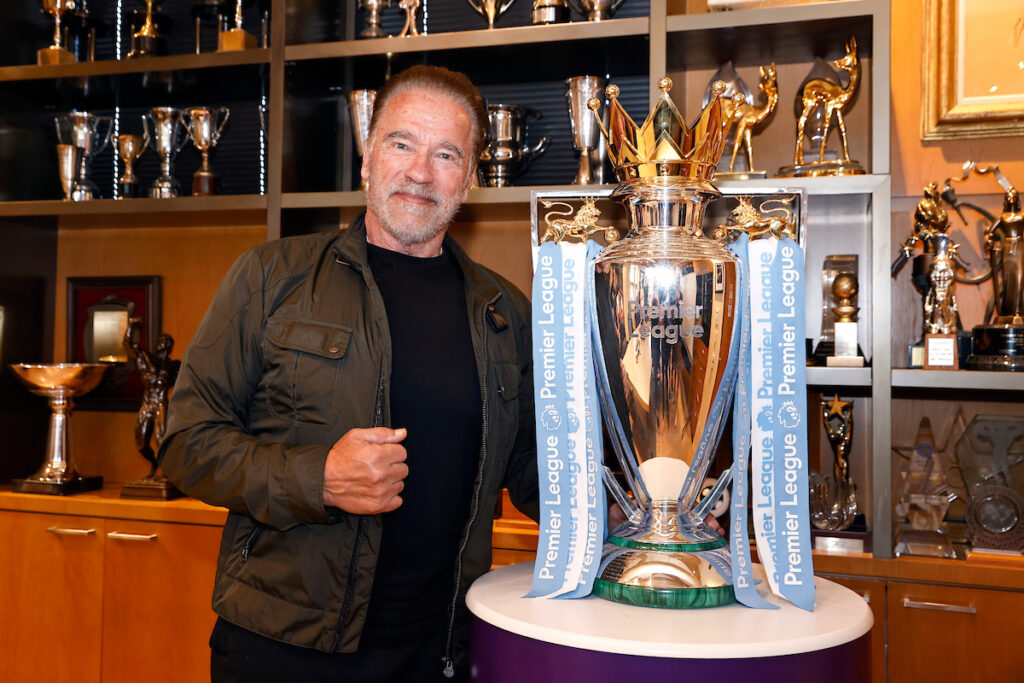 LOS ANGELES, CALIFORNIA – OCTOBER 22: Arnold Schwarzenegger poses with the Premier League Trophy in Santa Monica, ahead of the Premier League Mornings Live fan festival taking place at the LA Memorial Coliseum on Saturday 23 and Sunday 24 October on October 22, 2021 in Los Angeles, California. (Photo by Michael Owens/Getty Images for Premier League)
Arnold's personal life has also been in the spotlight, especially his marriage to Maria Shriver, niece of President John F. Kennedy. The couple has four children, including Katherine Schwarzenegger, married to actor Chris Pratt. Despite facing personal challenges, including a high-profile divorce, Schwarzenegger has continued to thrive both professionally and personally.
Arnold Schwarzenegger's net worth in 2023 reflects his hard work, determination, and ability to reinvent himself. From bodybuilding to Hollywood and politics, he has left an indelible mark in every field he has ventured into. His story is a testament to the fact that with passion and perseverance, one can achieve unimaginable heights.