Investment Thesis
Amid the broader challenges facing the U.S. regional banking sector, Provident Financial Services (NYSE:PFS) stands out as a compelling investment opportunity, trading near its relative historic lows. While Provident's financial health, peer comparison, and favourable risk-return ratio are commendable, its strategic merger with Lakeland Bancorp offers significant potential in targeting New Jersey's affluent market. Although there are noteworthy concerns, such as Lakeland's redlining and a temporary dip in Provident's net interest income, these are counterbalanced by their robust fundamentals: strong client retention, significant insider ownership, low non-performing loans, and solid regulatory capital ratios. Given Provident's impressive dividend yield of 6.8% and undervalued position relative to its peers, we advocate a "Strong Buy" stance, anticipating a 60% upside in the share price.
Company Insights
After examining the U.S. regional banking scene, it's clear that many are trading near relative historic lows. This momentarily dismissed sector presents significant value. With this in mind, we discovered our best bargain within this undervalued domain.
True standouts aren't always the most prominent names but agile, smaller firms dedicated to growth and shareholder value. Identifying these gems demands sharp research and investor vision.
Provident Financial Services, trading near all-time relative lows, presents a prime investment opportunity. We've scrutinized its financial health, juxtaposed it against its peers, and measured its investment risk-return ratio.
Overview
Provident Financial Services operates as the holding company for Provident Bank. Established in 1839, Provident Bank caters to the financial needs of businesses and individuals with almost 100 branches spanning northern and central New Jersey, eastern Pennsylvania, and Queens County, New York. They offer a diverse array of deposit, loan, and investment products.
Wealth management, trust, and fiduciary services are accessible via Beacon Trust Company ($3.5b AUM) and insurance services through Provident Protection Plus. Below are pie charts depicting the holding's business segments segmented by customer and product.
On September 26, 2022, the company agreed to merge with Lakeland Bancorp. Both boards gave unanimous approval for the merger, which also won shareholder endorsement. The company's stock value for the merger will be pegged to its closing price upon completion, with each Lakeland share converting to 0.8319 of the company's shares. Consequently, we've emphasized Lakeland's metrics in most comparative analyses. However, financial charts about the company are based on Provident's stand-alone data unless specified otherwise.
Below, we introduce Provident's peer group ranked by market cap. The light green area shows the expected net interest margin (NIM) for 2024E, which indicates the efficiency with which each bank uses its interest-bearing assets to generate income.
We appreciate Provident's strategic positioning in densely populated and affluent regions conveniently located near significant metropolitan hubs like New York City and Philadelphia. The opportunity is vast: New Jersey, ranking 4th nationwide in median income, hosts nearly 350,000 businesses across 14 counties within Provident's operational span. Likewise, Pennsylvania and New York counties housing Provident branches abound with business prospects, accommodating roughly 50,000 and 122,000 businesses, respectively.
The remarkable client retention statistics underscore Provident's client-centric ethos. Over one-third of their business clients have remained loyal for a decade or more, and more than half of their consumer base demonstrates allegiance spanning beyond ten years. This attests to Provident's capacity to nurture trust and consistently deliver top-notch services.
Regarding ownership and aligning interests, we value significant participation from management and other bank insiders. Insiders own 4.2% of Provident shares and 5.2% of Lakeland shares. An upward trend has been observed for Provident over the past six months. The slight decrease at Lakeland could be merger-related, but the number of affected shares is negligible.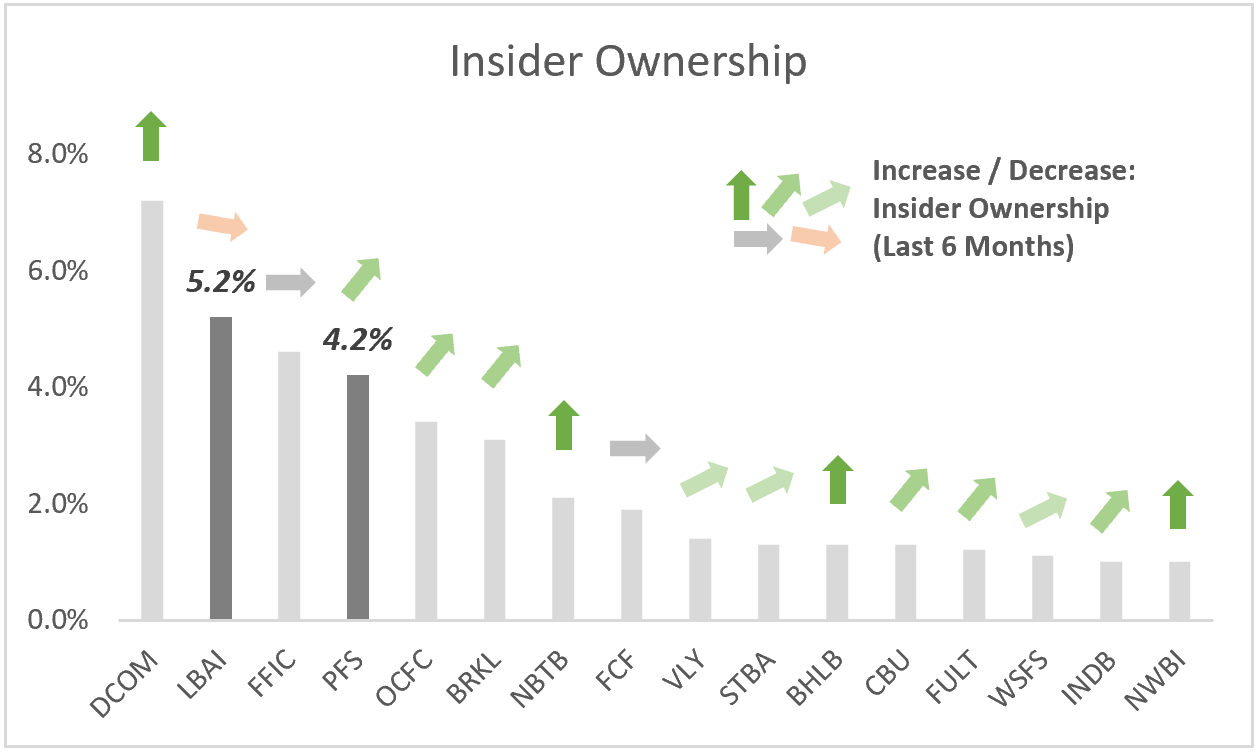 Merger with Lakeland
The merger of Provident and Lakeland heralds the emergence of a formidable financial giant in the New Jersey/Tri-State community banking arena. With $25 billion in total assets, the new conglomerate is about size and synergy: Provident combines its strong market presence with Lakeland's expertise in niche lending, particularly asset-based lending and equipment lease financing.
From our perspective, they appear primed to tap into New Jersey's affluent and expanding market, providing a more extensive product suite while upholding an impeccable, low-risk credit stature; more data is further below. Anchored by meticulous due diligence by two experienced M&A management boards and synergized by mutual principles, this merger aims to boost financial trajectories and magnify shareholder value in the next few years.
As the Provident-Lakeland merger unfolds, Lakeland has been actively addressing a redlining issue spotlighted by the US Justice Department. These allegations, spanning 2015 to 2021, have elicited Lakeland's pledge to a substantial settlement exceeding $13 million. This agreement, ranking third-largest in its category, commits Lakeland to allocate $12 million towards a loan fund targeting Black and Hispanic communities. While this decisive stance underscores a rejuvenated dedication to inclusivity and equitable lending, the case may protract the merger's timeline, possibly incurring added expenses. Nevertheless, when the merger materializes, it will epitomize a union deeply anchored in community ethos and unwavering integrity.
Interest Income & Investments
Provident's net interest income remains relatively stable on an annualized basis, as depicted in the chart below. However, the second quarter of 2023 witnessed a decline in net interest income compared to the previous quarter. Various factors, including deposit shifts, increased borrowings, and unfavourable repricing dynamics, influenced this drop.
Certain gains from the origination of new loans at prevailing market rates and favourable repricing of adjustable-rate loans were not enough to offset those declines.
Regarding the bottom line, the reduction in profits is chiefly attributable to the previously mentioned higher funding costs, an increased provision for credit losses due to a deteriorating economic outlook, and expenses related to the upcoming merger with Lakeland Bancorp. Given the challenging market conditions, we deem these results acceptable. Even banks need time to adjust to extraordinary interest rate shifts, and it's not as if they suddenly become unprofitable or suffer massive losses. Instead, they experience slightly reduced profitability for a short period while still distributing record dividend yields.
The decline in comprehensive income in 2022, represented by the orange line in the subsequent chart, stemmed from unrealized losses in the investment portfolio, which we will touch on next.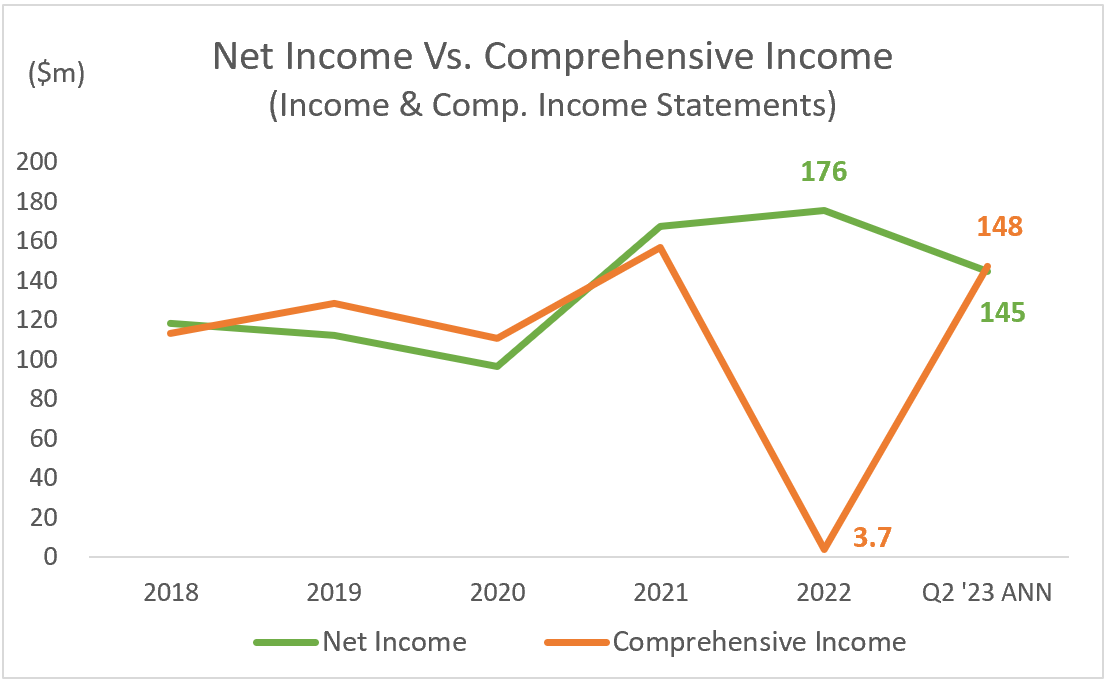 Over 82% of PFS's investment portfolio is categorized as available for sale (AFS); 77% are mortgage-backed securities, entirely held as AFS. This segment of the investment portfolio has the only noteworthy unrealized losses amounting to $203 million, which marginally impacts the bank's equity value.
We remain confident that these unrealized losses will stay as such and recede as these investments mature or recover before maturity.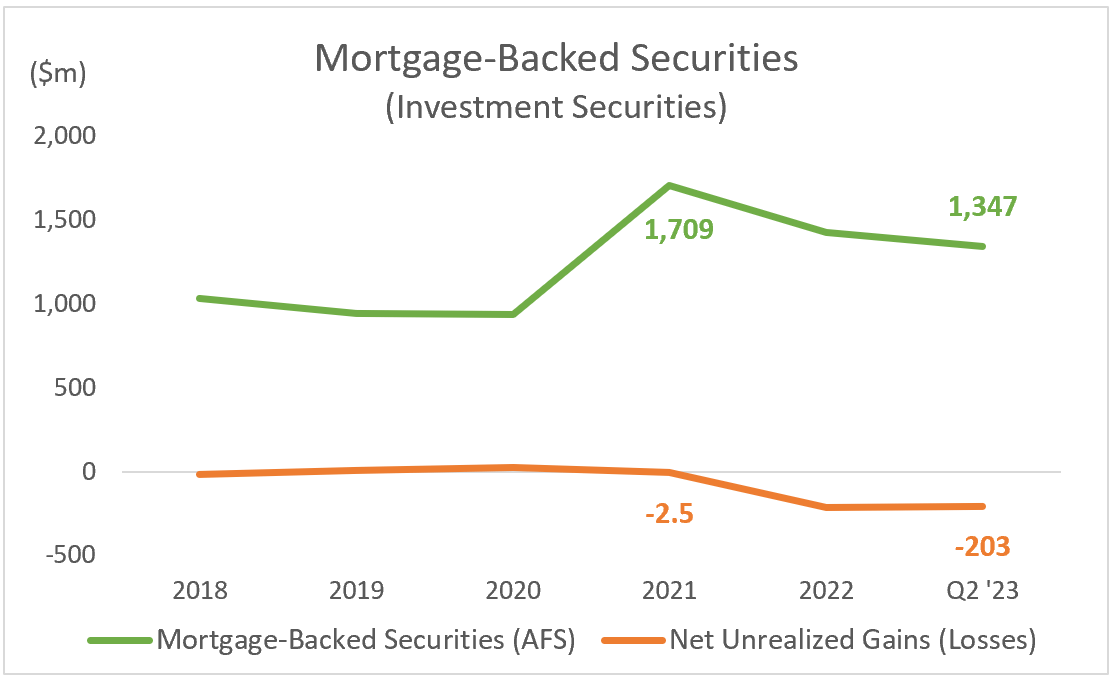 In concluding this section, we present a direct efficiency ratio comparison: Provident versus its industry peers. Through a scatter plot, we highlight two key efficiency metrics: the net interest margin (NIM), which relates net interest income to assets such as loans and investments, and the efficiency ratio, indicating non-interest (operational) expenses as a percentage of total net revenues.
According to the 2024E consensus estimates, Provident and Lakeland excel with 49% and 35% stellar efficiency ratios, respectively. Both companies must improve their net interest margins to approach the peer group's midfield, a post-merger goal stated by management. These margins currently stand at 3.04% and 2.65%, respectively.
Loan & Lease Portfolio
PFS's real estate loan portfolio saw a robust growth of 9.7% from 2018 to Q2 2023, as depicted in the chart below. The bank has consistently maintained an impressively low rate of non-performing loans across all segments.
The subsequent chart presents the commercial and consumer loans alongside their respective past-due days. These loans witnessed an overall growth of 5.0% from 2018 to Q2 2023.
As of June 30, 2023, the company's loan pipeline, which includes work-in-process and loans approved but awaiting closing, stood at $1.74 billion with a weighted average interest rate of 7.23%.
When benchmarked against its peer group, Provident and Lakeland excel in the metrics for overall net charge-offs, recording figures of 0.04% and -0.01%, respectively. The non-performing loan ratios are at 0.44% and 0.20%, respectively, impressive figures compared to the peer group. This distinction is visually represented in a scatter plot below.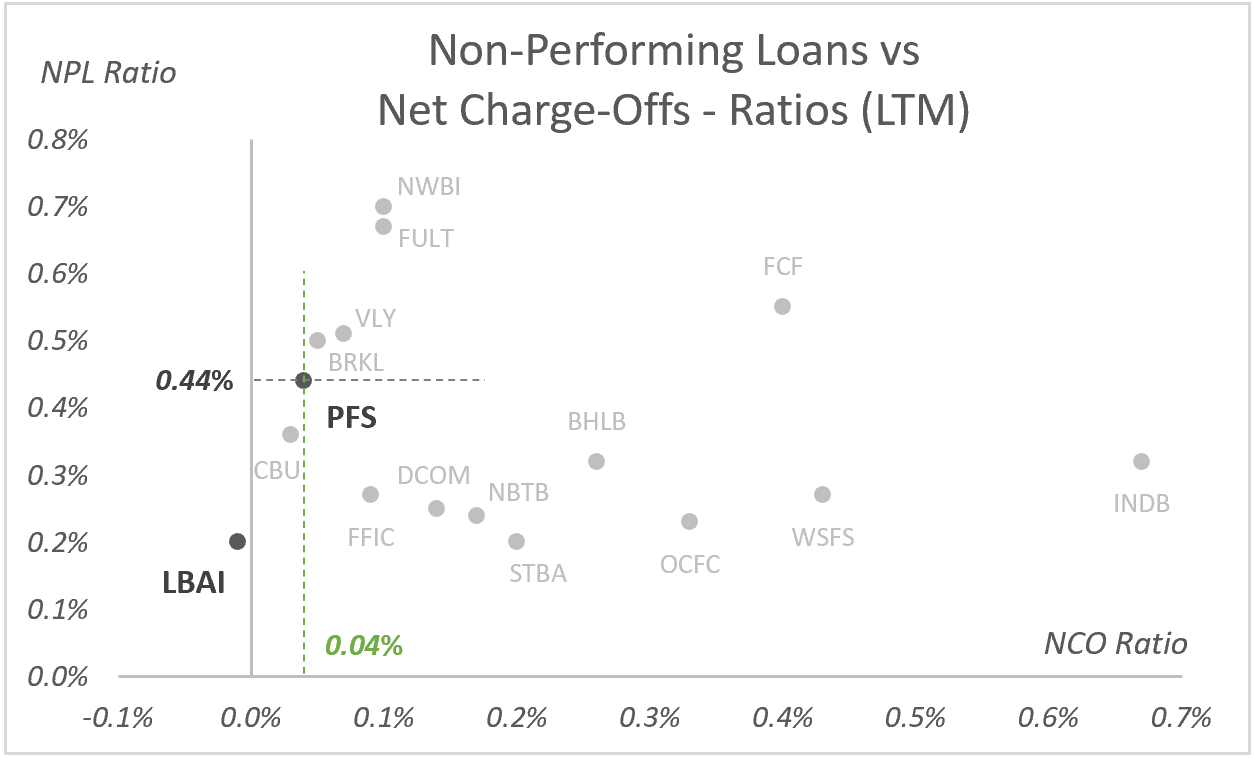 While Provident's coverage ratio of 2.2x is slightly below the average of 2.7x, as shown in another comprehensive analysis below, Lakeland stands out with a ratio of 4.6x. This brings the post-merger consolidated number comfortably above the peer group average.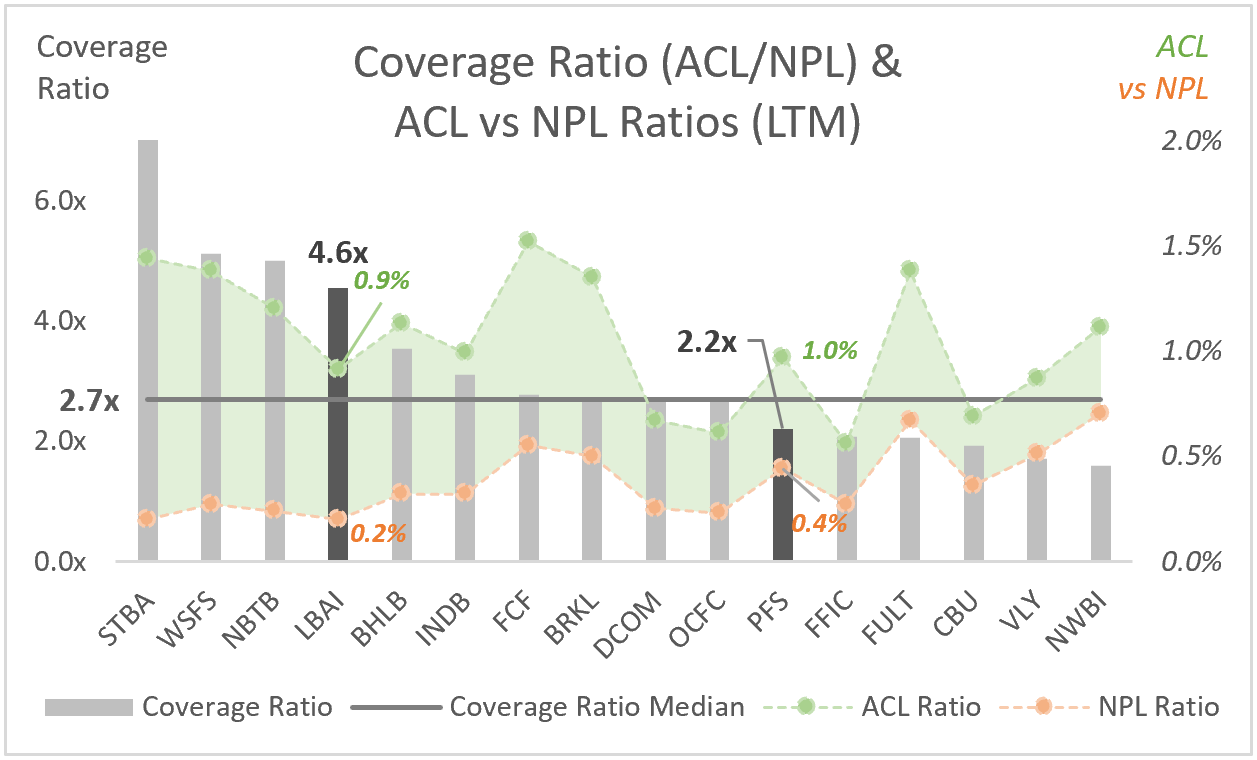 Customer Deposits & Liquidity
Deposits saw notable growth between 2019 and 2022 but have stabilized, with figures consistent at $10.3 billion in Q1 and Q2 of 2023, as illustrated in the chart below. This equilibrium underscores Provident's effective financial management. As of June 30, 2023, the bank's liquidity and borrowing capacity was a commendable $3.82 billion, 140% of its uninsured deposits.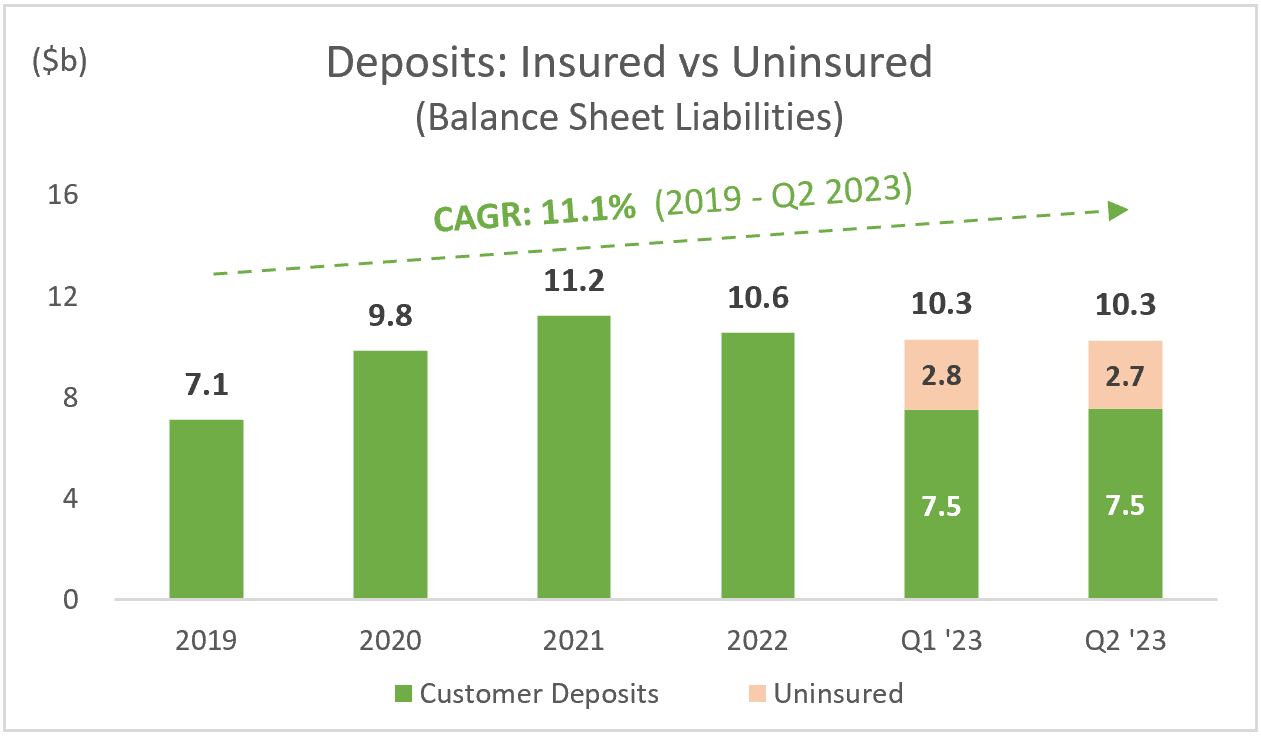 Capital Management
Provident's and Lakeland's regulatory capital ratios, known as Common Equity Tier 1 (CET1) – which reflect the banks' core equity over their risk-weighted assets – stand at a solid 11.5% and 10.9%, respectively, as illustrated in the chart below.
Likewise, the leverage ratios for both banks are commendable at 10.2% and 9.2%. These figures place the banks comfortably in the middle range compared to their peers.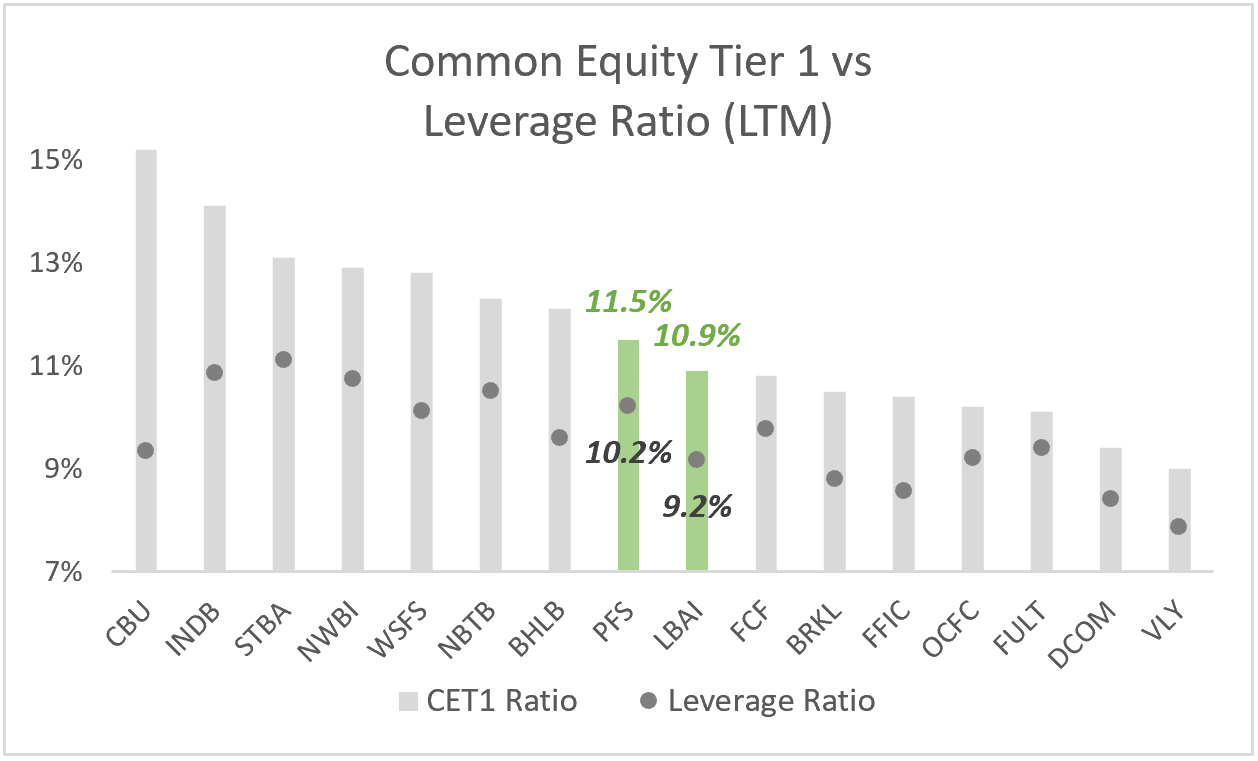 Comprehensive Analysis: Valuation, Growth, and Dividends
Growth Analysis
We've illustrated Provident's and its peer group's 2023E-2025E consensus estimates for revenue and earnings growth in a scatter plot, as shown in the chart below.
Due to the merger, the forecasted revenue per share numbers were inconsistent in our calculations. As a result, we used the peer group average, which may not fully account for merger synergy effects. However, the earnings per share forecasts appeared more consistent, showing a healthy 7.6% growth through 2025.
Dividend Perspective
Provident's dividend yield of 6.8%, combined with an industry-optimal payout ratio of 48%, is extraordinary. Adding a dividend 2023E-2025E CAGR of 3.5% to the mix places you in value heaven. Relative to the overall US market, including non-financial institutions, the yield ranks at the 91st percentile, a position not easy to surpass.
Lakeland also performs well, showcasing a 5.2% dividend yield, a projected dividend growth rate of 8.3%, and a fair 51% payout ratio.
Compared to its dividend yield history over the last ten years, Provident's current dividend yield resides in the 96th percentile, as illustrated in the historical chart below.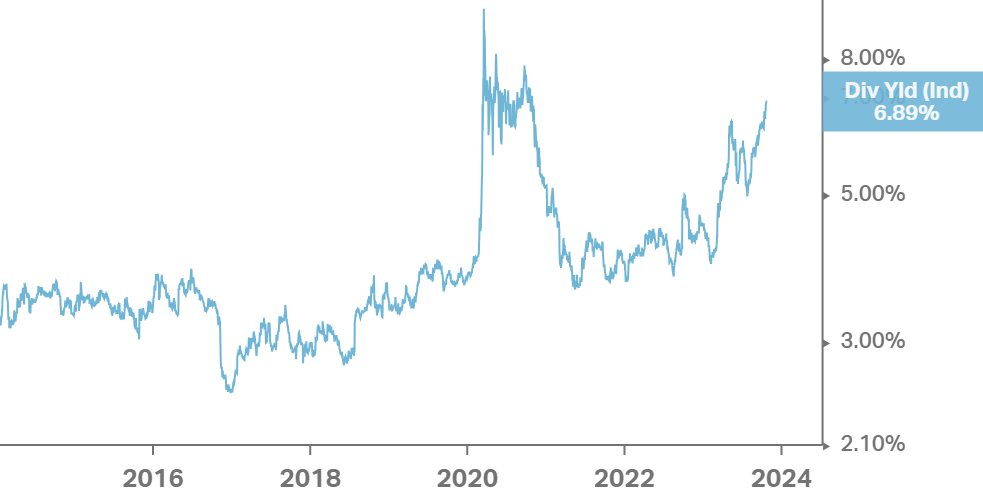 Valuation
Shifting our focus to valuation, the chart below illustrates the P/E and P/S valuation multiples for PFS and its industry peers. The grey dots denote the present market positions of each bank, while the orange and green dots represent the 90th and 10th percentiles based on the last ten years (L10Y). Notably, all banks are trading near the lower end of their L10Y valuation range.
This historical analysis, which provides upper and lower percentiles, allows us to observe typical patterns of multiple contraction and expansion over time.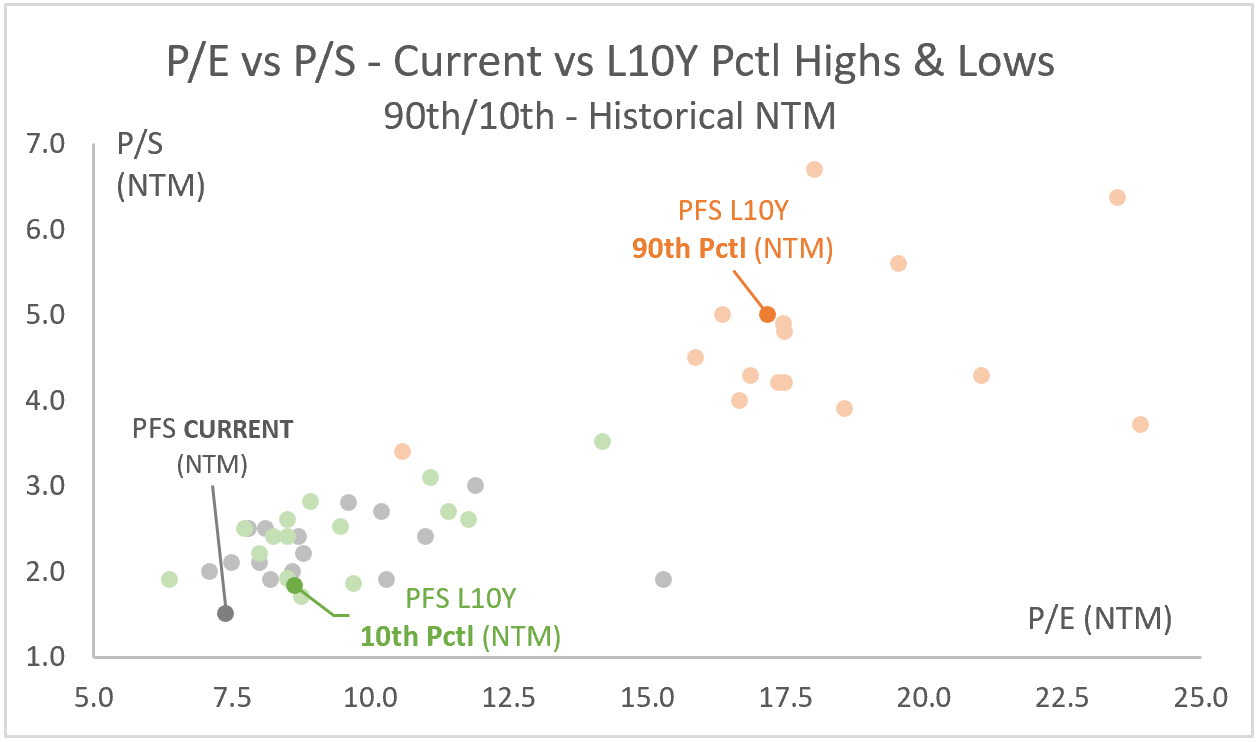 The following chart provides a detailed overview of the identical multiples but 2024E. PFS has the lowest values of the entire peer group with a profit multiple of 6.7x and a sales multiple of 1.8x, which suggests expansion potential.
The consensus estimates for Provident's earnings and revenue per share likely account for the post-merger scenario. As a result, one could consider the post-merger share price, which is approximately 8% lower than the current price. This consideration would further decrease the given multiples.
Transitioning to book values, the subsequent chart outlines the P/TBV and P/B valuation multiples for Provident and its peers. Much like the initial valuation chart above, the grey dots pinpoint the current trading positions of each entity. In contrast, the orange and green dots indicate the upper and lower valuation percentiles based on L10Y.
Upon examining the 2024E multiples below, PFS has a tangible book value multiple of 1.06x, which places it slightly above the median. Its book value multiple of 0.67x trades directly at the average. Both metrics indicate limited immediate upside potential based on that level of analysis.
Again, the consensus estimates for Provident's book values per share likely account for the post-merger scenario. As a result, one could consider the post-merger share price, which is approximately 8% lower than the current price. This consideration would further decrease the given multiples.
Verdict
After thorough qualitative and quantitative analysis, as well as comparing Provident Financial Services both on its own merits and relative to its peers and considering both historical and forward data, we recommend the following estimated multiple ranges for 2024E to set a price target for the bank:
P/E 24E: 9.0x – 13.0x.
P/S 24E: 2.5x – 3.5x.
P/TBV 24E: 1.30x – 1.80x.
P/B 24E: 0.90x – 1.20x.
In our final valuation chart, we apply each multiple range to today's share price to determine a fair price range for each metric. Ultimately, we suggest a share price target of $22, representing a potential upside of 60% from today's price.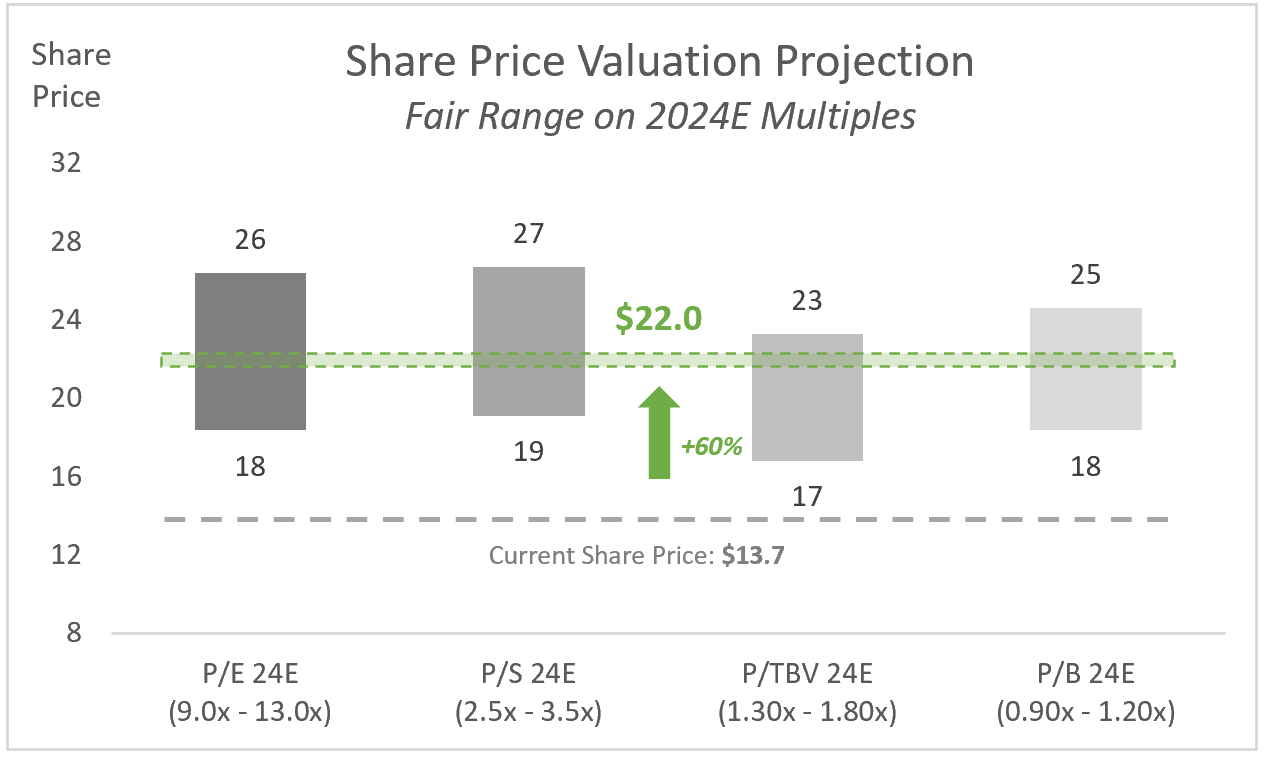 Seeking Alpha Quant
We recognize that Seeking Alpha's Quant Rating contradicts our positive view of Provident. Let's break it down:
A- Valuation: Quant confirms that Provident is undervalued relative to its peers.
C+ Growth: The only weak point in quant growth is the D+ for dividend growth. However, with its outstanding dividend yield, substantial growth isn't essential. Both forward revenue and EBIT growth are rated A.
C Profitability: While 'Cash per Share' lags with a C-, a less critical metric, the 'Net Income Margin' shines with an A- at 33.6%.
D- Momentum: Recent share price performance may be in focus, but true value often surfaces when the market overlooks it.
D+ Revisions: We concur that broker revenue and earnings revisions are on the downside; however, given that they originate from a robust base, this should be incorporated into the current price.
When comparing historical share price performance and its associated quant ratings with the development of historical dividend yields, we can see that premium yields and value were typically found when the quant rating indicated a 'Sell'.

Risk-Reward
In today's climate of high interest rates and escalating global tensions, the spectre of potential disruptions looms large. Inflation might be more persistent than the market anticipates; the looming threat of a recession is ever-present.
Given these challenges, our task is to quantify how these risks could impact the current share price, how likely these developments are, and how they relate to a potential 60% share price increase supported by a reliable dividend yield of 6.8%.
Doomsday Share Price Projection
Considering these scenarios, valuation multiples could drop to historic lows, as illustrated in the chart below. This could push the share price to $10.6, marking a -19% change from today's price.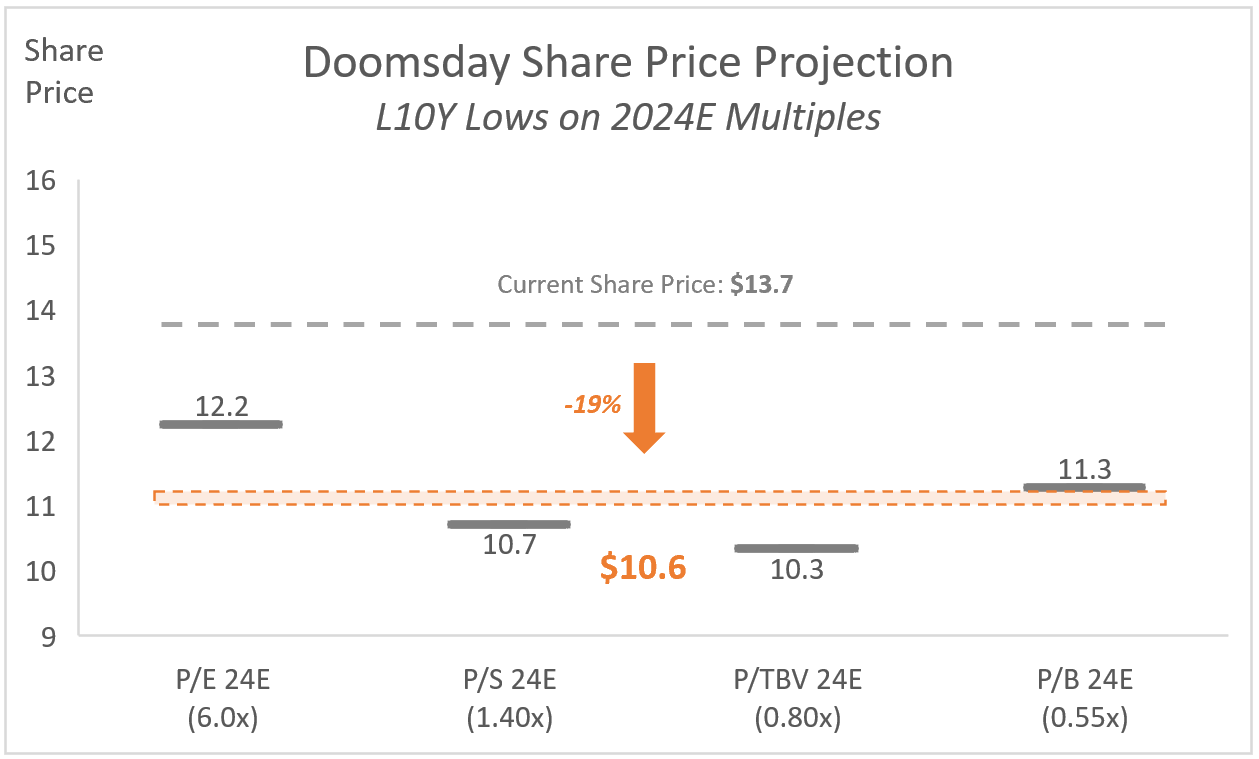 The doomsday scenario seems to be within reach. However, the probability of such a situation lasting until the end of the following year is relatively low. The best cure for low prices is indeed low prices: highly profitable companies with hefty dividend yields won't linger indefinitely at their all-time relative lows, especially if they are hungry for excellence and growth like Provident is.
Furthermore, markets are anticipatory by nature. The endless talk of a recession will fade as the Fed adjusts its stance in response to an unfolding recession or other unknown events. Sooner than later, the headlines will shift, highlighting the next economic upturn, possibly driven by large language models, artificial intelligence or other advanced technologies.
Expected Return
Our estimates assume an 80% probability that the share price and multiples will revert closer to the mean by the end of next year. In comparison, a more pessimistic doom scenario has a 20% probability. The dividend yield is considered separately and contrasted with either inflation or the discount rate for simplicity. Based on these probabilities, we arrive at the following simplified expected return (ER):
ER = (80% * 60% Capital Gain) + [20% * (-19%) Capital Loss] = 44%.
Conclusion
Provident Financial Services is a remarkable investment opportunity, trading near its historic relative lows. Its financial health and merger with Lakeland Bancorp aim to tap into New Jersey's wealthy market. While concerns like Lakeland's redlining exist, Provident's fundamentals remain strong, such as client retention and low non-performing loans. With a significant dividend yield and an undervalued stance, we recommend a "Strong Buy" for Provident, foreseeing a 60% share price increase with an expected return of 44%.
Editor's Note: This article was submitted as part of Seeking Alpha's Best Value Idea investment competition, which runs through October 25. With cash prizes, this competition — open to all contributors — is one you don't want to miss. If you are interested in becoming a contributor and taking part in the competition, click here to find out more and submit your article today!