Toy manufacturer MGA Entertainment has long been in the business of creating doll franchises catered to emboldening young audiences, successfully building on childhood brands such as Bratz, L.O.L Surprises, and Moxie Girlz throughout the years. Rainbow High, a line MGA first released during the height of the pandemic in 2020, leaned into a distinct colourful aesthetic and core themes of friendship and self-expression that fans became drawn to, at a time when the doll market was in need of a refresh. 
The brand has expanded at a steady rate, with a range of products, series adaptations, and branded apparel that has found a community amongst pre-teen markets, and fans of previous franchise iterations, such as Monster High and Ever After High. 
Outright Games, publishers of beloved adaptations like Bratz: Flaunt Your Fashion and the soon-to-be-released Bluey video game, tapped Spanish developers Xaloc Studios to release the first officially licensed Rainbow High title – Rainbow High: Runway Rush. For the individual developers on the team, it was an exciting opportunity to celebrate coming-of-age themes, and creativity in the process.
While Rainbow High doesn't leverage nostalgia in the way similar IPs like Bratz, Barbie, or Monster High can, due to its more recent inception, its modern characterisation has been a strong part of its appeal to audiences of all ages. Xaloc Studios Game Designer Carla Bolaños Blanco took this into consideration during development for Runway Rush, mentioning that the titles' incorporation of technology, in conjunction with fashion design, brought an up-to-date spin that moved the brand forward. 
"Barbie [especially] is like a historied doll, and they've been in our life for as long as I can remember, and it's really hard to compete with that in terms of longevity. I feel like MGA already knows that for Bratz, so they know the recipe… and they know how to adapt for the newer generations," Blanco said. "I think [Rainbow High] can easily adapt to every situation because they're modern dolls, so maybe they can have the longevity and the capacity of adaptation that other brands don't have."
Read: The Voice of Barbie, in Her Own Words
Outright Games Product Manager Diana Sanahuja added that "[Runway Rush] is not just about being… pretty and friendly. It's about exploring your talents, it's about finding out who you are, what you want to be, and what you want to do. So I really think that the game is going to [have] such a positive impact on young girls and women in general."
The Netflix series adaptation of Rainbow High also leans into these modern aspects, with one of its key characters, Violet, aiming to become an influencer and grow her social media following. Episodes have also depicted reality TV replications, guest starring Paris Hilton, references to Japanese designs like Kintsugi, and discussions surrounding consent to post on social media, and other interpersonal conflicts between the core group members. 
All act as fantastic teaching moments for developing audiences, and the team has been aware that these themes, whilst celebrating girlhood and coming-of-age experiences, extend far beyond that core group within their player base.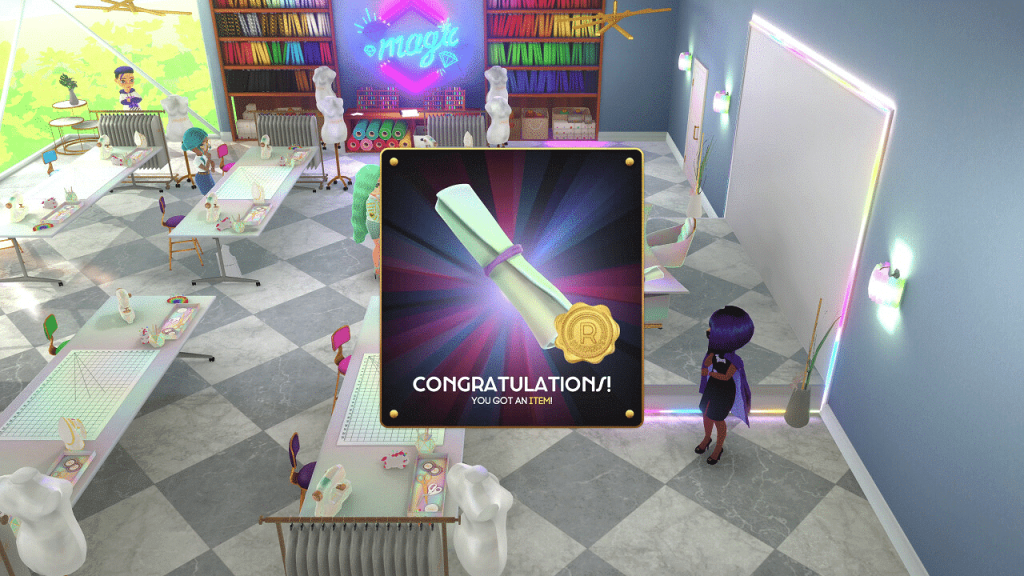 Blanco expanded, "We can't forget that we are making a game for girls… but I feel like we don't try to sell the 'girls game', the common girls game. At least, I didn't want to do that because I have nephews and nieces and I want them to all play the game. [I didn't want them to] feel like it was 'too girly' or anything, and [I also wanted to] teach young girls that you can be anything, you can express yourself how you want." 
Read: Bratz, 'Bimbo Feminism', and empowering girls with games
At its core, Rainbow High is a brand that empowers its audience with a fun approach to self-expression, friendship, and achieving your goals, and Outright Games Associate Producer Ana Clemente Pablo believes these are things that can resonate with a multitude of players. 
"We think it's essential to acknowledge the diversity of gaming preferences, and the fact that a gaming audience is incredibly varied," Pablo said. "We consider 'girl games', or games that cater to a female audience, are important, and a growing part of the industry… As producers, our focus is on creating enjoyable and engaging experiences for all gamers, regardless of gender."
"When it comes to working on Rainbow High, we see it as an exciting opportunity to contribute to something that may not have been extensively explored as a video game."
Read: What can games tell us about girlhood?
In the year of the Barbie movie, it feels like there are an increasing number of games that don't explicitly cater to the traditional assumptions of a male audience. From the Animal Crossing meets Breath of the Wild hybrid Hello Kitty: Island Adventure, the 2022 return of Bratz in Flaunt Your Fashion, and the upcoming Princess Peach: Showtime!, it's been a real treat to see a wide mix of gaming audiences celebrated and recognised. 
Rainbow High: Runway Rush is available now on PS5, PS4, Xbox One/S/X, PC, and Nintendo Switch.