After a long, dormant period, handheld consoles are on the rise again. Thanks to the Nintendo Switch, more and more gamers are looking for handheld gaming options again. Even Sony just announced that they will be relaunching their portable console lineup. Besides the new handheld consoles, there is something even more exciting in the portable console world: the rise of retro handheld emulators. Gamers looking to relive the days of yore or younger gamers looking to see what it was once like can now jump feet-first into the world of retro games without worrying about digging out old consoles or finding a CRT TV that still works.
These handheld consoles offer the nostalgic feeling of games that gamers grew up with but with modern-day creature comforts, like backlit screens, microSD card storage, and, for some, the ability to play multiple console generations on one machine.
When looking for handheld retro gaming consoles, there are a few key factors to keep in mind to make sure that they are a good fit for gamers:
Supported Games: What games or generation of games can the console run?
Nostalgia: What console makes reliving nostalgic gaming memories easy and exciting?
Miyoo Mini Plus+
Best Overall Retro Handheld Console
$63 $69 Save $6
The Miyoo Mini Plus+ is the latest handheld gaming console after the now impossible-to-get Miyoo Mini Plus 2. It comes in four colors: Gray, White, Transparent Black, and Transparent Purple. The efficient but powerful processor allows gamers to enjoy their favorite 8- and 16-bit games all day.
Playing Time

Up To 7 Hours

Chipset

SigmaStar SSD202D Up to 1.2 Ghz

RAM

128MB LPDDR3

Storage

64GB via Included Micro SD Card

Wireless Connectivity

Wi-Fi

Display

3.5 Inch 640×480
Pros
Excellent gaming performance
Buttons are responsive
Preloaded games
Cons
Can be too small for gamers with larger hands
Miyoo, as a whole, has earned quite an excellent reputation with emulator fans, and the Miyoo Mini Plus+ is probably one of the best examples of why. This handheld console is about the size of a deck of cards and can emulate thousands of titles across multiple generations. With some well-done emulations, the Mini Plus+ can handle games up to the PS1 era, but it excels in GameBoy games. And because of the backlight 4:3 screen, these games can easily be played anywhere, even in the dark or fairly direct sunlight, with little to no visual problems.
RELATED: The Best Portable And Handheld Gaming Consoles
When it comes down to using the Miyoo Mini Plus+, the experience is even better. For gamers with larger hands, it might feel a little cramped, but for the most part, it is incredibly comfortable and easy to play games for hours without hand cramps. The 4 face buttons are raised out of the shell, making them easy to press but not too easy where accidental button presses are a concern.
The Mini Plus+ makes it easy for first-time emulators to get started, with the console coming with thousands of games pre-installed. When gamers want to add games of their own, it is easy enough, thanks to the microSD storage.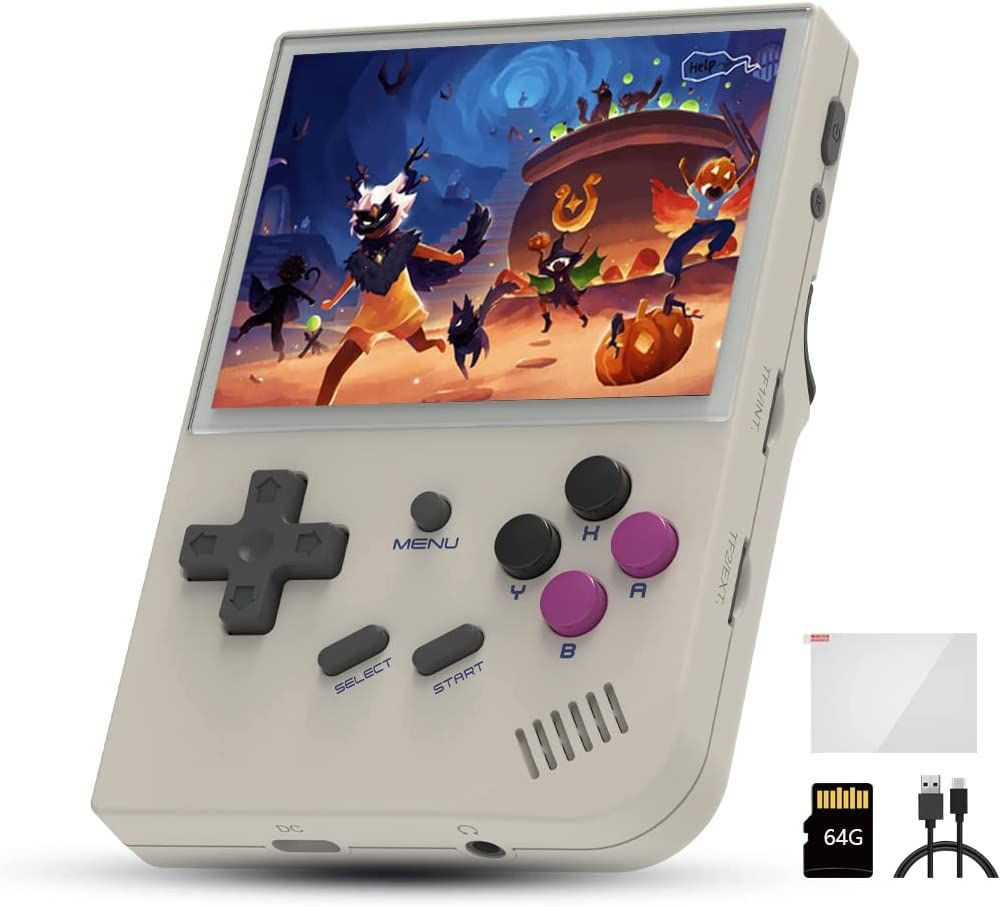 ANBERNIC RG35XX
Best Budget Retro Handheld Console
The RG35XX is a powerful handheld emulator that can run most games up to the PS1. The built-in 64 GB TF storage will hold up to 5,000 games. The 2600 mAh battery will give gamers up to 5 hours of playtime without recharging. Gamers who want to play some emulated games without being limited to the  D-pad and 4 buttons can connect any 2.4Ghz wireless-compatible controller and play games with a full-sized controller on the big screen.
Playing Time

5 hours of gamplay (2600 mAH battery)

Chipset

quad-core ARM Cortex-A9

RAM

DDR3 256MB

Storage

64GB TF/MicroSD

Wireless Connectivity

2.4 ghz for wireless gamepad connection

Display

3.5-inch IPS full viewing angle, OCA full lamination
Pros
Excellent GameBoy emulation
Very affordable price
Cons
Pre-loaded OS is a bit disappointing
Build Quality can be improved
For gamers who like the GameBoy-esque design but would like a slightly bigger screen and overall handheld, the ABBERNIC RG35XX is an excellent option. This budget handheld console offers fantastic performance in games from the GameBoy era, but it starts to hitch up a bit when pushing it to PS1 or PSP games. But at this price point, most gamers should be able to overlook a few laggy moments for the overall excellent experience the RG35XX provides.
RELATED: The Best Handheld Gaming Consoles under $75
The build quality feels robust and comfortable for long gaming sessions. And for gamers who don't want to rely solely on the handheld to play games, the RG35XX can display on a TV via HDMI, and gamers can connect a controller for a Switch experience.
The operating system on this handheld has become a sore point for many users. It is plain and has kind of a roundabout way to get to some settings. However, some users have figured out how to install GarlicOS on the RG35XX, making the whole experience much more likable.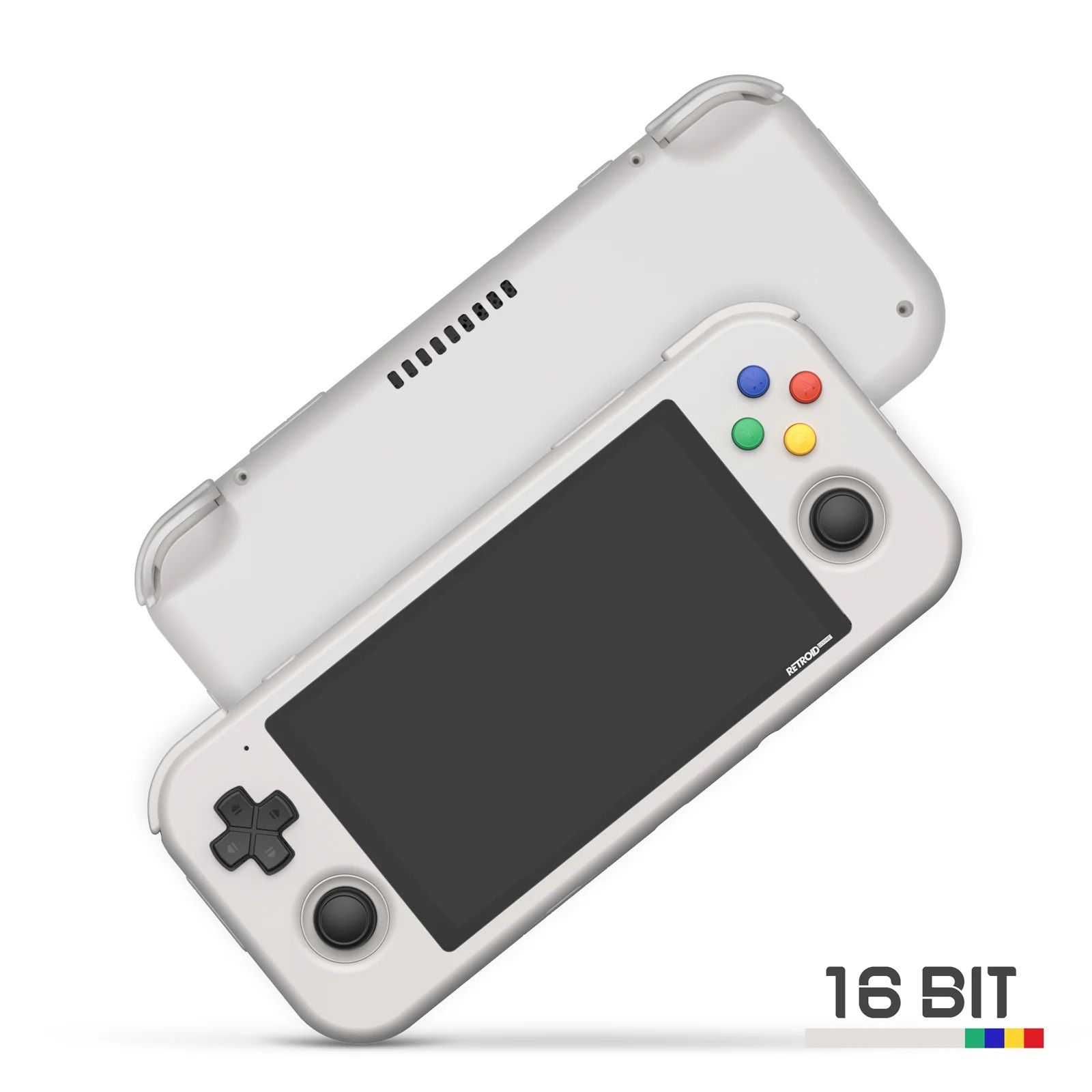 Retroid Pocket 3+
Best Mid-Range Retro Handheld Console
The Retroid Pocket 3 is a newer and far more powerful upgrade than the Retroid Pocket 2. Built with its powerful Unisoc Quad-core Tiger T310 processor and fast 2GB/3GB LPDDR4 RAM. Powered by a 4000mAh rechargeable battery, you can enjoy hours of entertainment. Its built-in Wi-Fi 2.4G/5G + BT 5.0 combo means you have fast and reliable wireless connectivity on the go.
Storage

128GB eMMC 5.1

What's Included

Includes official game launcher and emulator frontend

Screen

Touch screen: 4.7 inch, 750×1334@60fps, 450nits

Battery

4500mAh battery
Pros
Impressive gaming performance
Comfortable design
Cons
No Hall Joysticks
Capped at Gamecube games
For gamers who can stretch their budget, the Retroid Pocket 3+ is one of the best retro handhelds available. This portable console can be picked up for $149, and it can handle a ton of games, including Gamecube games. The Pocket 3+ is powered by an Octa-core T618 CPU with 4GB of RAM and a fantastic 4.7″ touch display. In many ways, this handheld feels like a mini-me Nintendo Switch.
Retroid has one of the most straightforward setup processes for their consoles, and for first-time emulator gamers, minimal tinkering is needed to get gaming. After getting it out of the box, gamers can install their favorite console emulators with one touch, and then they can start installing their ROMS. Besides some questionable release tactics by Retroid, the Pocket 3+ is a fantastic retro handheld: the powerful performance combined with the slim and comfortable design makes this a great handheld for any gamer looking for a bit more power.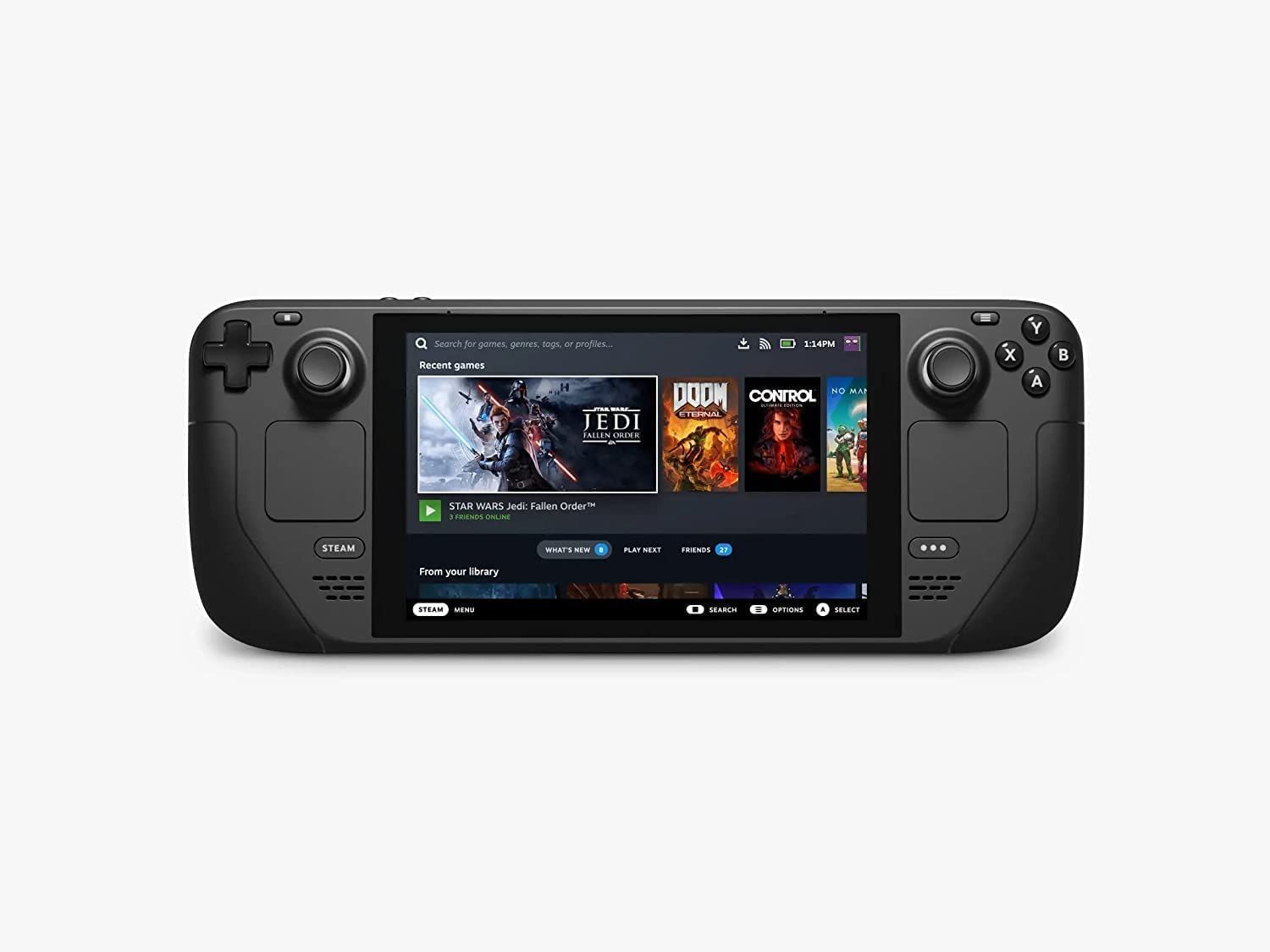 Steam Deck
Best Premium Retro Handheld Console
Valve's long-awaited portable console is here, and it's taking the handheld gaming market by storm. Valve partnered with AMD to create Steam Deck's custom APU, optimized for handheld gaming. It is a Zen 2 + RDNA 2 powerhouse, delivering more than enough performance to run the latest AAA games in a very efficient power envelope.
Storage

64 GB – 512 GB

Screen

7″ diagonal 1280 x 800px (16:10 aspect ratio) 60Hz

Battery

40Whr battery. 2 – 8 hours of gameplay

4K Capabilities

Yes

CPU

AMD APU Zen 2 4c/8t, 2.4-3.5GHz

Connectivity

Bluetooth 5.0 and Dual-band Wi-Fi radio, 2.4GHz and 5GHz

Ports

1x USB-C with DisplayPort 1.4 Alt-mode support; up to 8K @60Hz or 4K @120Hz, 1x USB 3.2 ,1x Micro SD slot, 1x 3.5 audio jack

Dimensions

298mm x 117mm x 49mm

Weight

Approx. 669 grams
Pros
Extremely powerful gaming performance
Versatile use cases
A large community of emulators
Cons
Larger form factor than most other options
High price tag
While technically not a retro console, the Steam Deck is one of the most powerful handheld gaming PCs, and because of that, it is also one of the most powerful Retro handheld emulators. It is easily one of the most expensive handhelds, but because of the raw performance it offers, plus the amount of community members working together to make emulation on it more accessible, the Steam Deck is a great way to try out emulation without being locked into just playing retro games.
RELATED: The Best Steam Deck Accessories
After gamers install EmuDeck, it can easily handle any retro console title from Dreamcast to Gamecube and most PS2 games. The fact that gamers can swap between playing Crazy Taxi to the latest Triple AAA game in a few moments is absolutely ridiculous. It is a step in the right direction for the emulating community to grow larger.
The Steam Deck is the way to go for gamers who want a handheld console that can handle everything thrown its way and don't mind the larger form factor.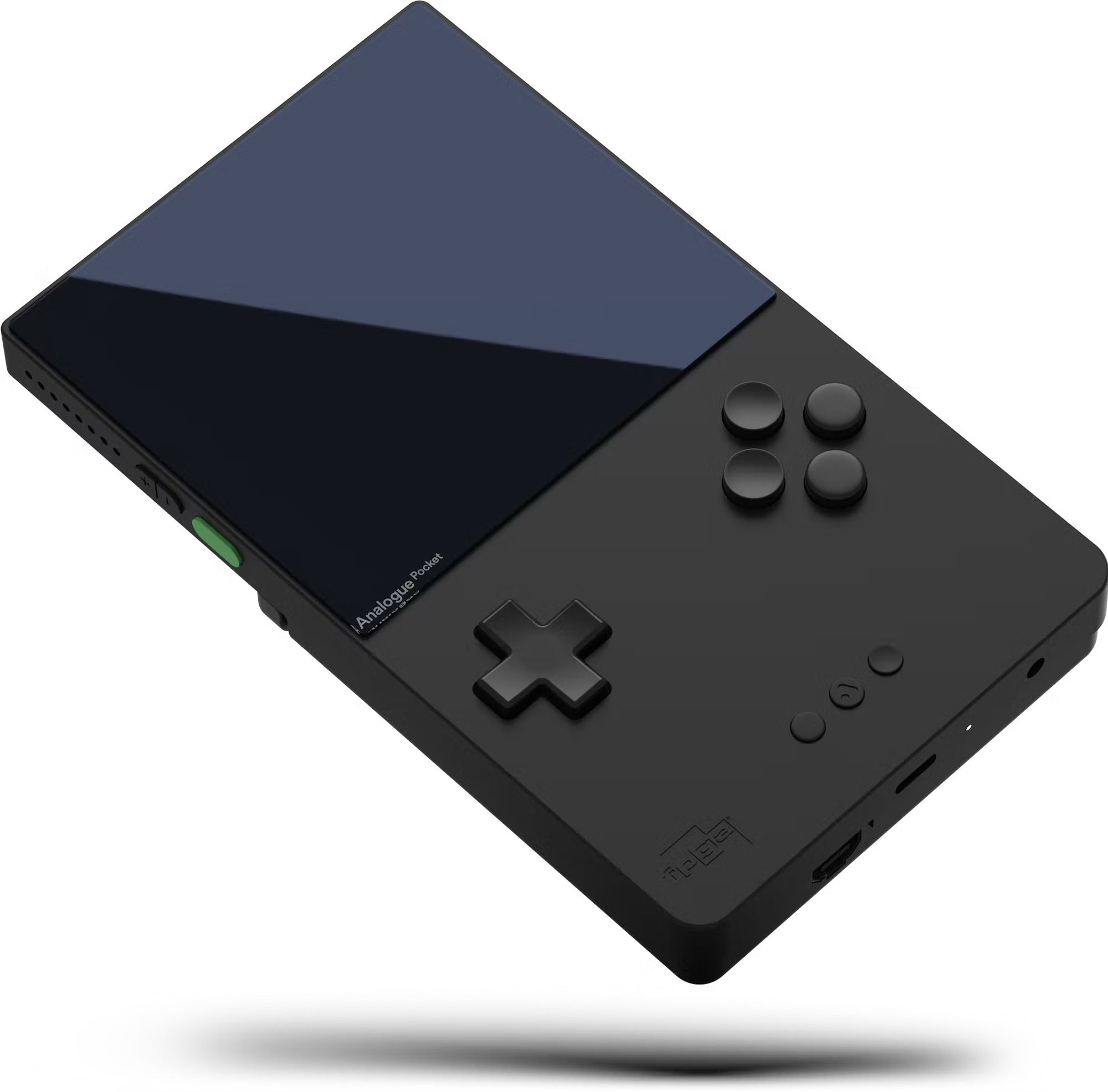 Analogue Pocket
Best Retro Handheld For Game Collectors
A multi-video-game-system portable handheld. A digital audio workstation with a built-in synthesizer and sequencer. A tribute to portable gaming. Out of the box, Pocket is compatible with the 2,780+ Game Boy, Game Boy Color & Game Boy Advance game cartridge library. Pocket works with cartridge adapters for other handheld systems, too. Like Game Gear. Neo Geo Pocket Color. Atari Lynx & more.
Screen

3.5″ LCD. 1600×1440 resolution. 615ppi.

Game support

Compatible with Game Boy, Game Boy Color and Game Boy Advance game cartridges.

Battery

Rechargeable lithium ion 4300mAh battery

Ports

micro SD card slot USB-C charging Original-style link port 3.5mm headphone output

Audio

Stereo speakers
Pros
Can use actual game cartridges
Stunning display
Gameplay feels like original hardware
Retro game fans who don't want to mess with emulating retro games and much prefer the physical act of putting a cartridge into a console will probably fall in love with the Analogue Pocket. This premium handheld console is made using FPGA technology. FPGA technology is essentially modern hardware made to be as close as possible to the original hardware. So, when combining that with using actual GameBoy cartridges, there is nothing closer to playing a real GameBoy than the Analogue Pocket.
It feels very similar to a GameBoy in every way except the screen. Some purists might say that a higher resolution screen is not an improvement, but this display is absolutely stunning. The 3.4″ LCD has a PPI of 615 and reproduces colors that have the same feeling as the old GameBoy screen.
If gamers don't want to be limited to just GameBoy games, Analogue also makes adapters for Atari Lynx, Neo Geo, and Sega Game Gear games. For gamers with a collection of retro cartridges or gamers looking for a good excuse to start collecting, the Analogue pocket is an excellent choice and pretty much one of a kind.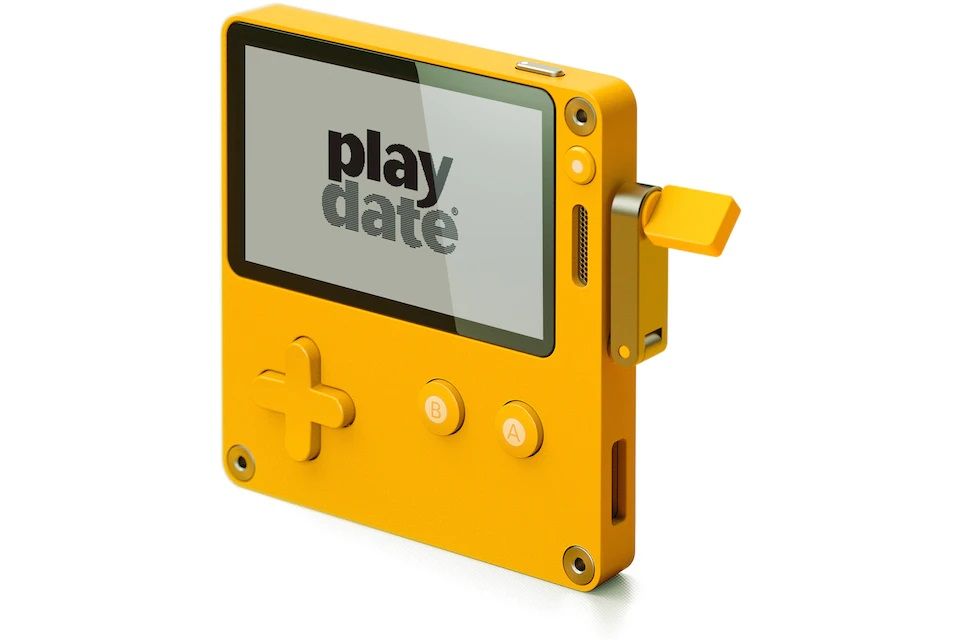 Playdate
Most Unique Handheld Console
Playdate is familiar but unlike anything you've ever seen. It has a very special black and white screen – not backlit, but super reflective. Because of the low power screen, this little handheld console has an 8-hour active battery life and 14 days of standby battery.
Storage

4 GB Flash Storage

What's Included

24 original Playdate games, delivered weekly, at no extra charge and a USB-C to USB A cable

Screen

400 × 240 1-bit

Processing Power

168 MHz Cortex M7 SDK supports Lua, C

Battery

14 days standby clock 8 hours active

Connectivity

2.4GHz Wi-Fi

Dimensions

76 × 74 × 9 mm
Gamers looking for one of the most unique retro gaming experiences should look no further than the PlayDate. This handheld has a crank as one of the main control mechanics. In all the years of video game innovation and different control types, a crank is probably one of the weirdest ways to control a game, but it is quite fun and has a satisfying feel to it.
The PlayDate is made for gamers who want to experience games in different ways and to help indie game developers get heavily involved with the growth of the PlayDate. Rather than gamers having to buy games or install emulators, PlayDate plans to have a weekly release of games, almost like a game subscription, without the subscription cost. The first set of games PlayDate has released with the testing models are a ton of fun and really explore the way gamers interact with the games. That being said, there will be no recognizable game titles on the PlayDate, so for gamers who are looking to relive retro games of their childhood, this handheld might not be the best choice
Currently, the PlayDate is on pre-order, but they are set to ship in late 2023, so any gamers who want to experience a totally unique way to interact with games, be sure to keep an eye on the PlayDate.
How To Pick The Perfect Retro Handheld Console?
Supported Games
Because technology has progressed quite a bit from when a lot of the games played on these consoles came out, these games aren't always limited to handheld emulations. Finding out what games or generation of games a gamer wants to play will make it easier to determine which handheld to pick up.
Take the Miyoo Mini +, for example. This handheld will easily run games from the Game Boy, but it can also handle games from the PS1 era and almost everything in between. So, for gamers who want to play games like Super Mario Bros. or play through the original Silent Hill, the Miyoo Mini + will be a great option. On the other hand, if gamers want the option to choose from pretty much any retro console, the Steam Deck might be a better option.
Nostalgia
Nostalgia and supported games go hand in hand. When playing a 2D platforming game from the Game Boy era, gamers don't want to have to use a joystick when a D-pad feels much more nostalgic. At this point, many handhelds of the time are harder to find, especially in working conditions, and the price of some games is insane. That's why a lot of these handhelds are based on designs from the original portable consoles of the day.
NEXT: 8 Best Consoles of the 1980s
FAQ
Q: Is emulating a console legal?
Emulation falls into a gray area of legality. Emulators themselves are entirely legal. These are just like downloading any program on a computer. Some people get into trouble by downloading pirated versions of games. Downloading a pirated ROM of a game is just like downloading a pirated movie. Game Rant does not condone any illegal downloading of games.
Q: What is the oldest handheld game console?
While some gamers might think of the Sega Game Gear or the Atari Lynx as the oldest handheld console, the actual oldest handheld came out in 1979. The LCD-based Microvision, designed by Smith Engineering and distributed by Milton-Bradley, became the first handheld game console and the first to use interchangeable game cartridges.
Q: Why are retro consoles so expensive?
Like any older collectible item, finding retro consoles that are in complete working condition is becoming more and more rare. That's why consoles like the Analgoue Pocket are so important because they allow gamers to keep playing those games even though the original consoles are hard to get their hands on.