Three weeks after throwing a spirited Red-Blue Showcase party at McKale Center, then picking up the No. 12 Associated Press preseason ranking and the top spot in the Pac-12 preseason poll, the Arizona Wildcats returned home Friday looking less than triumphant.
Some 13 minutes into what eventually became a 110-70 exhibition win over Lewis-Clark State College, the Wildcats had given up three open 3-pointers when guard John Lustig picked off an errant pass from Keshad Johnson and stuffed it in for a dunk.
That gave the Warriors, an NAIA team from Lewiston, Idaho, a 29-28 lead.
But it wasn't just the score that looked off. It was also the lineups that UA coach Tommy Lloyd was forced to throw out, with injuries having sidelined the Wildcats' two top returning veterans, center Oumar Ballo and Pelle Larsson, along with another projected rotation player, Lithuanian center Motiejas Krivas.
Lloyd mixed and matched all 10 of his healthy scholarship players, trying to figure something out.
"If you were to ask me last week about some of the lineups we played, I probably would have thought you were crazy," Lloyd said. "But that's just what happens over the course of a season."
Without Ballo and Krivas, Lloyd had his biggest challenge inside. Sophomore Dylan Anderson was the only healthy player who has been regularly practicing at the five, so Anderson started while Lloyd also slipped in all manner of other guys in the post.
"I was at one moment at the five or four, I don't know," guard Filip Borovicanin said. "Me and Paulius (Murauskas) were at the five and four. We've never done it before in practices but we didn't have many guys."
Murauskas, the Wildcats' 6-8 freshman forward from Lithuania, had a particularly rough assignment. After playing small forward nearly exclusively since joining the Wildcats over the summer, he ran around all night as a power forward, trying to adjust to his first college game and a new position at the same time.
Murauskas was 1 for 6 from the field and did not collect a rebound.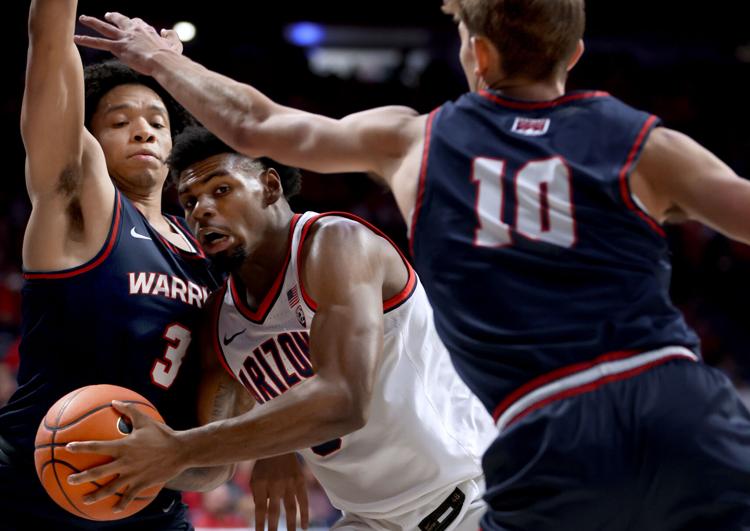 "We kind of thrust him into playing mostly at the four and he's just not really comfort comfortable there, because our four and five move differently than our one, twos and threes within the flow of the offense," Lloyd said. "So it's probably unfair to judge him based on tonight."
The Wildcats had no such concerns about their starting power forward, San Diego State transfer Keshad Johnson, nor their perimeter.
Johnson mostly drove his way to 19 points on 8-for-8 shooting, while he included a 3-pointer, and North Carolina transfer Caleb Love instantly appeared the efficient shooter the Wildcats are hoping he becomes all season.
Love the Wildcats with 23 points while hitting 9 of 12 shots, including a 3-pointer just before the halftime buzzer.
"I don't know if we're gonna see that level of efficiency every single night, but obviously, he's capable of doing some great things," Lloyd said.
Among UA's other guards, Kylan Boswell scored all 15 of his points in the first half, while KJ Lewis had 13 and Jaden Bradley and Conrad Martinez each had two.
But, initially, shooting and defense were both issues for Arizona.
The Wildcats hit only one of their first nine 3-pointers, and allowed Lewis-Clark State to shoot 47% from the field over the first 12 minutes, during which the Warriors took a 20-18 lead and went ahead by four, 24-20, after Grayson Hunt hit a hook shot with 9:17 to go.
While UA held Lewis-Clark State to just 40.6% shooting overall, the Warriors managed to hit 7 of 11 3-pointers while Lloyd fretted about the Wildcats' defensive rotations.
"Defensively, I felt we weren't maybe as solid as we could be," Lloyd said. "We're an aggressive team, but I think you can be aggressive and be solid, make good decisions on defense. Maybe we got a little undisciplined or a little amped up at times."
By the end of the first half, the Wildcats found a way to direct their energy in a more beneficial manner. Arizona took the lead for good by breaking inside for three straight layups – two by Love and another by Johnson, to make it 37-31 with 4:45 left in the first half.
The Wildcats wound up going on a 17-2 run over the final four minutes before halftime. Then they kept tearing up the Warriors in the second half, punctuating the win when Love hit Johnson for an alley-oop pass Johnson stuffed in to give UA a 91-53 lead with 8:42 left.
By that point, the roles were clearly reversed.
Arizona had pulled off the sort of 40-point win a ranked team is expected to in exhibition games, with yet another exhibition, on Oct. 30 against New Mexico Highlands, to keep working things out. Lloyd said his three injured players would probably return "sooner rather than later," too.
"It was good to kind of put some guys in some uncomfortable situations … maybe a little earlier than I would have liked," Lloyd said. "But I feel good overall about how the guys responded throughout the course of the game and we were able to kind of assert our will."
Photos: Arizona Wildcats ease past Lewis-Clark State College 110-70, college basketball