With the high school football season well underway, many of the top recruits in the nation have already had a chance to prove their worth — and their ranking — on the gridiron. Many elite prospects have also already made their college decisions.
The 2024 cycle features a crop of elite linebackers, 11 of whom are top-200 players in On3's updated 2024 On300 rankings. In total, 32 players at the position currently hold blue-chip status in mid-September.
Below are the top linebackers in the On300.
1. Justin Williams — Georgia commit
School: Conroe (Texas) Oak Ridge
On300 Ranking: No. 14
Scouting Summary: "Justin Williams is a rangy linebacker with elite speed that makes him a near prototype at the position. Measured in at around 6-foot-2, 210 pounds prior to his senior season. Added very good weight as a junior. Owns plus length for the position with arms a shad under 33 inches. The fastest top linebacker in the combine setting in 2024. Ran an absurd electronically-timed 4.44 40-yard dash, 4.39 short shuttle and jumped a 9-foot-10 broad jump at the UC Report's Houston camp. Backed that up on the track with a stellar 11.01 second mark in the 100 meters. Transfers that high-end athleticism over to the field. Originally a safety, he to linebacker full-time as a junior and had a very productive season, notching 105 tackles, 18 tackles for loss and 8.5 sacks.
…Lines up as a mike backer for his high school. Shows the ability to stack and shed incoming blockers. Excels bringing down ball players from sideline to sideline and in the backfield. Flashes an elite first step and ability to close. Draws on his experience as a safety to aid in coverage and playing in space. Will need to continue adding mass and strength. A strong tackler in his first year as a linebacker but can improve the pop in his hands and overall play strength. Flashes considerable upside given his high-end combination of athleticism, length and range."
2. Sammy Brown — Clemson commit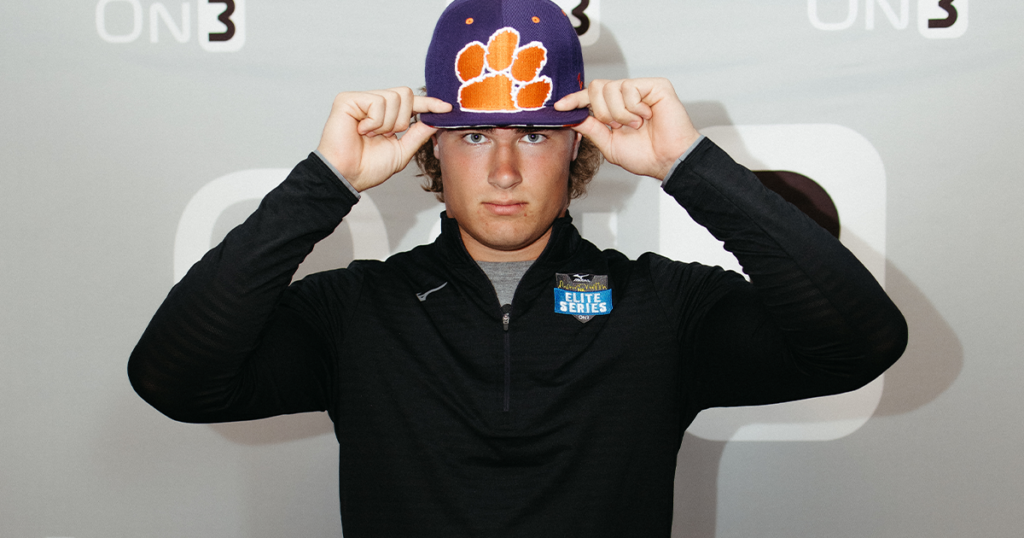 School: Jefferson (Ga.)
On300 Ranking: No. 17
Scouting Summary: "Sammy Brown is a physically developed two-way star with an elite combination of size and athleticism. Has measured in at 6-foot-2.5 and around 230 pounds. One of the top jumbo athletes in the 2024 cycle with eye-popping marks as a sprinter. Was a state finalist in the 100 meters as a junior, consistently running in the 10.8-10.9 second range. Transfers that speed over the field where he stars as a running back and linebacker. A twitchy, fluid mover. Lines up as an inside linebacker for hi s high school. Flashes his top-end speed as an excellent pursuit defender. Runs sideline to sideline with ease. Showed improvement as a take-on defender as a junior. Closes quickly and finishes with physicality.
…Shows outstanding conditioning and effort level as a two-way player. Has the long speed to pull away from defenders in the open field as a ball carrier. Good enough to play running back at the college level. Finished his junior season with 1,459 rushing yards and 21 touchdowns and 113 tackles and 1 interception on defense. A standout wrestler in addition to his exploits on the football field and track. Won a heavyweight state title as a junior. Extremely strong in the weight room with lifts that have gone viral. Very developed physically and may be closer to his ceiling than some others who have considerable room for growth. Has not looked overly instinctive in coverage in camp settings. One of the more established prospects at the position in the 2024 cycle given his elite athletic and multi-sport profile."
3. Chris Cole — Georgia commit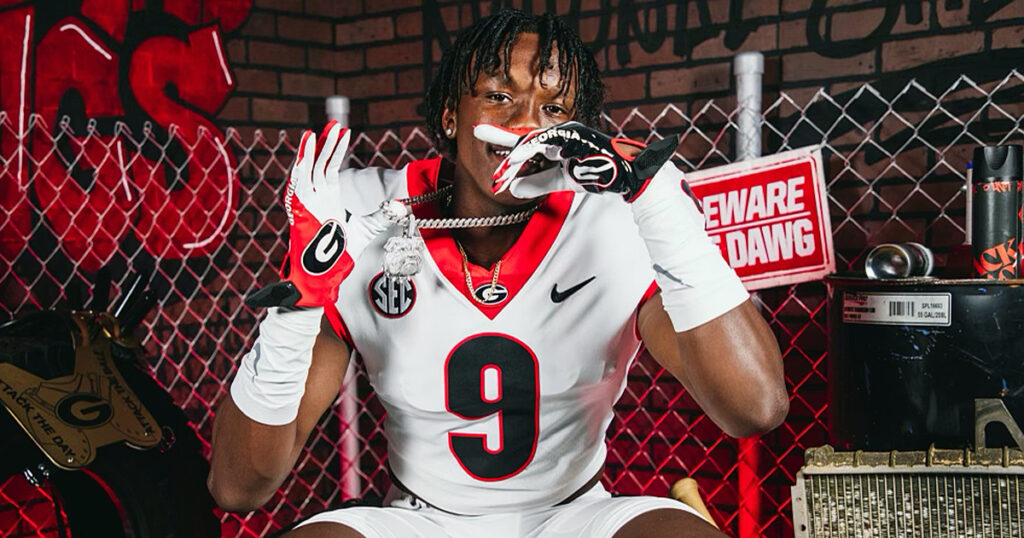 School: Salem (Va.)
On300 Ranking: No. 40
Scouting Summary: "Chris Cole is a big-framed, toolsy linebacker with some of the highest physical upside at the position in the 2024 cycle. Measured in at around 6-foot-3, 210 pounds prior to his senior season. Has a long, high-hipped build with a big frame and plus length for the position. Arms have measured at 33 inches and hand checks in at over 10 inches. Registers as a top athlete in the combine setting. Doubles as a good track athlete with some impressive marks in the 55-meter hurdles. Began his high school career as a safety before adding considerable mass and growing into a linebacker. Lines up at various spots in the back half for his high school – playing as a hang linebacker, a center field safety and creeping up to the edge.
…Experienced playing in space. Effectively uses his long arms to corral ball carriers. Lowers his shoulder and drives through his tackles. Flashes some striking power and pop on contact. Also shows solid instincts in coverage. Finished his senior season with 76 tackles and 11 tackles for loss. Also showed some encouraging coordination while playing receiver. A long-strider who can take a few steps to get up to speed. Will need to continue developing and adjusting to playing linebacker. May need time to adjust, but has considerable developmental upside."
4. Demarcus Riddick – Auburn commit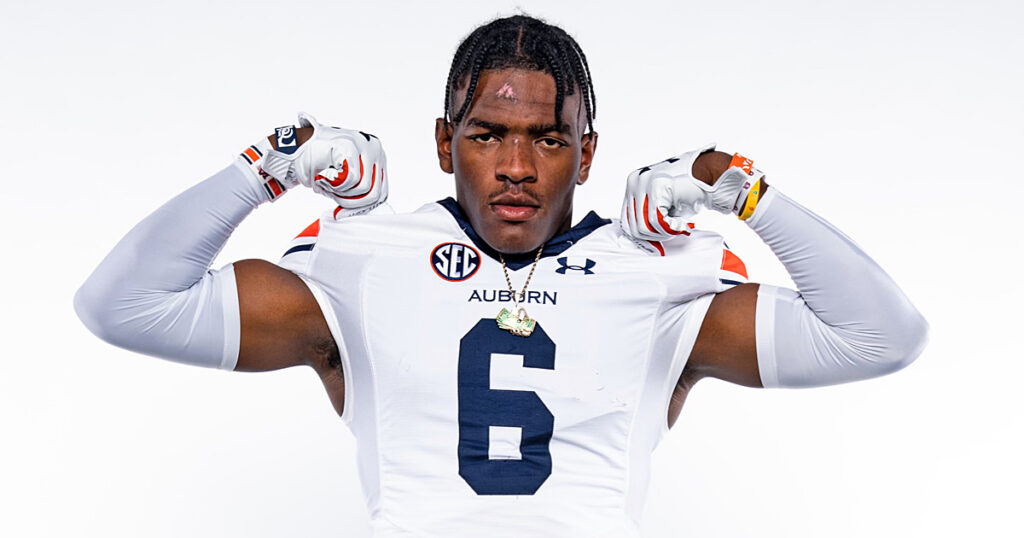 School: Clanton (Ala.) Chilton County
On300 Ranking: No. 65
Scouting Summary: "Demarcus Riddick is a smooth moving linebacker with one of the more well-rounded games at the position in the 2024 cycle. Measured at 6-foot-2, 220 pounds prior to his senior season. Has continued to fill out his frame over the past year of high school. Has adequate length for the position with 32-inch arms. Strong in all phases as a linebacker. Stands out due to his natural fluidity and strong instincts for the position. Outstanding in coverage. A natural in space. Diagnoses routes easily. A sticky defender on Friday nights and in the camp setting.
…Can run and stay in-phase with tight ends and running backs. Effective as a blitzer and run defender. Plays with a high effort level and flies around as a pursuit defender. Diagnoses and keys quickly. Highly productive as a junior, notching 109 tackles, 17 tackles for loss, 7 sacks and 3 interceptions. Shows off his athleticism and playmaking ability taking kicks and punt returns for touchdowns. Also plays some offense. Has a basketball background and can throw down dunks on the hardwood. Does not have verified athletic markers compared to some of his highly-rated peers."
5. Adarius Hayes – Florida commit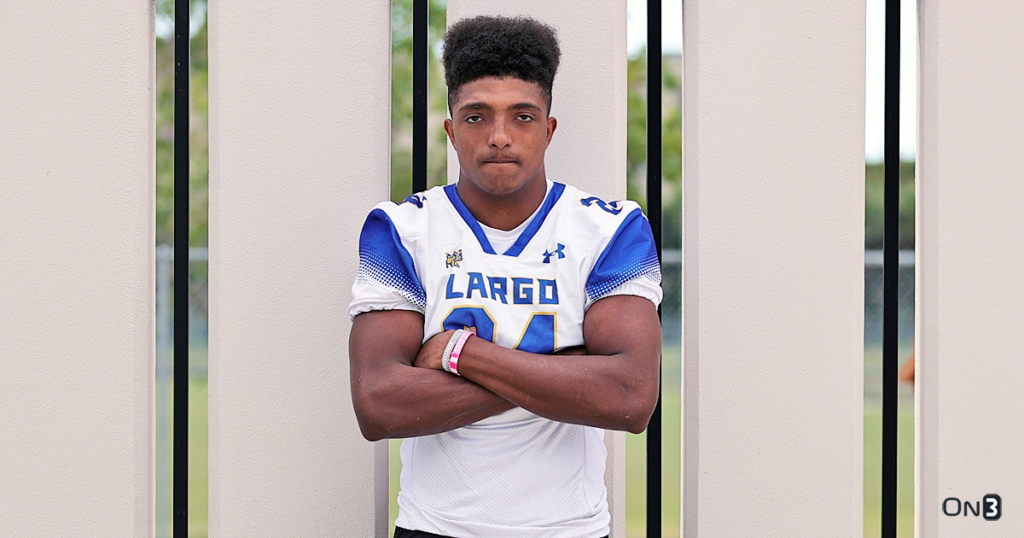 School: Largo (Fla.)
On300: No. 86
Scouting Summary: "Adarius Hayes is an inside linebacker prospect who is an excellent processor and has a quick trigger. Possesses stopping power when meeting ball carriers in the hole. Quality free blitzer from the inside backer position or off the edge. Has some tightness in his hips and can get stuck in quicksand a bit when changing direction. One of the older prospects in the 2024 recruiting cycle."
6. Joseph Phillips — Auburn commit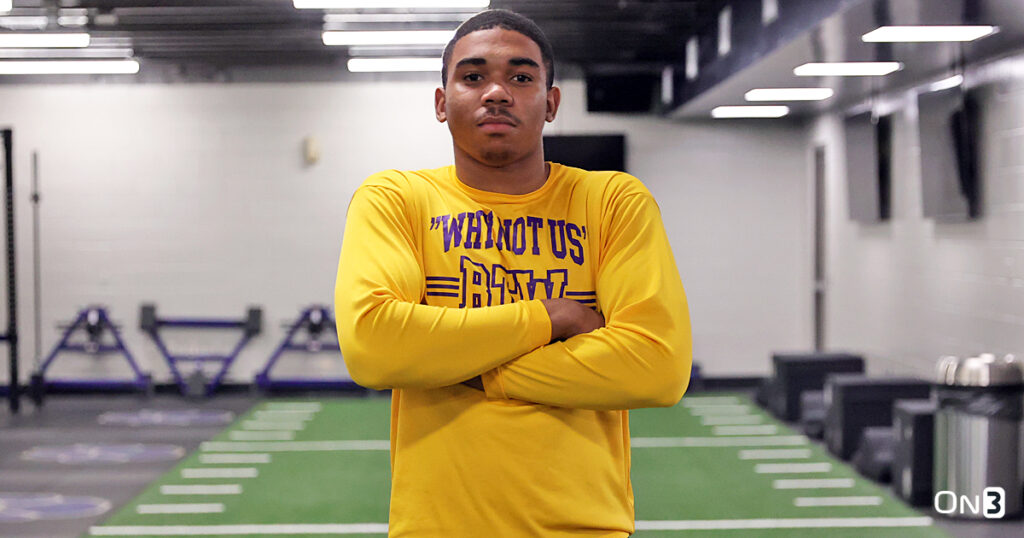 School: Tuskegee (Ala.) Booker T Washington
On300 Ranking: No. 88
Scouting Summary: "Joseph Phillips is a long, big-framed linebacker with the versatility to create disruption as a pass rusher and be a physical presence as a run defender. Measured in at 6-foot-1.5, 235 pounds prior to his senior season. Has outstanding length, registering a 6-foot-10 wing-span – among the best we've seen from 2024 linebacker prospects. Primarily played as a standup pass rusher as a junior, but looks to be primed for more of an off-ball inside linebacker role as a senior. Uses his quickness and length to create disruption off the edge. Heavy-handed and powerful. Plays with leverage and gets off of blocks.
…Shows dogged effort and pursuit speed in tracking down plays from the back side. As an off-ball linebacker, projects as a thumper against the run. A talented, big athlete who also sees time as a pass catcher on Friday nights. Finished his junior season with 75 tackles, 19 tackles for loss and 9 sacks. Also plays basketball, where he's shown some above-the-rim bounce. Will need to settle in to playing in space. His pure speed looks to be more notable as a pass rusher than an off-ball linebacker, relative to his peers at each spot. Will need to continue improving in coverage and adding consistency as a tackler."
7. Gabriel Williams — Virginia Tech commit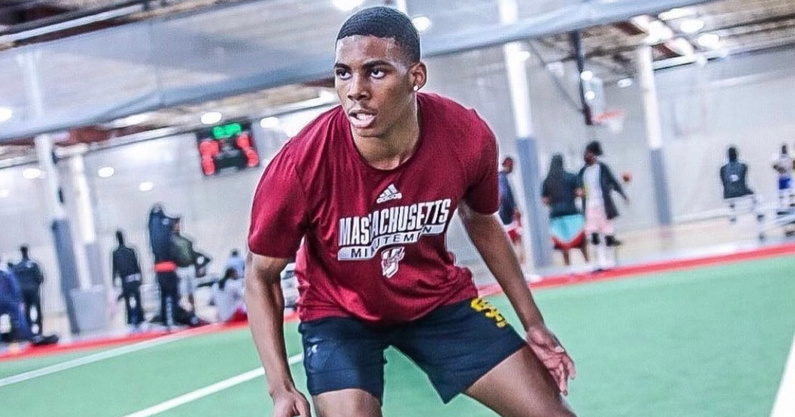 School: Washington (D.C.) St. Vincent Pallotti
On300 Ranking: No. 126
Scouting Summary: "Gabriel Williams is a tall, rangy linebacker prospect with the athleticism and physical traits that point to a high developmental upside. Measured in at over 6-foot-4, 195 pounds with a wing-span over 6-foot-7. Has a lean frame with plus length for the position. Registers as a very strong athlete for the position, running an electronically timed 4.64 second 40-yard dash, 4.22 second shuttle and posting a 10-foot broad jump at Under Armour's Baltimore camp. Plays all over the back seven for his high school program, lining up at safety, as an off-ball linebacker and even covering wide receivers in the slot.
…Flashes good instincts and play recognition. Identifies routes and sniffs out screens. Shows encouraging physicality as a tackler and striker. Willing to throw his body around on contact. Should be able to add significant weight once in a college strength program. Plays fast. Shows sideline-to-sideline speed in pursuit. Will need to add significant weight once in a college strength program, especially in order to gain strength as a box defender against the run. Very young for the cycle with a July birthday. Will be a 17-year-old when he enrolls in college."
8. Garrett Stover — Ohio State commit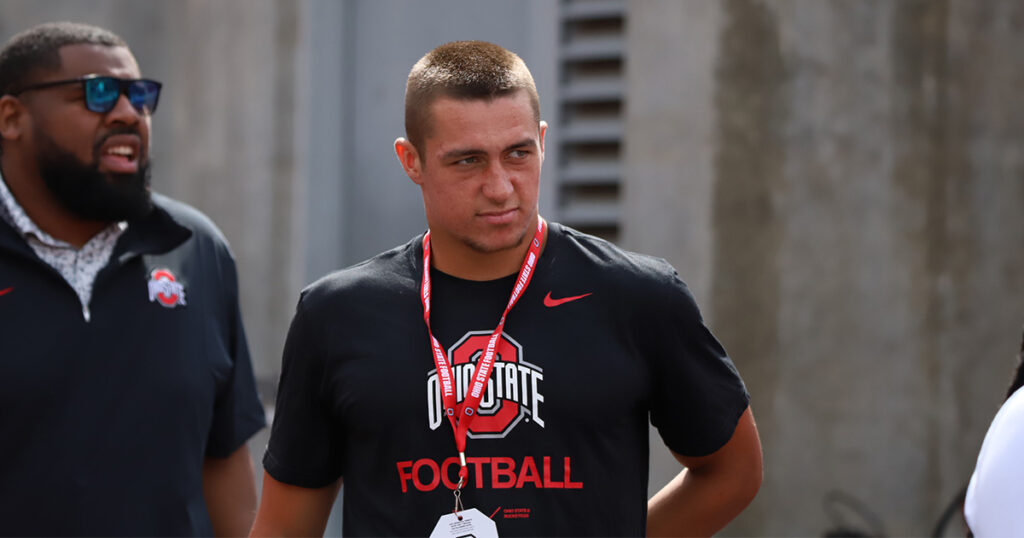 School: Sunbury (Ohio) Big Walnut
On300 Ranking: No. 142
Scout's Take: "Garrett Stover certainly has a unique, position-less quality about him," Lettermen's Row's Matt Parker wrote. "He's listed as a linebacker and that's where he's projected to end up at Ohio State. But he has the speed and coverage skills to play as a strong safety both in the box and in space. The 6-foot-1, 195-pound prospect is most definitely one thing above all: a physical player. Lettermen Row attended his first game of the season this year and it was evident that an Ohio State-caliber was on the field. His ability to shed off blocks, fill gaps, scrape off the edge and also drop into coverage is incredible for a high school junior. Big Walnut plays a 4-2-5 like the Buckeyes' base defense is and Stover flirts between the "2" and the "5" in that formational system."
9. Myles Graham — Florida commit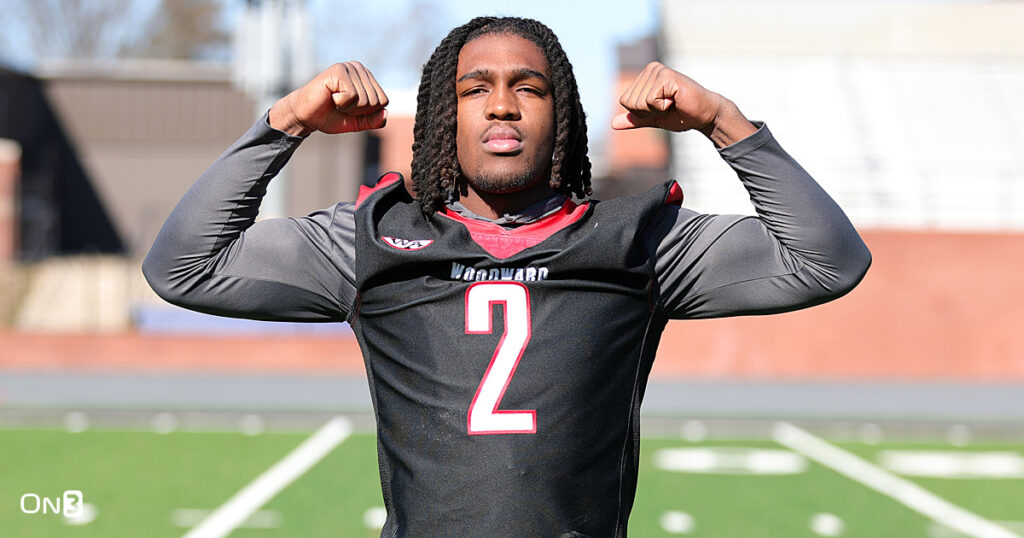 School: Atlanta F.W. Buchholz
On300 Ranking: No. 144
Scout's Take: "Myles Graham flies around the football field, showing off elite lateral speed and quickness when diagnosing between run and pass plays. The 6-foot-1, 212-pound linebacker fills running lanes with ease, plugging up gaps before the ball carrier can even pass the line of scrimmage," GatorsOnline's Donavon Keiser wrote. "Graham is an elite run stopper with a nose for the football. The Georgia linebacker is aggressive in his attack, pulling down running backs between and outside the tackles. When tackling opposing ball carriers, Graham shows perfect tackling form by wrapping up and putting his helmet on the ball often, causing fumbles. Graham shows excellent strength in his lower half.
…The Atlanta, Georgia, native quickly sheds incoming blockers with quick hands and feet. His pursuit is effective as Graham eliminates any false steps. Throughout his film, Graham is not used in coverage often but has all the traits to be a three-down linebacker in the SEC. With Graham's speed and knowledge of the game, he'll be just fine when adjusting to coverage at the next level."
10. Sterling Dixon — Alabama commit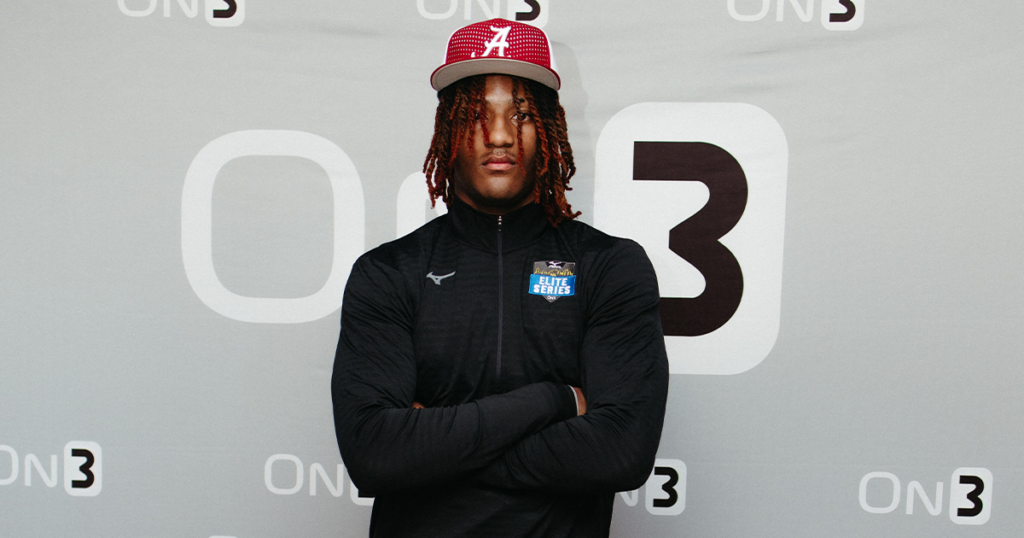 School: Mobile (Ala.) Spanish Fort
On300 Ranking: No. 176
Scout's Take: "Sterling Dixon is a big addition for Saban and Company early in the 2024 cycle. Dixon's statistics this season were off the charts as well. He recorded 172 total tackles, 39 tackles for loss, and 18 sacks with Mobile Christian School. That also includes a playoff performance in which he had a mind-blowing 15.5 tackles and six sacks."