The Big Picture
The Expendables 4 is making a comeback after nearly a decade, delighting Lionsgate and Millennium Films investors worldwide.
The idea of a spin-off called The ExpendaBelles, featuring a cast of female action heroes, was briefly considered but never materialized.
The failure of The Expendables 3 at the box office and difficulties in creating a compelling story for an all-female mission led to the demise of The ExpendaBelles project.
The Expendables 4 is preparing to hit theaters and bring this action movie franchise back to the big screen after nearly a decade of hibernation. Such news will make Lionsgate and Millennium Films investors around the world shriek with glee while the rest of the moviegoing populace puzzles over why on Earth this is coming back now. If the project does cross anyone's mind, they're likely to wonder if Hollywood really can't think of a better way to utilize Megan Fox than this. Like it or not, The Expendables 4 is bringing this action movie saga back on the pop culture radar. In the middle of this inevitable scenario, let's turn to an element that's always incredibly interesting: women. In this case, it's intriguing to remember that The Expendables franchise was once set to expand beyond Barney Ross (Sylvester Stallone) and friends to include a spin-off entitled The ExpendaBelles.
This project would've eschewed all that testosterone from the previous three Expendables movies and instead focused on a bunch of women action heroes. Millennium, the production company that was once hit with a lawsuit over gender discrimination, very briefly took a cue from Reese Witherspoon and believed that "women's stories matter…they just matter!" Those stories especially matter to big movie companies when they can help expand the lifespan of a male-dominated action movie franchise! But whatever happened to this proposed spin-off? Why did it never happen? Why was Kelsey Grammar in an Expendables sequel again? The answer to (most of) those questions will be answered ahead…
Who Was Going To Be in 'The ExpendaBelles'?
Two months after The Expendables 2 solidified that the Expendables franchise had appeal beyond just one movie, Millennium Films announced that it was time to expand this saga into spin-off franchises. Now the plan was to launch ExpendaBelles, a feature that would be written by the duo behind the script for Legally Blonde, Karen McCullah Lutz, and Kirsten Smith. This duo was tasked to write up a movie that would unite female action movie veterans, a prospect that could've been jeopardized by the preceding Expendables films. After all, if those titles had already utilized Sigourney Weaver and Cynthia Rothrock, who could ExpendaBelles cast? However, the first two Expendables movies made no room in their respective casts for lady action stars, so the problem was moot. ExpendaBelles had endless options for its cast.
About a year later, Avi Lerner, the head of Millennium Films, announced in Bulgaria that he was in talks with a trio of performers to headline ExpendaBelles. That trio was Cameron Diaz, Milla Jovovich, and Meryl Streep. It's hard to determine how truthful Lerner's statement was since none of this casting came to pass and he was the only one claiming such boastful casting. Still, all three would've made sense for a big mainstream action film with an ensemble cast of ladies. Diaz and Jovovich had both done multiple action movies before while Streep had shown she was more than happy to do lighter material like Mamma Mia! in between her heavy award-season features. Just tossing out these names as potential ExpendaBelles candidates demonstrated the kind of ambitious casting Lerner and company were striving for.
In February 2014, The ExpendaBelles got its director in the form of Robert Luketic, who previously worked with Smith and McCullah by directing the original Legally Blonde. Luketic had minimal experience with action movies (save for his work on the 2010 Ashton Kutcher/Katherine Heigl action-comedy Killers) but he was experienced with helming movies starring and aimed at women, like Win a Date with Tad Hamilton! and Monster-in-Law. With this news, it was also revealed that casting was about to begin and that shooting would start in the summer of 2014. The plot for The ExpendaBelles was also unveiled, with this feature concerning a bunch of women soldiers and mercenaries who have to take on the identities of sex workers to help diffuse a hostage situation. So far, it looked like things were moving right along for The ExpendaBelles.
RELATED: 'The Expendables' Franchise Gets 4K UHD SteelBooks Ahead of 'Expend4bles'
Why Didn't 'The ExpendaBelles' Movie Ever Get Made?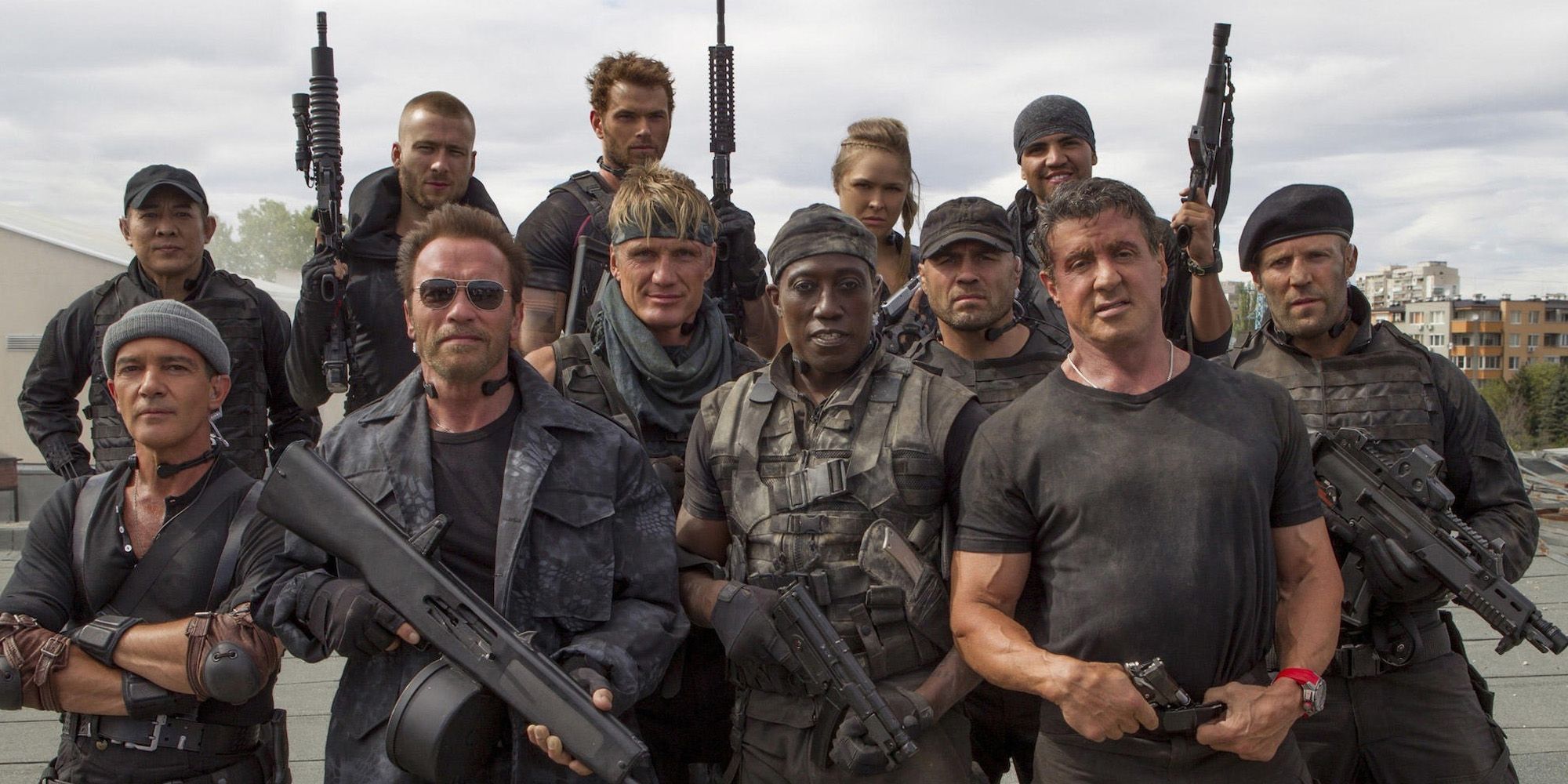 Six months after Luketic was hired for this spin-off, The Expendables 3 dropped into theaters and didn't do so well at the box office. Scratch that, it was a massive box office bomb that made considerably less than its predecessors. Credit where credit is due, it still took in $170 million internationally (slightly more than the overseas haul of the first Expendables) but that dismal $39.3 million domestic gross on a $100 million budget signaled that the sheen had worn off for this saga. If the main Expendables movies were now vulnerable financially, what hope did a spin-off have to reverse these box office fortunes? Suddenly, the future of this entire franchise was shaky.
Before the release of The Expendables 3, Lerner openly talked about shooting The ExpendaBelles at the start of 2015. After this sequel's box office woes, total radio silence consumed The ExpendaBelles. Millennium moved on to exploiting another action movie, Olympus Has Fallen, as a new go-to franchise and Luketic moved on to other projects. Nearly a decade later, Jeffrey Greenstein, the head of Millennium Films, revealed that the project never came together because of difficulties figuring out why a certain mission would require only women to undertake it. It's very amusing to hear this considering that the first two Expendables movies had all-male ensemble casts but nobody ever had to figure out a convoluted reason for why only dudes showed up to the party. John Woo, the man who brought flights of delightful absurdity like Double Team and Face/Off into this world, would no doubt shake his head with disgust at action movie producers who aren't even imaginative enough to pull off an all-lady action film!
Greenstein promised that subsequent Expendables movies would feature more women to make up for the absence of an ExpendaBelles movie. This means there are now TWO women in the 11 main roles in Expendables 4. Bell Hooks is wiping away a tear in admiration at such noble feminism. All snark aside, darker stories about Millennium Pictures make it seem like a good thing ExpendaBelles never got off the ground. As recalled by The Atlantic in 2019, Millennium Films and Avi Lerner have been at the center of countless allegations of inappropriate and discriminatory behavior toward women. One can only imagine the horrifying experiences the various women in a potential ExpendaBelles cast would've endured if the movie had actually started shooting.
Today, Millennium Films is a hollow shell of what it was back in the early 2010s when the first two Expendables movies seemed to solidify the company as a major cinematic player. Now, the company's business practices have alienated key folks like Olympus Has Fallen star Gerard Butler and the company is desperately clinging to extensions of recognizable brands like Expendables and even Hellboy just to offer something to the world. The short-lived plans for The ExpendaBelles reflect a much different era for the company and the Expendables franchise as a whole. However, these unrealized ambitions should inspire some more respectable producers and financiers to create a new, original ensemble movie headlined by lady action stars. Who wouldn't want to see Cynthia Rothrock, Pam Grier, and Michelle Yeoh working together to save the day?