Deepika Padukone hasn't done a Hollywood film since 2017's xXx: Return of Xander Cage, but this doesn't mean that she doesn't have global ambitions anymore.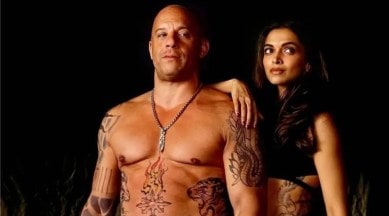 Actor Deepika Padukone made her Hollywood debut with the Vin Diesel starrer XXX: Return of Xander Cage. (Photo: Vin Diesel/Instagram)
Listen to this article
Your browser does not support the audio element.

Actor Deepika Padukone, who was most recently seen in an extended cameo in the blockbuster film Jawan, said in an interview that she has global ambitions, but they aren't limited to just acting. Deepika also said that in an attempt to break into the Western market, she wouldn't want to abandon her own culture and identity.
Speaking to The Week, Deepika admitted that her journey has been slower than expected, but she wants to work on her own terms. Deepika made her Hollywood debut with xXx: Return of Xander Cage, in which she starred opposite Vin Diesel. The movie received mixed reviews, but was a commercial success. Attempts to get a sequel off the ground haven't taken off.
Deepika said, "I have global ambitions, but much of it is being beyond a movie star. There is a lot I want to do globally as an individual. I find it fascinating and strange at the same time to think that we were almost apologetic about who we are and where we came from. We have always overcompensated because of this. I don't feel I need to move to another country or speak the way they speak in order to be accepted. Has the journey taken longer? Yes. But I sleep better knowing I am in my culture and I did it on my own terms."
You have exhausted your
monthly limit of free stories.
To continue reading,
simply register or sign in
Continue reading with an Indian Express Premium membership.
This premium article is free for now.
Register to read more free stories and access offers from partners.
Continue reading with an Indian Express Premium membership.
This content is exclusive for our subscribers.
Subscribe now to get unlimited access to The Indian Express exclusive and premium stories.
In 2021, Deepika announced her second Hollywood venture, a 'cross-cultural romantic comedy' that she'd also produce. No updates have emerged about the project since then. Deepika was also supposed to star in a remake of the hit Hollywood film The Intern, which would've initially starred Rishi Kapoor alongside her. But after his passing in 2020, Amitabh Bachchan was roped in. It was rumoured last year that Deepika had dropped out of the film.
In Jawan, Deepika plays the mother of Shah Rukh Khan's Vikram Rathore in an extended flashback sequence. At the film's success meet on Friday, she said that she did the film for free, out of her love for Shah Rukh. Deepika and Shah Rukh worked together in her first film, Om Shanti Om, and again in Pathaan earlier this year.
Click for more updates and latest Bollywood news along with Entertainment updates. Also get latest news and top headlines from India and around the world at The Indian Express.
© IE Online Media Services Pvt Ltd
First published on: 16-09-2023 at 19:32 IST