To be fair, there are plenty of non-American actors in town, unbound by the strikes. But to be not fair, they don't draw the same kind of crowd as a George Clooney or Zendaya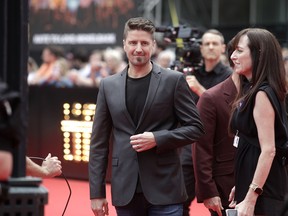 Reviews and recommendations are unbiased and products are independently selected. Postmedia may earn an affiliate commission from purchases made through links on this page.
Article content
TORONTO — Is the Toronto International Film Festival primed for a renaissance, or living out its last days? Both outcomes are possible; neither is certain.
To quote screenwriter William Goldman, "Nobody knows anything." This summer, for instance, no one knew whether success would befall a wholly original feminist take on a plastic toy, or a three-hour biopic about a twitchy, left-leaning theoretical physicist. And yet Barbenheimer happened, and it was good. Good movies, and good box office.
Article content
Similarly, no one, not even perennial optimist and TIFF CEO Cameron Bailey, knows what the fortunes of a given year of the Toronto festival will be. All that's certain is it's never easy.
And so let us start with the bad news. Despite putting COVID in the rearview, this year's Toronto festival has opened under a cloud, with twin strikes in Hollywood — writers' and actors' unions remain on the picket lines — hobbling the ability of studios to promote their films.
Take American Fiction. A directing debut from writer Cord Jefferson, who adapted Percival Everett's novel Erasure, the film had its splashy world premiere Friday night at the Royal Alexandra Theatre. The cast includes Sterling K. Brown, Keith David, Tracee Ellis Ross, Erika Alexander and Issa Rae. Jeffrey Wright in the leading role has already ignited Oscar talk. And yet the only one on hand to walk the red carpet and introduce the film to the always appreciative Toronto audience was Jefferson himself, who as a director is not directly involved in the strikes.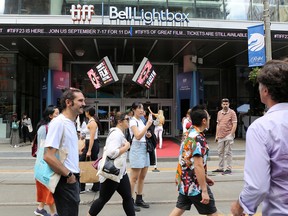 Then there was Seven Veils from Canada's Atom Egoyan, which had its world premiere Sunday night at the Princess of Wales. It stars Amanda Seyfried, who also worked with Egoyan on his 2009 film Chloe. But Seyfried said on social media that she wouldn't be attending the premiere, despite an "interim agreement" with SAG-AFTRA, the actors' union, to do just that. "Doesn't feel right to head to the fest in light of the strike," she said, leaving her director in the lurch.
Article content
In a bit of serendipitous programming, this year's TIFF includes first features from actors-turned-directors Patricia Arquette, Chris Pine, Kristin Scott Thomas, Anna Kendrick, Finn Wolfhard and Billy Bryk, and new films directed by Michael Keaton, Viggo Mortensen, Ethan Hawke and others. Even when they are also starring in the film, they're free to attend and promote the works as directors.
And to be fair, there are plenty of non-American actors in town, unbound by the strikes. But to be not fair, they don't draw the same kind of crowd as a George Clooney or Zendaya. And so Festival Street — the temporary name of the stretch of King Street West that fronts the TIFF Bell Lightbox and all the major gala venues — was a slightly quieter place this year, with fewer red-carpet rubberneckers or limousines. That said, live performances by the likes of Nickelback and Paul Simon helped swell the crowds — and anger downtown workers who had to contend with even more gridlock and transit delays than usual.
Oh, and about the TIFF Bell Lightbox, telecom giant Bell Media has been TIFF's lead sponsor since 1995, but in late August came news that it would sever that relationship after this year's event, leaving organizers to find a replacement. Will one of the existing "major sponsors" such as RBC, Visa or BVLGARI step up their game? Or might it be a newcomer with deep pockets? Some have suggested streaming giant Netflix, in which case the I in TIFF might have to stand for "Ironic."
Article content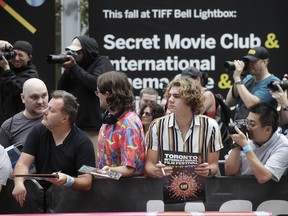 This year's TIFF faced several snafus, both in programming choices and actual screenings. Even before the festival kicked off there were grumblings about the number of films that were premiering at rival events in Venice and Telluride and then skipping TIFF entirely.
Among the no-shows in Toronto: Michael Mann's Ferrari with Adam Driver; David Fincher's The Killer; Poor Things with Emma Stone, whose performance drew rave reviews in Venice; and a new short film from Wes Anderson, The Wonderful Story of Henry Sugar.
Even films and filmmakers that would seem to be naturals for TIFF stayed away. Jeff Nichols, who has come to Toronto with his films Take Shelter and Loving, went to Venice with his newest, Bikeriders.
Tehachapi, from French filmmaker JR, was a Telluride title, despite the fact that JR and Agnes Varda shared a documentary People's Choice Award at TIFF in 2017. And despite the Lightbox having recently renamed one of its social spaces the Varda lounge.
And The Curse, a new TV series starring and co-created by Benny Safdie, won't be seen at the festival that just this summer mounted a retrospective of the films of Benny and brother Joshua Safdie.
Meanwhile, technical difficulties surfaced just after dawn on day one, when an 8:55 a.m. screening of the horror movie Sleep at the Scotiabank had to be scrapped due to a software problem in the projection booth. A press screening of the Canada-France co-production The Beast was similarly scuppered.
But with more than 200 features screening over the festival's 10 days (it wraps on Saturday with the announcement of the People's Choice Award), there are bound to be a few hiccups.
And despite thunder-stealing by other festivals, TIFF has its share of world premieres this year, including the stock-market parable Dumb Money, the National Ballet of Canada documentary Swan Song, Azazel Jacobs' drama His Three Daughters — an acting showcase for Elizabeth Olsen, Carrie Coon and Natasha Lyonne — and Taika Waititi's crowd pleaser Next Goal Wins, which might make the director the first to win two People's Choice Awards, after Jojo Rabbit picked up the prize in 2019.
Article content
But the film landscape is changing. Every year — and especially since the pandemic — streaming makes greater inroads into the way we consume entertainment. The newest threat, weighing heavily on the minds of striking writers and actors, is whether artificial intelligence will displace or even replace human talent in front of and behind the cameras.
TIFF even had an industry panel devoted to the topic this year, under the title A.I. and Film: Bridging the Gap Between Innovation and Responsibility.
Panel member Patricia Thaine, CEO and co-founder of Toronto firm Private AI, said that just as streaming exploded in popularity and reach in just a few years, A.I. needs to be top of mind in contract negotiations with studios.
"We're not talking about how good A.I. is at the moment," she said. "We're talking about what kind of negotiation (actors) have to fight for to protect themselves for a future where it might be even better."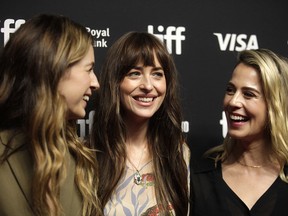 Claire Leibowicz, head of the A.I. and media integrity program at the non-profit Partnership on A.I., added: "What does it mean for my likeness to be used in perpetuity? My colleagues who work on the labour impact of A.I. have underscored the need for consent to be a key part in how people's likenesses are used."
But the panel also noted that the technology is moving too quickly to get a sense of exactly where it might be in even a few years. Thaine said even being able to distinguish between human- and A.I.-generated content is difficult: "It can be done in some cases and not in others."
Which brings us back to Goldman. Nobody knows anything.
The Toronto International Film Festival runs until Sept. 17. More information at tiff.net